(NOT NECESSARILY PUBLISHED IN 2018)
BLOOD AND SAND BY C.V. WYK
★★★★.5
GENRE: YA HISTORICAL FANTASY, RETELLINGS, ADVENTURE, ACTION
(#HIGHLY RECOMMEND, #MUST READ)
MY REVIEW
Forged in battle, from the dust of the arena, a legend will rise…
Roma Victrix. The Republic of Rome is on a relentless march to create an empire―an empire built on the backs of the conquered, brought back to Rome as slaves.Attia was once destined to rule as the queen and swordmaiden of Thrace, the greatest warrior kingdom the world had seen since Sparta. Now she is a slave, given to Xanthus, the Champion of Rome, as a sign of his master's favor. Enslaved as a child, Xanthus is the preeminent gladiator of his generation.Against all odds, Attia and Xanthus form a tentative bond. A bond that will spark a rebellion. A rebellion that threatens to bring the Roman Republic to its end―and gives rise to the legend of Spartacus…
---
HONOR AMONG THIEVES BY RACHEL CAINE & ANN AGUIRRE
★★★★
GENRE: YA SCI-FI FANTASY, ADVENTURE
MY REVIEW
"Here we sing to the stars. Deep in the dreaming, we have come and gone for many evers. Until the joining. Until journey's end. Sing back to us when you come, so that we may know the silence is never eternal. Our sun, your stars, their gods, they have sailed in other skins, far beyond the dark and into the hollow, where all light sleeps."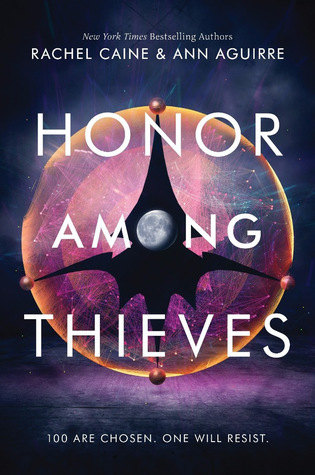 Petty criminal Zara Cole has a painful past that's made her stronger than most, which is why she chose life in New Detroit instead of moving with her family to Mars. In her eyes, living inside a dome isn't much better than a prison cell.
Still, when Zara commits a crime that has her running scared, jail might be exactly where she's headed. Instead Zara is recruited into the Honors, an elite team of humans selected by the Leviathan—a race of sentient alien ships—to explore the outer reaches of the universe as their passengers.
Zara seizes the chance to flee Earth's dangers, but when she meets Nadim, the alien ship she's assigned, Zara starts to feel at home for the first time. But nothing could have prepared her for the dark, ominous truths that lurk behind the alluring glitter of starlight.
Shalia is a proud daughter of the desert, but after years of devastating war with the adjoining kingdom, her people are desperate for an end to the violence that has claimed so many of their loved ones. Willing to trade her freedom to ensure the safety of her family, Shalia becomes Queen of the Bone Lands, a country where magic is outlawed and the Elementae–those that can control earth, air, fire and water–are traitors, subject to torture . . . or worse.
Before she is even crowned, Shalia discovers that she can bend the earth to her will. Trapped between her husband's irrational hatred of the Elementae and a dangerous rebellion led by her own brother, Shalia must harness her power and make an impossible choice: save her family, save the Elementae, or save herself.
Alosa's mission is finally complete. Not only has she recovered all three pieces of the map to a legendary hidden treasure, but the pirates who originally took her captive are now prisoners on her ship. Still unfairly attractive and unexpectedly loyal, first mate Riden is a constant distraction, but now he's under her orders. And she takes great comfort in knowing that the villainous Vordan will soon be facing her father's justice.
When Vordan exposes a secret her father has kept for years, Alosa and her crew find themselves in a deadly race with the feared Pirate King. Despite the danger, Alosa knows they will recover the treasure first . . . after all, she is the daughter of the Siren Queen.
---
GENESIS (PROJECT NEMESIS#2) BY BRENDAN REICHS
★★★★.5
GENRE: YA SCI-FI
(#HIGHLY RECOMMEND)
MY REVIEW
FIRST BOOK BLURB: He killed me. He killed me not. He killed me.
It's been happening since Min was eight. Every two years, on her birthday, a strange man finds her and murders her in cold blood. But hours later, she wakes up in a clearing just outside her tiny Idaho hometown—alone, unhurt, and with all evidence of the horrifying crime erased.
Across the valley, Noah just wants to be like everyone else. But he's not. Nightmares of murder and death plague him, though he does his best to hide the signs. But when the world around him begins to spiral toward panic and destruction, Noah discovers that people have been lying to him his whole life. Everything changes in an eye blink.
For the planet has a bigger problem. The Anvil, an enormous asteroid threatening all life on Earth, leaves little room for two troubled teens. Yet on her sixteenth birthday, as she cowers in her bedroom, hoping not to die for the fifth time, Min has had enough. She vows to discover what is happening in Fire Lake and uncovers a lifetime of lies: a vast conspiracy involving the sixty-four students of her sophomore class, one that may be even more sinister than the murders.
---
MORE THAN WE CAN TELL BY BRIGID KEMMERER
★★★★ 
GENRE: YA CONTEMPORARY 
MY REVIEW
"No one lives in a vacuum. Our actions have an impact on everyone around us. Sometimes without us even realizing it."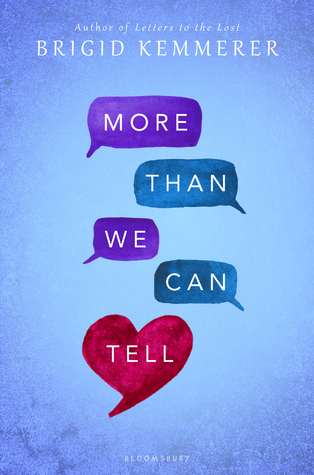 Rev Fletcher is battling the demons of his past. But with loving adoptive parents by his side, he's managed to keep them at bay…until he gets a letter from his abusive father and the trauma of his childhood comes hurtling back.
Emma Blue spends her time perfecting the computer game she built from scratch, rather than facing her parents' crumbling marriage. She can solve any problem with the right code, but when an online troll's harassment escalates, she's truly afraid.
When Rev and Emma meet, they both long to lift the burden of their secrets and bond instantly over their shared turmoil. But when their situations turn dangerous, their trust in each other will be tested in ways they never expected. This must-read story will once again have readers falling for Brigid Kemmerer's emotional storytelling.
---
RYAN'S BED BY TIJAN
★★★★ 
GENRE: NA CONTEMPORARY, MYSTERY, ROMANCE
MY REVIEW
"There are layers of pain inside me. Pain that I can't put into words, and underneath it all is hell. It's raw and bloody. Agony. Suffering. Torture."
I crawled into Ryan Jensen's bed that first night by accident.
I barely knew him. I thought it was his sister's bed—her room. It took seconds to realize my error, and I should've left…
I didn't.
I didn't jump out.
I didn't get embarrassed.
I relaxed.
And that night, in that moment, it was the only thing I craved.
I asked to stay. He let me, and I slept.
The truth? I never wanted to leave his bed. If I could've stayed forever, I would have.
He became my sanctuary.
Because—four hours earlier—my twin sister killed herself.
---
PESTILENCE(THE FOUR HORSEMEN#1) BY LAURA THALASSA 
★★★★
GENRE: NA PARANORMAL, FANTASY, ROMANCE
(#HIGHLY RECOMMEND)
MY REVIEW
 "And so it was, and so it shall be, for the Age of Man is over, and the Age of the Horseman has begun. They came to earth, and they came to end us all."
They came to earth—Pestilence, War, Famine, Death—four horsemen riding their screaming steeds, racing to the corners of the world. Four horsemen with the power to destroy all of humanity. They came to earth, and they came to end us all. 
When Pestilence comes for Sara Burn's town, one thing is certain: everyone she knows and loves is marked for death. Unless, of course, the angelic-looking horseman is stopped, which is exactly what Sara has in mind when she shoots the unholy beast off his steed.
Too bad no one told her Pestilence can't be killed.
Now the horseman, very much alive and very pissed off, has taken her prisoner, and he's eager to make her suffer. Only, the longer she's with him, the more uncertain she is about his true feelings towards her … and hers towards him.
And now, well, Sara might still be able to save the world, but in order to do so, she'll have to sacrifice her heart in the process.
Jane McKeene was born two days before the dead began to walk the battlefields of Gettysburg and Chancellorsville—derailing the War Between the States and changing America forever. In this new nation, safety for all depends on the work of a few, and laws like the Native and Negro Reeducation Act require certain children attend combat schools to learn to put down the dead. But there are also opportunities—and Jane is studying to become an Attendant, trained in both weaponry and etiquette to protect the well-to-do. It's a chance for a better life for Negro girls like Jane. After all, not even being the daughter of a wealthy white Southern woman could save her from society's expectations.
But that's not a life Jane wants. Almost finished with her education at Miss Preston's School of Combat in Baltimore, Jane is set on returning to her Kentucky home and doesn't pay much mind to the politics of the eastern cities, with their talk of returning America to the glory of its days before the dead rose. But when families around Baltimore County begin to go missing, Jane is caught in the middle of a conspiracy, one that finds her in a desperate fight for her life against some powerful enemies. And the restless dead, it would seem, are the least of her problems.
They killed my mother.
They took our magic.
They tried to bury us.
Now we rise.Zelie remembers when the soil of Orisha hummed with magic. When different clans ruled – Burners igniting flames, Tiders beckoning waves, and Zelie's Reaper mother summoning forth souls.But everything changed the night magic disappeared. Under the orders of a ruthless king, anyone with powers was targeted and killed, leaving Zelie without a mother and her people without hope. Only a few people remain with the power to use magic, and they must remain hidden.Zelie is one such person. Now she has a chance to bring back magic to her people and strike against the monarchy. With the help of a rogue princess, Zelie must learn to harness her powers and outrun the crown prince, who is hell-bent on eradicating magic for good.Danger lurks in Orisha, where strange creatures prowl, and vengeful spirits wait in the waters. Yet the greatest danger may be Zelie herself as she struggles to come to terms with the strength of her magic – and her growing feelings for an enemy.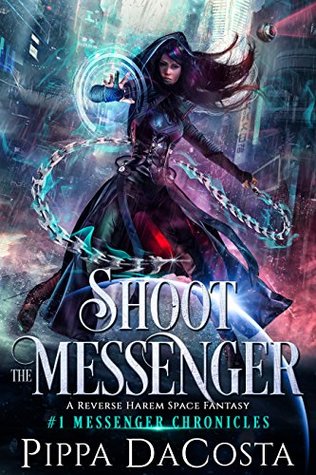 "Lies aren't her only weapons against the fae…"
In the Halow system, one of Earth's three sister star systems, tek and magic—humans and the fae—are at war.
Kesh Lasota is a ghost in the machine. Invisible to tek, she's hired by the criminal underworld to carry illegal messages through the Halow system. But when one of those messages kills its recipient, Kesh finds herself on the run with a bounty on her head and a quick-witted marshal on her tail.
Proving her innocence should be straightforward—until a warfae steals the evidence she needs. The fae haven't been seen in Halow in over a thousand years. And this one—a brutally efficient killer able to wield tek—should not exist. But neither should Kesh.
As Kesh's carefully crafted lie of a life crumbles around her, she knows remaining invisible is no longer an option. To hunt the fae, to stop him from destroying a thousand-year-long fragile peace, she must resurrect the horrors of her past.
Kesh Lasota was a ghost. Now she's back, and there's only one thing she knows for certain. Nobody shoots the messenger and gets away with it.
---
LEGENDARY(CARAVAL#2) BY STEPHANIE GARBER
★★★★.5
GENRE: YA FANTASY, MAGIC, ROMANCE
MY REVIEW
"Every good story needs a villain.
But the best villains are the ones you secretly like."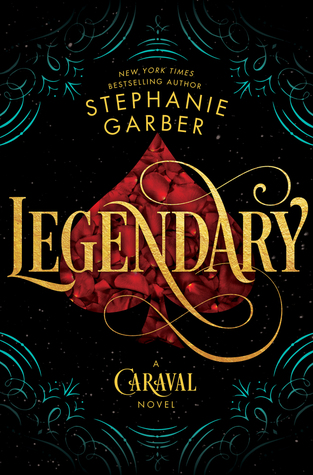 FIRST BOOK BLURB: Remember, it's only a game… Scarlett Dragna has never left the tiny island where she and her sister, Tella, live with their powerful, and cruel, father. Now Scarlett's father has arranged a marriage for her, and Scarlett thinks her dreams of seeing Caraval—the faraway, once-a-year performance where the audience participates in the show—are over. But this year, Scarlett's long-dreamt-of invitation finally arrives. With the help of a mysterious sailor, Tella whisks Scarlett away to the show. Only, as soon as they arrive, Tella is kidnapped by Caraval's mastermind organizer, Legend. It turns out that this season's Caraval revolves around Tella, and whoever finds her first is the winner. Scarlett has been told that everything that happens during Caraval is only an elaborate performance. Nevertheless she becomes enmeshed in a game of love, heartbreak, and magic. And whether Caraval is real or not, Scarlett must find Tella before the five nights of the game are over or a dangerous domino effect of consequences will be set off, and her beloved sister will disappear forever. Welcome, welcome to Caraval…beware of getting swept too far away.
---
TRICK(FOOLISH KINGDOMS#1) BY NATALIA JASTER
★★★★
GENRE: NA FANTASY, ROMANCE
(#MUST READ)
MY REVIEW
"I'm the finest jest you'll ever know. If you irritate me, I'll best you with words, for swords are the toys of knights, whilst I use more creative weapons."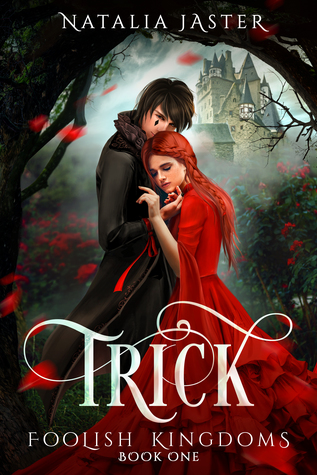 There is a rule amongst his kind: A jester doesn't lie.
In the kingdom of Whimtany, Poet is renowned. He's young and pretty, a lover of men and women. He performs for the court, kisses like a scoundrel, and mocks with a silver tongue.
Yet allow him this: It's only the most cunning, most manipulative soul who can play the fool. For Poet guards a secret. One the Crown would shackle him for. One that he'll risk everything to protect.
Alas, it will take more than clever words to deceive Princess Briar. Convinced that he's juggling lies as well as verse, this righteous nuisance of a girl is determined to expose him.
But not all falsehoods are fiendish. Poet's secret is delicate, binding the jester to the princess in an unlikely alliance . . . and kindling a breathless attraction, as alluring as it is forbidden.
---
THE GODS OF MEN BY BARBARA KLOSS
★★★★.5
GENRE: YA FANTASY
(#MUST READ)
MY REVIEW
Sable hated the gods. She hated what men did in their name.
Magic is forbidden throughout the Five Provinces; those born with it are hunted and killed. Sable doesn't know her music holds power over souls—not until, at age nine, she plays her flute before the desert court and accidentally stops her baby sister's heart, killing her. Horrified by what she's done and fearing for her life, she flees north, out of Provincial jurisdiction and into the frigid land of exiles and thieves, known as The Wilds. There, Sable lives in hiding, burdened by guilt, and survives as a healer. But now, ten years later, someone—or something—is hunting her.
On the run again, Sable's best chance for survival is Jos, a lethal man from the Five Provinces, who claims to need her skills as a healer to save his dying father, and she needs the large sum of money he's offered. There's something about him Sable doesn't trust, but she doesn't have many options. A spirit of the dead is hunting her, summoned by a mysterious necromancer, and it's getting closer.
Sable soon discovers she's just the start of the necromancer's plan to take over the Five Provinces, and she's the only one with the power to stop it. But harnessing her forbidden power means revealing it to the world, and the dangerous Provincial, Jos, she's beginning.to fall for.
---
SPINNING SILVER BY NAOMI NOVIK
★★★★
GENRE: ADULT, FANTASY, RETELLINGS
MY REVIEW
"The real story isn't half as pretty as the one you've heard."
Will dark magic claim their home?
Miryem is the daughter and granddaughter of moneylenders, but her father's too kind-hearted to collect his debts. They face poverty, until Miryem hardens her own heart and takes up his work in their village. Her success creates rumours she can turn silver into gold, which attract the fairy king of winter himself. He sets her an impossible challenge – and if she fails, she'll die. Yet if she triumphs, it may mean a fate worse than death. And in her desperate efforts to succeed, Miryem unwittingly spins a web which draws in the unhappy daughter of a lord.
Irina's father schemes to wed her to the tsar – he will pay any price to achieve this goal. However, the dashing tsar is not what he seems. And the secret he hides threatens to consume the lands of mortals and winter alike. Torn between deadly choices, Miryem and Irina embark on a quest that will take them to the limits of sacrifice, power and love.
---
A TOUCH OF GOLD(A TOUCH OF GOLD#1) BY ANNIE SULLIVAN
★★★★
GENRE: YA FANTASY, RETELLINGS
MY REVIEW
Gold is wealth. Wealth is power. Power is a curse.
King Midas once had the ability to turn all he touched into gold. But after his gift—or curse—almost killed his daughter, Midas relinquished The Touch forever. Ten years later, Princess Kora still bears the consequences of her father's wish: her skin shines golden, rumors follow her everywhere she goes, and she harbors secret powers that are getting harder to hide.
Kora spends her days locked in the palace, concealed behind gloves and veils, trying to ignore the stares and gossip of courtiers. It isn't until a charming young duke arrives that Kora realizes there may be someone out there who doesn't fear her or her curse. But their courtship is disrupted when a thief steals precious items from the kingdom, leaving the treasury depleted and King Midas vulnerable. Thanks to her unique ability to sense gold, Kora is the only one who can track the thief down. As she sails off on her quest, Kora learns that not everything is what it seems—not thieves, not pirates, and not even curses. She quickly discovers that gold—and the power it brings—is more dangerous than she'd ever believed.
Midas learned his lesson at a price. What will Kora's journey cost?
---
SADIE BY COURTNEY SUMMERS
★★★★
GENRE: YA CONTEMPORARY, MYSTERY, THRILLER
MY REVIEW
"People don't change. They just get better at hiding who they really are."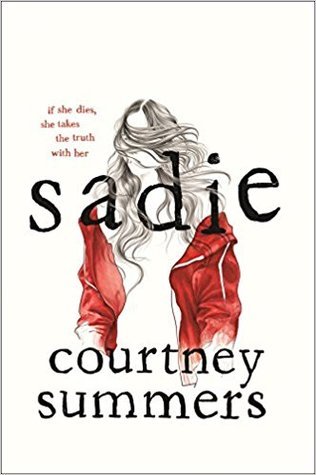 A missing girl on a journey of revenge. A Serial―like podcast following the clues she's left behind. And an ending you won't be able to stop talking about.
Sadie hasn't had an easy life. Growing up on her own, she's been raising her sister Mattie in an isolated small town, trying her best to provide a normal life and keep their heads above water.
But when Mattie is found dead, Sadie's entire world crumbles. After a somewhat botched police investigation, Sadie is determined to bring her sister's killer to justice and hits the road following a few meager clues to find him.
When West McCray―a radio personality working on a segment about small, forgotten towns in America―overhears Sadie's story at a local gas station, he becomes obsessed with finding the missing girl. He starts his own podcast as he tracks Sadie's journey, trying to figure out what happened, hoping to find her before it's too late.
---
KEEPER OF THE BEES BY MEG KASSEL
★★★★
GENRE: YA CONTEMPORARY FANTASY, SUPERNATURAL, ROMANCE
MY REVIEW
This book is for everyone who falls in love with the villain. This book is for everyone who doesn't fit a mold—on the outside, or the inside, or both.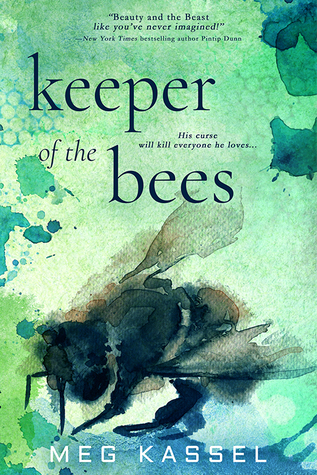 KEEPER OF THE BEES is a tale of two teens who are both beautiful and beastly, and whose pasts are entangled in surprising and heartbreaking ways.
Dresden is cursed. His chest houses a hive of bees that he can't stop from stinging people with psychosis-inducing venom. His face is a shifting montage of all the people who have died because of those stings. And he has been this way for centuries—since he was eighteen and magic flowed through his homeland, corrupting its people.
He follows harbingers of death, so at least his curse only affects those about to die anyway. But when he arrives in a Midwest town marked for death, he encounters Essie, a seventeen-year-old girl who suffers from debilitating delusions and hallucinations. His bees want to sting her on sight. But Essie doesn't see a monster when she looks at Dresden.
Essie is fascinated and delighted by his changing features. Risking his own life, he holds back his bees and spares her. What starts out as a simple act of mercy ends up unraveling Dresden's solitary life and Essie's tormented one. Their impossible romance might even be powerful enough to unravel a centuries-old curse.
---
LIFEL1K3(LIFEL1K3#1) BY JAY KRISTOFF
★★★★.5
GENRE: YA SCI-FI, FANTASY, ADVENTURE, ACTION
(#MUST READ)
MY REVIEW
"Your past doesn't make calls on your future. It doesn't matter who you were. Only who you are."
It's just another day on the Scrap: lose the last of your credits at the WarDome, dodge the gangs and religious fanatics, discover you can destroy electronics with your mind, stumble upon the deadliest robot ever built…
When Eve finds the ruins of an android boy named Ezekiel in the scrap pile she calls home, her entire world comes crashing down. With her best friend and her robotic sidekick in tow, she and Ezekiel will trek across deserts of irradiated glass, battle cyborg assassins, and scour abandoned megacities to save the ones she loves…and learn the dark secrets of her past.
---
NOT EVEN BONES(MARKET OF MONSTERS#1) BY REBECCA SCHAEFFER
★★★★
GENRE: YOUNG ADULT, FANTASY, HORROR
(#HIGHLY RECOMMEND)
MY REVIEW
"But the problem with losing your morality is that sometimes it takes other things with it. You don't realize the things that are important to you, in order to be the person you want to be, until you've already damaged them beyond repair."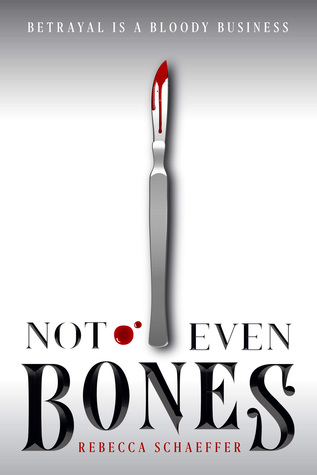 Nita doesn't murder supernatural beings and sell their body parts on the internet—her mother does that. Nita just dissects the bodies after they've been "acquired." Then her mom brings home a living specimen, and Nita decides she wants out. But there's a problem: Nita herself is supernatural being and a prime target for the black market if anyone ever found out. When Nita decides to help her mother's latest victim escape, she ends up taking his place instead. Nita did a good deed, and it cost her everything. Now she needs to escape and make sure no one can ever sell her again. And to do that, there's no line Nita won't cross.
---
KINGDOM OF ASH(THRONE OF GLASS#7) BY SARAH J. MAAS 
★★★★
GENRE: NA FANTASY, FAE, ADVENTURE, ROMANCE
MY REVIEW
"Once upon a time, in a land long since burned to ash, there lived a young princess who loved her kingdom …" 
FIRST BOOK BLURB: After serving out a year of hard labor in the salt mines of Endovier for her crimes, 18-year-old assassin Celaena Sardothien is dragged before the Crown Prince. Prince Dorian offers her her freedom on one condition: she must act as his champion in a competition to find a new royal assassin. Her opponents are men-thieves and assassins and warriors from across the empire, each sponsored by a member of the king's council. If she beats her opponents in a series of eliminations, she'll serve the kingdom for four years and then be granted her freedom. Celaena finds her training sessions with the captain of the guard, Westfall, challenging and exhilarating. But she's bored stiff by court life. Things get a little more interesting when the prince starts to show interest in her … but it's the gruff Captain Westfall who seems to understand her best. Then one of the other contestants turns up dead … quickly followed by another. Can Celaena figure out who the killer is before she becomes a victim? As the young assassin investigates, her search leads her to discover a greater destiny than she could possibly have imagined.
---
THE CITY OF BRASS(THE DAEVABAD TRILOGY#1) BY S.A. CHAKRABORTY
★★★★
GENRE: NA FANTASY, RETELLINGS, MAGIC, ADVENTURE
MY REVIEW
Among the bustling markets of eighteenth century Cairo, the city's outcasts eke out a living swindling rich Ottoman nobles and foreign invaders alike. But alongside this new world the old stories linger. Tales of djinn and spirits. Of cities hidden among the swirling sands of the desert, full of enchantment, desire and riches. Where magic pours down every street, hanging in the air like dust. Many wish their lives could be filled with such wonder, but not Nahri. She knows the trades she uses to get by are just tricks and sleights of hand: there's nothing magical about them. She only wishes to one day leave Cairo, but as the saying goes… Be careful what you wish for.
---
THE LAST NAMSARA(ISKARI#1) BY KRISTEN CICCARELLI
★★★★
GENRE: YA FANTASY, DRAGONS
(#MUST READ)
REVIEW COMING SOON!
"Once there was a girl who was drawn to wicked things. Things like forbidden, ancient stories."
In the beginning, there was the Namsara: the child of sky and spirit, who carried love and laughter wherever he went. But where there is light, there must be dark—and so there was also the Iskari. The child of blood and moonlight. The destroyer. The death bringer.
These are the legends that Asha, daughter of the king of Firgaard, has grown up hearing in hushed whispers, drawn to the forbidden figures of the past. But it isn't until she becomes the fiercest, most feared dragon slayer in the land that she takes on the role of the next Iskari—a lonely destiny that leaves her feeling more like a weapon than a girl.
Asha conquers each dragon and brings its head to the king, but no kill can free her from the shackles that await at home: her betrothal to the cruel commandant, a man who holds the truth about her nature in his palm. When she's offered the chance to gain her freedom in exchange for the life of the most powerful dragon in Firgaard, she finds that there may be more truth to the ancient stories than she ever could have expected. With the help of a secret friend—a slave boy from her betrothed's household—Asha must shed the layers of her Iskari bondage and open her heart to love, light, and a truth that has been kept from her.
---
TO KILL A KINGDOM BY ALEXANDRA CHRISTO
★★★★
GENRE: YA FANTASY, RETELLINGS, ROMANCE
(#HIGHLY RECOMMEND)
REVIEW COMING SOON!
"I've made a mistake. It started with a prince, as most stories do. Once I felt the thrum of his heart beneath my fingers, I couldn't forget it."
I have a heart for every year I've been alive.
There are seventeen hidden in the sand of my bedroom. Every so often, I claw through the shingle just to check they're still there. Buried deep and bloody.
Princess Lira is siren royalty and revered across the sea until she is cursed into humanity by the ruthless Sea Queen. Now Lira must deliver the heart of the infamous siren killer or remain a human forever.
Prince Elian is heir to the most powerful kingdom in the world and captain to a deadly crew of siren hunters. When he rescues a drowning woman from the ocean, she promises to help him destroy sirenkind for good. But he has no way of knowing whether he can trust her …
---
THE LANGUAGE OF THORNS BY LEIGH BARDUGO
★★★★
GENRE: YA FANTASY, RETELLINGS
(#MUST READ)
MY REVIEW
"We were not made to please princes."
Love speaks in flowers. Truth requires thorns.Travel to a world of dark bargains struck by moonlight, of haunted towns and hungry woods, of talking beasts and gingerbread golems, where a young mermaid's voice can summon deadly storms and where a river might do a lovestruck boy's bidding but only for a terrible price.Inspired by myth, fairy tale, and folklore, #1 New York Times-bestselling author Leigh Bardugo has crafted a deliciously atmospheric collection of short stories filled with betrayals, revenge, sacrifice, and love.Perfect for new readers and dedicated fans, these tales will transport you to lands both familiar and strange – to a fully realized world of dangerous magic that millions have visited through the novels of the Grishaverse.This collection of six stories includes three brand-new tales, all of them lavishly illustrated with art that changes with each turn of the page, culminating in six stunning full-spread illust"If I cannot be better than them, I will become so much worse."rations as rich in detail as the stories themse"If I cannot be better than them, I will become so much worse."lves.
---
THE CRUEL PRINCE(THE FOLK OF THE AIR#1) BY HOLLY BLACK
★★★★
GENRE: YA FANTASY, FAE.
(#MUST READ)
REVIEW COMING SOON!
"If I cannot be better than them, I will become so much worse."
Jude was seven years old when her parents were murdered and she and her two sisters were stolen away to live in the treacherous High Court of Faerie. Ten years later, Jude wants nothing more than to belong there, despite her mortality. But many of the fey despise humans. Especially Prince Cardan, the youngest and wickedest son of the High King.
To win a place at the Court, she must defy him–and face the consequences.
In doing so, she becomes embroiled in palace intrigues and deceptions, discovering her own capacity for bloodshed. But as civil war threatens to drown the Courts of Faerie in violence, Jude will need to risk her life in a dangerous alliance to save her sisters, and Faerie itself.
---
Hope you guys enjoyed my list! Have you read any of the book from the above list? What are your favorite reads of 2018? Share your thoughts in the comments below!
Until next time and have a great day! 😀