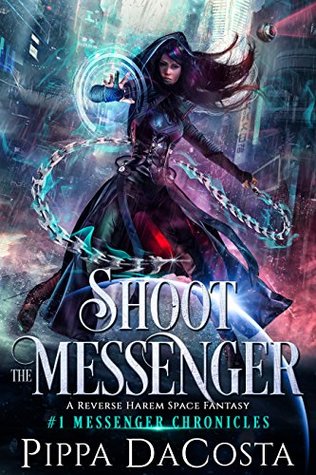 RELEASE DATE: February 22th, 2018
AUTHOR:  Pippa DaCosta
GENRE: New-Adult,  Fantasy, Sci-fi, Action, Reverse-Harem, Romance. 
PUBLISHER:Crazy Ace Publishing
SUMMARY:
"Lies aren't her only weapons against the fae…"
In the Halow system, one of Earth's three sister star systems, tek and magic—humans and the fae—are at war.
Kesh Lasota is a ghost in the machine. Invisible to tek, she's hired by the criminal underworld to carry illegal messages through the Halow system. But when one of those messages kills its recipient, Kesh finds herself on the run with a bounty on her head and a quick-witted marshal on her tail.
Proving her innocence should be straightforward—until a warfae steals the evidence she needs. The fae haven't been seen in Halow in over a thousand years. And this one—a brutally efficient killer able to wield tek—should not exist. But neither should Kesh.
As Kesh's carefully crafted lie of a life crumbles around her, she knows remaining invisible is no longer an option. To hunt the fae, to stop him from destroying a thousand-year-long fragile peace, she must resurrect the horrors of her past.
Kesh Lasota was a ghost. Now she's back, and there's only one thing she knows for certain. Nobody shoots the messenger and gets away with it.
*ARC Received from the publisher via Netgalley in exchange for an honest review*
This book was Just wow! I freaking loved it! It has everything I ever wanted in a space fantasy book such as kickass action, adventure, magic, unique plot, interesting characters, handsome and dark Villain, fascinating world, and a slow burn romance. When I first saw this book on Netgalley, I was very intrigued with the fae in space tagline.  It's a weird mix that I've never heard of and look at that stunning cover, who could resist that? So far, I've read only one book by Pippa DaCosta, but unfortunately It didn't meet my expectations so I lowered my expectations before getting into this new series. After finishing the book, I was left wanting for more. I enjoyed every minute of it. It's really an amazing start to a new series. I'm so glad the first book was mainly focused on the plot not on the steamy romance like the other typical Reverse Harem books.
In the Halow system, one of Earth's three sister star systems, tek and magic—humans and the fae are at war. Kesh Lasota is like a ghost in a machine, invisible to tek. She's hired by the criminal underworld to work as a messenger carrying illegal messages through the hollow system from one client to another. One day, when one of the recipient gets killed during her job, Kesh becomes the prime suspect and a bounty was put on her head. Proving her innocence is the only thing that can get her out of the mess, but unfortunately the evidence gets stolen by a warfae. Kesh gets pretty much shocked with the appearance of a warfae in the hollow system and she can't believe that he could also wield Tek just like her which shouldn't be possible for a fae because Iron hurts them. No one has seen a fae in the hollow system for over a thousand years, to normal people they're just a myth. When the warfae reveals his future plans, Kesh is determined to stop another war that could destroy the entire humankind. While on her run, her path crosses with a witty Marshall who refuses to follow her. To hunt the fae, to stop him from destroying a thousand year long fragile peace, she must resurrect the horrors of her past that she buried inside her. 
I absolutely loved Kesh even though she's quite complex and hard to understand. She was pretty bad-ass with her magic whip. I really enjoyed her character, there were some things that made me hate her, but I still rooted for her. Her past was a mystery from the start and I loved how the author slowly unveiled it. All the side characters in this book were pretty interesting. I liked Kellee, he is a loyal police Marshall who works for the hallow government. He's quite a tough guy who's harboring secrets of his own. His charming and quick witted personality totally won me over. I loved the banters between him and Kesh. Talen, the fae is another interesting character that I  liked. His dark and mysterious personality intrigued me and I can't wait to know more about him. Eladan, the villain in this book is quite complex and very very interesting. He's the bad guy but  also my favorite character besides Kesh. Both Kesh and Eladan have some kind of twisted hate relationship but it's definitely not love. I enjoyed every interaction between them including their steamy moments.
The plot was riveting, entertaining, and well written! It's a fast paced plot filled with non-stop action, adventure, magic, a hint of romance, and a lot of unpredictable twists and turns that'll keep you glued to the book till the end. The story was quite engaging and totally unputdownable. I just finished it in two sittings. The mystery surrounding Kesh's dark past made the story even more interesting. It's a slow burn reverse harem so don't expect much romance in this book.  So far we've only two love interests but I've heard there's going to be more in the next installment so I'm very excited. I liked the writing style. The book was told in Kesh's first person POV and I enjoyed reading the story from her perspective. The world building was fantastic! The author build a captivating sci-fi world filled with technology and a dash of Magic. Here the human's greatest power is their Tek, and the Fae's is their magic. It's really a fascinating world and I can't wait to explore more of it especially the fae world.
Overall, I loved it! It nearly came to a five star read for me but there are a few flaws that made me take out one star. The book finally concludes with a cliffhanger and I'm super excited for the next book which is going to be released soon and I'm glad that I don't have to wait much longer.
Recommend it?

I highly recommend this book to everyone! If you've never read a Reverse Harem novel but really want to then definitely pick this up.

MY RATING:
[4/5 Stars]
So, What do you think of this book? Have you read it yet?  Do you want to read it?
Please Feel Free To Comment Below. ❤

See You In The Next Post and Have a Great Day!

 🙂