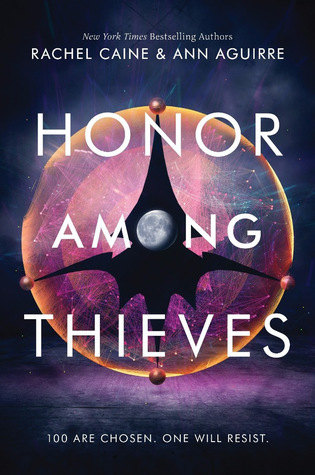 RELEASE DATE: February 13th, 2018
AUTHOR: Rachel Caine, Ann Aguirre
GENRE: Young-Adult, Sci-Fi, Adventure, Aliens.
PUBLISHER: Katherine Tegen Books
SUMMARY:
Petty criminal Zara Cole has a painful past that's made her stronger than most, which is why she chose life in New Detroit instead moving with her family to Mars. In her eyes, living inside a dome isn't much better than a prison cell.
Still, when Zara commits a crime that has her running scared, jail might be exactly where she's headed. Instead Zara is recruited into the Honors, an elite team of humans selected by the Leviathan—a race of sentient alien ships—to explore the outer reaches of the universe as their passengers.
Zara seizes the chance to flee Earth's dangers, but when she meets Nadim, the alien ship she's assigned, Zara starts to feel at home for the first time. But nothing could have prepared her for the dark, ominous truths that lurk behind the alluring glitter of starlight.
Okay this book was weirdly fascinating! I used to be fan of Rachel Caine's Morganville vampires series which I dropped off in the middle because it seemed like a never ending series so when I heard of this new series I was very intrigued but still a bit hesitant to pick it up. After reading some tempting reviews, I finally gave in and it turns out to be pretty good. It's a unique story and a bit different from the other typical YA sci-fi books I've read before.  I l liked the characters, the alien ships, the plot, and the world but the thing that made it a hit for me was definitely the characters. I really enjoyed Zara, Nadim and Bea individually and also as a team.
Zara cole is a petty criminal who lives in the lower Eight, New Detroit. It's a dirty and gritty place filled with knock-off's like her. She had a hard life which made her tough and strong. She has refused to move with her mother and sister to mars because she don't want to loose her freedom. She survived in the streets by thievery but one day, she robs from someone she shouldn't have which lands her in deep trouble. Scared for her life she escapes from there and gets herself into a jail so that she could be safe from the people searching for her. Her life takes a surprising turn, when she gets recruited for the honor's program where elite humans are selected to journey in the space for a year with the Leviathan, a race of sentient alien ships. Zara can't believe that she was chosen by the Leviathans. She wasn't really interested in the program but in the end she joins the tour in order to escape from her enemies on earth. When she gets aboard the alien ship, She meets Nadim, the alien ship she's assigned to. Zara and Nadim quickly make a deep connection and she feels that she belongs there. Zara doesn't really believe in honor's program and  when Nadim refuses to answer her questions, she knew something's not right and she'll not give up until she finds her answers.
Zara is a pretty tough character who's gone through so much when she was a child which left her deep scars. Her dark past has made her strong but she's still vulnerable whenever she's reminded of it. I really liked her rebellious, fearless, and determined personality. She's someone who's not afraid to ask tough questions, not give up without a fight, and don't care about breaking the rules which are the best things I liked about her. I also enjoyed her character development throughout. Beatrix aka Bea is another passenger who gets selected for the honor's program. She's a smart girl with a beautiful musical voice. Zara and Bea quickly becomes great friends and I loved the friendship between them. Nadim is an alien ship but he's still got a great personality. He's a young Leviathan who wants to prove himself to his elders. He was very sweet, thoughtful, and caring towards Zara and Bea. His character kinda reminded me of AIDEN from Illuminae but he's just an AI and Nadim is a living alien being. The relationship between Zara and Nadim really captivated me. The connection between them is very intense and strange but who cares I'm still gonna ship them. Zara, Bea and Nadim makes a strong trio and I can't wait to see them in action once again in the next book.
The plot was unique and interesting but the pacing kinda seemed uneven to me. The book begins with a great start but soon it takes a slow turn and it picks up speed only at the second half. Nevertheless, I loved the action and the mystery in the plot. I quite enjoyed all the interactions between Nadim and Zara. I'm not sure what's really happening between them but I hope we get our answers in the sequel. I liked the writing, it was easy to follow. The story was told from Zara and Nadim's first person POV but I think it should also have Bea's POV. She's a wonderful character too and I loved how she grew strong as the story progressed. The world the authors created was very intriguing and I would love to explore more of it. The Leviathans were a mystery from the start. They are not only ships, they're living beings who's got feelings. Even though we've got some of the answers at the end, there are still some questions that left unanswered.
Overall, I enjoyed this book! It was a very entertaining sci-fi read filled with action, adventure, friendship, and something-something. The ending was really good and I can't wait to know what happens next.
Recommend it?

I highly recommend this book to everyone who loves YA sci-fi adventurous books.

MY RATING:
[4/5 Stars]
So, What do you think of this book? Have you read this yet? Do you want to read this book?
Please Feel Free To Comment Below. ❤
See You In The Next Post and Have a Great Day! 🙂