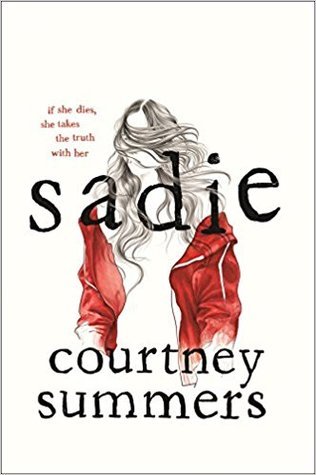 RELEASE DATE: September 4th, 2018
AUTHORS:Courtney Summers
GENRE:  Young-Adult, Contemporary, Mystery, Thriller.
PUBLISHER:   Wednesday Books
SUMMARY:
Sadie hasn't had an easy life. Growing up on her own, she's been raising her sister Mattie in an isolated small town, trying her best to provide a normal life and keep their heads above water. 
But when Mattie is found dead, Sadie's entire world crumbles. After a somewhat botched police investigation, Sadie is determined to bring her sister's killer to justice and hits the road following a few meagre clues to find him.
When West McCray—a radio personality working on a segment about small, forgotten towns in America—overhears Sadie's story at a local gas station, he becomes obsessed with finding the missing girl. He starts his own podcast as he tracks Sadie's journey, trying to figure out what happened, hoping to find her before it's too late.
" I wish this was a love story because I know how it goes in one like mine, where the only moments of reprieve are the spaces between its lines. But here's the thing I tell myself to dull the sharp edges of everything that's surely left to come: 
The worst has already happened. "
This book was just WOW! I wasn't really interested in this book when I first saw it, but after hearing a lot of hype about it, I couldn't help it. It was quite an intense and powerful read.  It just wrecked me. The ending left me speechless and also a little frustrated. Sadie was a great protagonist, I really loved her character. This whole book was about Sadie's journey to  find her sister's killer and bring him to justice. It was totally an unputdownable read and I finished it in two sittings. I really liked the unique format of the book. I've read Courtney Summer's All The Rage and honestly, I was disappointed with that book, but this one was so good. I loved it!
This was a mystery novel so i'm going to skip writing the summary part because I don't want to give away anything. All the characters were well written especially Sadie. Nineteen Year old Sadie was a complex character with multi layered personality. She led a hard life and because of her stutter, no one wanted to befriend her. Her little sister Mattie was everything to her. She raised her since she was a baby and her death totally devastates her. She was a brave girl. Despite her vulnerabilities, she always stood strong and never gave up finding her sister's murderer. I enjoyed her strong determination and her entire journey of revenge. The secondary characters were also pretty good. I really liked Mary beth. She took care of Sadie and Mattie while Claire was mostly absent. I'm not great fan of Claire. She's not a great mother figure and I didn't liked how she ignored Sadie even though she had her reasons. I loved West McCray's character. He is investigating Sadie's case and he was a great addition to the plot. He follows Sadie's path by finding clues, but when the investigation takes a dark sinister turn, West is afraid to know what he might find in the end, but he's determined to bring back Sadie.
The plot was gripping and well written. I was hooked to the story from the start to the finish. It was an emotional ride filled with suspense and mystery. It's a fast paced read. The story alternates between Sadie's POV and a podcast script narrated by West McCray. I quite enjoyed reading the story from both perspectives. The unique structure of this book made the story even more suspenseful to read. The twists and turns kept me on the edge of my seat throughout. It's a YA mystery novel without any romance. The author's writing was so dark and addicting. I absolutely loved it. 
Overall, It was a great read that deals with important topics. Although it doesn't have a satisfying conclusion, it's totally worth a read. This book has some sensitive and dark topics which might be triggering for some readers so read with caution.
Recommend it?
Yes
I highly recommend this book to everyone who're into YA mystery and thrillers.
Trigger Warnings: pedophilia, child abuse, sexual abuse, rape, drug abuse, violence, murder.
MY RATING:


[4/5 Stars]
So, What do you think of this book? Have you read it yet? Do you Plan to read it?
Please feel free to comment below!
See You In The Next Post and Have a Great Day!

 🙂