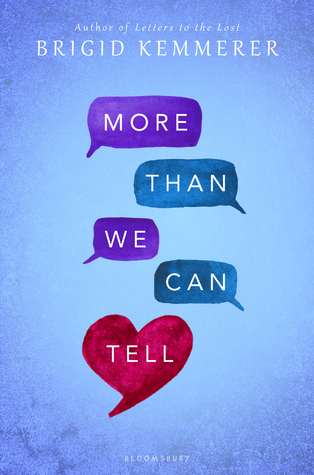 RELEASE DATE: March 06th, 2018
AUTHOR: Brigid Kemmerer
GENRE: Young-Adult, Contemporary, Romance.
PUBLISHER: Bloomsbury Children's
SUMMARY:
Rev Fletcher is battling the demons of his past. But with loving adoptive parents by his side, he's managed to keep them at bay…until he gets a letter from his abusive father and the trauma of his childhood comes hurtling back.
Emma Blue spends her time perfecting the computer game she built from scratch, rather than facing her parents' crumbling marriage. She can solve any problem with the right code, but when an online troll's harassment escalates, she's truly afraid.
When Rev and Emma meet, they both long to lift the burden of their secrets and bond instantly over their shared turmoil. But when their situations turn dangerous, their trust in each other will be tested in ways they never expected. 
"No one lives in a vacuum. Our actions have an impact on everyone around us. Sometimes without us even realizing it."
 I've been eagerly waiting for this book since I've finished Letters to the Lost, the first book in this standalone series.  It was one of my favorite books of 2017 and I was beyond excited when I heard that Rev's getting his own story, he's my favorite secondary character in the first book. More than we can tell features Rev fletcher's emotional story and the author didn't disappoint me. I absolutely loved it. It was pretty emotional, romantic, and oh so cute. This book was sooo good that it nearly came to five star read for me but the annoying heroine made me drop one star at the end. Nonetheless, it was still a beautiful read. Though it can be read as a stand-alone novel, I also recommend everyone to read Letters to the Lost.   
   In the name of religion and god, Rev Fletcher has faced physical and mental abuse by his biological father when he was a kid. Luckily he is saved and got adopted to an African american couple. Ten years has passed but Rev's still battling the demons of his past. He always wears long hoodies and shirts with long sleeves to hide the scars inflicted on him by his father. One day when Rev receives letter from his abusive father, his whole world turns upside down and his trauma of his childhood comes back. Rev isn't a helpless kid anymore he's a grown up but somewhere in his mind he's still the same kid who craves for his father's approval. Sixteen year old Emma Blue is a high school student and also a game player who spends her time perfecting the computer game she's built from the scratch. Like her father, She's good at coding and with game building but her mother feels that it's an unreliable job. Being a female gamer, she faced many hostilities online. When a idiot troll begins to harass her, she takes it lightly by blocking him but when his threats becomes too scary, she starts to get afraid. When Rev and Emma meet for the first time, they bond instantly and they both share their troubles. Soon their friendship escalates into something more. When things take a dangerous turn, their trust in each other will be tested in unexpected ways.
I loved Rev Fletcher in Letters to the Lost and this book made me love him even more. He's the ray of sunshine in this whole book! He's a complex character who's struggling with his childhood trauma. His past was horrible, I felt quite sad for all the torture he had undergone. I really liked his sweet, fun, and shy side. He's pretty adorable and good hearted, I think no one can resist him. People who like flawed and multi-layered characters will definitely love him. Emma on the other hand is a good character too but some of her actions really annoyed me like how she lashed out on everyone, her being jealous of her best friend, and a stupid decision she makes at the end that I can't tell you about.  I love that she's a gamer girl and I really liked her in the first half but in the second half, she seemed a bit annoying which made me not giving this book a full five star. The romance between Rev and Emma was super cute and I loved every minute of it. I really liked the way their relationship slowly developed with each interaction. Their every interaction was adorable and they'd make a perfect cute couple. As for the secondary characters, I loved seeing Declan, Geoff, and Kristin, and Juliet once again. I really liked the bromance between Declan and Rev. It was another thing that I love in this series. Matthew was an interesting addition to the plot. I enjoyed the awkward interactions between him and Rev. I hope we get Matthew's story in the future.   I almost forgot to mention Texy, Emma's adorable pet dog. It was fun watching her playing cupid for Rev and Emma.
The plot was well written, emotional  and impactful! Just like the first book, this book is   a roller coaster of emotions. It's a perfect YA Contemporary novel that focuses on family, friendship, and love. I absolutely loved the family dynamics in the book and how it was portrayed. If you're looking for a family oriented YA novel then definitely pick this up.  Besides the gaming part, I also liked the aspect of cyber bullying and dangers of the online world. The story moved in a perfect pace and I was never left bored. There are few surprising twists in the plot, but the one at the end I actually saw that coming. The characters are well built and well developed. The author's beautiful writing style is another great aspect of this book. The story is told in Rev and Emma's first person pov and I really enjoyed getting to know both of them. 
Overall, it was a wonderful read and I enjoyed every minute of it. The story was so addicting that I flew through the pages pretty fast and finished it in two sittings. The author did a great job in writing this book and I really can't wait for her next work. 
Recommend it?

I highly recommend this book to everyone who loves YA Contemporary novels. Seriously, don't miss this book! 

MY RATING:
[4/5 Stars]
So, What do you think of this book? Have you read it yet? Do you want to read it?
Please Feel Free To Comment Below. ❤

See You In The Next Post and Have a Great Day! 🙂