Happy Halloween Everyone! I hope you guys are having fun! It's the last day of October so it's time for another wrap up post. If you don't know, I had  my birthday on October 10 and I really had a great time. During this Halloween month, I've seen so many people had fun reading month with some spooky reads, but as for me I stick with my favorite fantasy genre. October wasn't really a great bookish month for me but it wasn't bad either. I have managed to read seven books which is pretty average for me because I usually read more than ten books per month and now my November TBR list is filled with lots of books, and I  really hope that I finish them all. Anyway, enough of my ramblings, let's begin this monthly recap!  🙂
---
BOOKS I READ THIS MONTH: 07 Books
 
TITLE: An Enchantment of Ravens
AUTHOR:  Margaret Rogerson 
GENRE: YOUNG-ADULT,FANTASY,FAE,ROMANCE.
PUBLICATION DATE: September 26th 2017 

 
TITLE: Devils & Thieves (Devils & Thieves #1)
AUTHOR:  Jennifer Rush 
GENRE: YOUNG-ADULT,URBAN-FANTASY,PARANORMAL,ROMANCE.
PUBLICATION DATE: October 3rd 2017 

 
TITLE: Heart of Mist (The Oremere Chronicles #1)
AUTHOR:  Helen Scheuerer  
GENRE: YOUNG-ADULT,FANTASY,ADVENTURE.
PUBLICATION DATE: August 31st 2017

 
TITLE: Invictus
AUTHOR:  Ryan Graudin   
GENRE: YOUNG-ADULT,SCI-FI,FANTASY, ADVENTURE.
PUBLICATION DATE:   September 26th 2017 

 
TITLE: Hunting Prince Dracula (Stalking Jack the Ripper #2)
AUTHOR:  Kerri Maniscalco  
GENRE: YOUNG-ADULT,HISTORICAL,MYSTERY,HORROR.
PUBLICATION DATE: September 19th 2017

 
TITLE: Last Star Burning (Last Star Burning #1)
AUTHOR:  Caitlin Sangster 
GENRE: YOUNG-ADULT,SCI-FI, DYSTOPIA, ADVENTURE.
PUBLICATION DATE: October 10th 2017

 
TITLE: Haven
AUTHOR:  Mary Lindsey 
GENRE: YOUNG-ADULT,URBAN-FANTASY,PARANORMAL,ROMANCE.
PUBLICATION DATE: November 7th 2017

---
BOOKS  REVIEWED: 08 Books
Click on the image to go to my review page.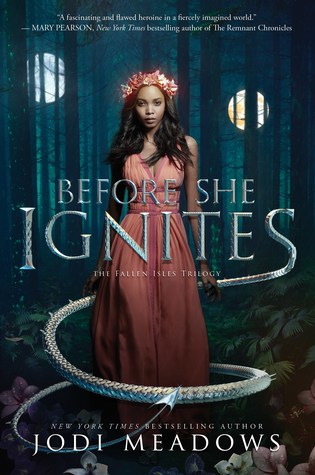 ---
BOOK TAGS:
---
OTHER POSTS:
---
AN ENCHANTMENT OF RAVENS BY MARGARET ROGERSON
This book was a wonderful read! It's one of my highly anticipated reads of this year and I'm so glad it met all of my expectations. I loved the world, the characters, and the lyrical writing style of the author. If you like fae novels then you must give this a shot.
BLURB: A skilled painter must stand up to the ancient power of the faerie courts—even as she falls in love with a faerie prince—in this gorgeous debut novel.
Isobel is a prodigy portrait artist with a dangerous set of clients: the sinister fair folk, immortal creatures who cannot bake bread, weave cloth, or put a pen to paper without crumbling to dust. They crave human Craft with a terrible thirst, and Isobel's paintings are highly prized. But when she receives her first royal patron—Rook, the autumn prince—she makes a terrible mistake. She paints mortal sorrow in his eyes—a weakness that could cost him his life.
Furious and devastated, Rook spirits her away to the autumnlands to stand trial for her crime. Waylaid by the Wild Hunt's ghostly hounds, the tainted influence of the Alder King, and hideous monsters risen from barrow mounds, Isobel and Rook depend on one another for survival. Their alliance blossoms into trust, then love—and that love violates the fair folks' ruthless laws. Now both of their lives are forfeit, unless Isobel can use her skill as an artist to fight the fairy courts. Because secretly, her Craft represents a threat the fair folk have never faced in all the millennia of their unchanging lives: for the first time, her portraits have the power to make them feel.
---
Let's Chat! ❤
So, how many books have you read this month and what is your favorite book of the month? Have you read any book from the above list? And How are you celebrating the Halloween?
Please feel free to comment below or leave a link to your wrap up post. Until next time and Have a great Spooky Halloween Night! 
😀