Hi guys! I hope everyone enjoying the Autumn Equinox. So today, I bring you the Autumn Book tag. Recently, I was tagged by the Wonderful Melanie @Mel To The Any to do this fun book tag. It was originally created by seelieknight and you'll find the questions are different from the other autumn tags and I really had fun doing it. So without further ado, let's begin.
---
Best autumnal themed book cover?
Tris & Izzie is a german fairytale retelling of Isobel and Tristan. I didn't love the retelling but I did love the cover. It definitely gives the autumn vibes.
An Enchantment of Ravens is another awesome cover that gives autumn vibes. I recently finished this book and I absolutely loved it. I highly recommend it to everyone who are total suckers for fae novels. This book was damn beautiful!
Which fictional friend group would you trust with a Ouija board?
The inner circle from the ACOTAR series. It would totally make my day spending time with them and I know they'll have my back if something goes wrong.
Which book setting would you love to be celebrating in during Halloween night?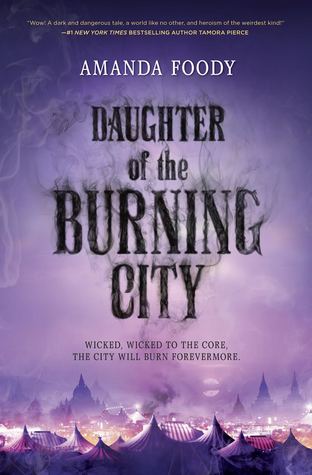 Gomorrah is definitely the best place to celebrate during halloween Night. It's a travelling circus city inhabited by freaks and the whole atmosphere gives you the dark and creepy vibes. I think it's an amazing place to have fun especially on a Halloween Night.
Best autumnal food description inside of a story?
Sorry! No book comes to my mind right now but I do remember reading some books that has description of delicious autumnal foods like apple pie,  marshmallows, and hot chocolate.
Which fictional character would you dress as?
I would love to dress as Rogue from X-Men but from the Bookish fictional world I would pick Inej aka wraith from Six Of Crows duology. She's totally a badass girl who always stays behind the shadows watching everyone's moves and learning their secrets.
An antagonist you would pledge your allegiance to?
It's DARKLING from Grisha Trilogy! He's my top favorite Antagonist and I'm so much obsessed with him.
The creepiest book you've ever read?
I haven't  read many creepy books but these are the most creepiest books I've ever read so far. If you're looking for a nice creepy ghost hunting book series this month then I highly recommend Ghost Trapper Ellie Jordan series. It will definitely give you chills!
A book you've yet to read but will read this October?
Haven By Mary Lindsey: It's an ARC which I haven't read yet but I'm looking forward to pick it up soon.
The Language Of Thorns By Leigh Bardugo: My copy hasn't arrived yet *sad pouting face* but it's okay I'm planning to devour this book on Halloween night. 
The Last Star Burning: Recently, I've been hearing great things about this book so I really can't wait to check it out for myself.  
Which fictional character would you put in charge of the decorations for a Halloween party?
I would pick Harte Darrigan from the Last Magician By Lisa Maxwell. He's not only a great magician and also an amazing stage setter so I believe he would make a perfect guy to do this job in bringing the creepiness to life with his Halloween decor.
---
I TAG:
Anna @My Bookish Dream
Breeny @Breeny's Books
Celeste @Inked Books
Dani @Perspective Of A Writer
Kyra and Nikki @Book Allure
Lois @My Midnight Musing
Sophie @Beware Of The Reader
Sophie @Blame Chocolate
YOU!
There is no pressure, feel free to disregard it if you aren't interested in doing this tag.
---
What do you think of my list? Have you read any of the book from the above list? Feel free to comment below.
Until Next time and Have a great day! 🙂