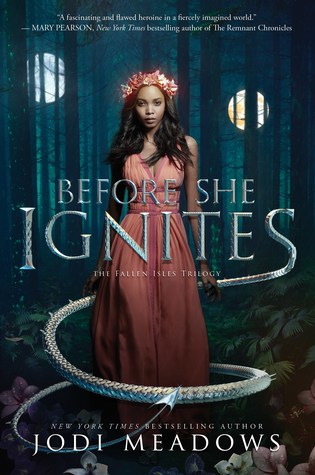 RELEASE DATE: September 12, 2017
AUTHOR: Jodi Meadows
GENRE: Young-Adult, Fantasy, Dragons Magic.
PUBLISHER: Katherine Tegen Books
SUMMARY: 
Before
Mira Minkoba is the Hopebearer. Since the day she was born, she's been told she's special. Important. Perfect. She's known across the Fallen Isles not just for her beauty, but for the Mira Treaty named after her, a peace agreement which united the seven islands against their enemies on the mainland.
But Mira has never felt as perfect as everyone says. She counts compulsively. She struggles with crippling anxiety. And she's far too interested in dragons for a girl of her station.
After
Then Mira discovers an explosive secret that challenges everything she and the Treaty stand for. Betrayed by the very people she spent her life serving, Mira is sentenced to the Pit–the deadliest prison in the Fallen Isles. There, a cruel guard would do anything to discover the secret she would die to protect.
No longer beholden to those who betrayed her, Mira must learn to survive on her own and unearth the dark truths about the Fallen Isles–and herself–before her very world begins to collapse.
I have a weakness for pretty covers and this one looks so beautiful. It was literally calling my name. Add to that, it also has dragons which made it even more irresistible. So, did it lived up to its intriguing premise? Well, Yes and No. This was really an enjoyable read but there is one thing about this book that made me not loving it completely. I actually thought there's going to be some epic adventure with some dragon action but the entire plot was mostly set in a prison. I'm not saying it was a boring read because It does have a engaging story and interesting flawed characters. The best things I loved about this book are the world building, the characters, political intrigue, dragons, and the author's amazing writing style. A POC as the main character is another aspect that I really liked about it. 
Mira Minkoba is the hopebearer of the Fallen Isles and also the face of the Mira treaty, a peace treaty which unites all the seven Isles. It states that everyone on the isle is equal regardless of their race and owning of dragons is totally prohibited because they're the children of the gods and their complete extinction might bring a total wrath upon them. Mira always has special bond with dragons and when the dragons slowly starts disappearing from the sanctuary, she starts investigating for their disappearance with the help of her two best friends and her search finally leads her to shocking secrets. When she reveals what she has found to the Luminary Council, she gets betrayed by them and ends up in the pit, the deadliest prison in the Fallen Isle. There she meets her new prison guard who'll do anything to find out about the secret she has found. To survive, Mira needs to stay strong but her anxiety disorder makes things harder for her. Before she turns completely insane, Mira needs to find a way out of the prison.
Mira is a totally flawed and complex character. She's not a kickass character like you find in other YA fantasy books but she can still be considered as a strong protagonist. Physically she's weak but mentally she's totally strong. Since birth, she lived a privileged life but with one incident, her whole life turns pretty much upside down.  During her time in the pit, she goes through abuse, and struggles a lot with her anxiety and panic attacks. She handles her anxiety through counting which always eases her. Although I can't relate to Mira's anxiety disorder, I really felt sorry for her every time she battles against her problem. The author really done a great job by portraying it quiet realistically. Altan, Mira's cruel guard with a hidden agenda is totally cunning and smart. I actually wanted him to be a good guy but he ends up being a total jerk who loves torturing Mira. I absolutely loved Aaru! He's a prisoner from Idris who doesn't talk much. He's very calm, sweet, caring, and a mysterious boy. The relationship between Aaru and Mira seemed so cute and sweet. I would love to see how their relationship develops further in the sequel. The way they communicated with each other through a tiny hole in the wall seemed so cute.  I also liked Gerel who was totally kickass and I would love to see more of her in the future installments. Mira's best friends Hristo and Illina are nice addition to the plot but honestly, they didn't intrigued me as much as the other characters. 
The plot was interesting which held my attention throughout but I did find some parts a bit draggy though. It is mostly a character driven plot and Mira was a refreshing protagonist who has lots of insecurities. From the first page she intrigued me and I was curious to know what fate brings her. The story moved in a slow pace but the last twenty percent of the book is definitely fast paced. There are some surprising twists in the book but they're not something that'll blow your mind away. The book was told from Mira's POV but I would've enjoyed it more if it was told in multiple POV's. The author's writing style is totally addictive and I flew through it pretty easily without any struggle. The world building was amazing! There are actually seven Isles in this world and each Isle worships their own god. The first book is placed on the Fallen Isle but I hope we get to explore more of this world in the next installment. I really liked the mythology in this world that has gods, dragons and also the glowy rock things called Noorstones which not only glows but also contains energy. At first, I was a bit confused with how the Noorstones works but eventually I got it.  
Overall, I really liked this book! It's a pretty good start for a new series. There is no huge cliffhanger at the end but it does conclude with an interesting ending and I'll definitely pick up the next book when it finally comes out. I hope it's even more better than the first book and has more action. 
Recommend it?

Despite few issues, It's a good fantasy read. I would definitely recommend it to everyone who loves character driven YA fantasy books. 
So, What do you think of this book? Have you read this yet? Do you want to read it?
Please Feel Free To Comment Below. ❤
See You In The Next Post and Have a Great Day! 🙂