---
Hello Everyone! Instead of a book review, today I want to do a fun book tag. I'd like to thank Sarah @The Clever Reader for tagging me. She's an amazing YA book blogger so don't forget to give her blog a visit. I love Disney princesses and also their funny sidekicks so I really had fun doing this tag and I hope you guys enjoy reading it.  So without further ado, let's begin!
MUSHU FROM MULAN/OLAF + SVEN FROM FROZEN
THE COMIC RELIEF – NAME YOUR FAVORITE HILARIOUS CHARACTER OR YOUR FAVORITE COMEDY/FUNNY BOOK
ALL I'VE NEVER WANTED BY ANA HUANG
This book was so much fun to read!  It's actually based on one of  my favorite drama Boys Over Flower or Hana Yori Dango in Japanese version. 
BLURB:The Scions were the four richest, most powerful guys at Valesca Academy, and they ruled the school with iron fists. Everyone wanted to date them or be them…everyone, that is, except Maya Lindberg, who just wanted to avoid them until she could graduate.
She almost succeeded, until an ill-advised outburst on her part put her right in the Scions' path. Just like that, one became her fake boyfriend, one her unwanted matchmaker, one her guardian angel, and the one she couldn't stand the most? Yeah, he's her new housemate.
What happens when a girl gets everything she never asked for, including a puppy, a new wardrobe, and, possibly, even true love?
---
THE SEVEN DWARFS FROM SNOW WHITE
FAVORITE GROUP/ENSEMBLE
It's definitely Kaz's crew from Six Of Crows!
If you haven't heard of this book then you must be living under a rock. This duology is totally awesome especially the characters. 
BLURB: Criminal prodigy Kaz Brekker has been offered wealth beyond his wildest dreams. But to claim it, he'll have to pull off a seemingly impossible heist:
Break into the notorious Ice Court
(a military stronghold that has never been breached)
Retrieve a hostage
(who could unleash magical havoc on the world)
Survive long enough to collect his reward
(and spend it)
Kaz needs a crew desperate enough to take on this suicide mission and dangerous enough to get the job done – and he knows exactly who: six of the deadliest outcasts the city has to offer. Together, they just might be unstoppable – if they don't kill each other first.
---
PASCAL FROM TANGLED
THE LOYAL CHEERLEADER CHAMELEON (NOT A FROG, FLYNN RIDER) – NAME A BOOK THAT STARTED OUT ONE WAY BUT CHANGED FOR YOU
THE TRAITOR'S KISS BY ERIN BEATY: This was quite a disappointment read for me! This book started with a great start but slowly it become less exciting and boring when there's no spy action as I expected there to be and most of the story was focused on the romance.
 BLURB: An obstinate girl who will not be married. A soldier desperate to prove himself. A kingdom on the brink of war.
With a sharp tongue and an unruly temper, Sage Fowler is not what they'd call a lady―which is perfectly fine with her. Deemed unfit for marriage, Sage is apprenticed to a matchmaker and tasked with wrangling other young ladies to be married off for political alliances. She spies on the girls―and on the soldiers escorting them.
As the girls' military escort senses a political uprising, Sage is recruited by a handsome soldier to infiltrate the enemy ranks. The more she discovers as a spy, the less certain she becomes about whom to trust―and Sage becomes caught in a dangerous balancing act that will determine the fate of her kingdom.
---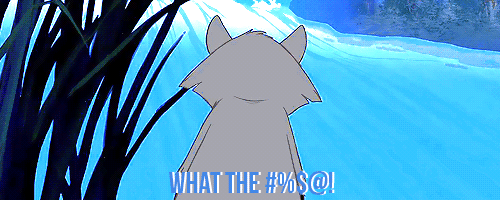 MEEKO FROM POCAHONTAS
POCAHONTAS'S SLY AND SNEAKY RACCOON FRIEND – NAME A PLOT TWIST THAT YOU DID NOT SEE COMING
I'm going to list out my favorite plot twist's of this year but Godsgrave definitely tops the list. Godsgrave is a sequel to nevernight and also a book full of twists. The last one is the most shocking twist which I already saw coming but I really wasn't expecting that.
---
RAJAH FROM ALADDIN / FLOUNDER FROM THE LITTLE MERMAID
GENTLE WITH THEIR PRINCESS BUT PROTECTIVE WITH EVERYONE ELSE – NAME YOUR FAVORITE BEST FRIEND IN A NOVEL
SAFI & ISEULT From A Witchlands series!
Safi and Iseult are one of my favorite BFF's because I really liked their friendship and how they understand each other like true sisters. They really have a strong bond of friendship between them and they always looks after each other. I haven't read the sequel to Truthwitch yet but I'm planning to picking it up soon. 
---
LOUIS FROM THE PRINCESS AND THE FROG / SEBASTIAN FROM THE LITTLE MERMAID / COGSWORTH, LUMIERE, MRS. POTTS, & CHIP FROM BEAUTY AND THE BEAST: 
THE MUSICAL BUNCH – NAME A NOVEL WHERE MUSIC PLAYED A BIG PART OR MADE YOU WANT TO SING ITS PRAISES
IDOL BY KRISTEN CALLIHEN
I actually I didn't expect to love this book but I really did and it was quite enjoyable throughout. I loved the romance, the humor and the music. It was totally an entertaining read.
BLURB:
Libby
I found Killian drunk and sprawled out on my lawn like some lost prince. With the face of a god and the arrogance to match, the pest won't leave. Sexy, charming, and just a little bit dirty, he's slowly wearing me down, making me crave more.
He could be mine if I dare to claim him. Problem is, the world thinks he's theirs. How do you keep an idol when everyone is intent on taking him away?
Killian
As lead singer for the biggest rock band in the world, I lived a life of dreams. It all fell apart with one fateful decision. Now everything is in shambles.
Until Liberty. She's grouchy, a recluse—and kind of cute. Scratch that. When I get my hands on her, she is scorching hot and more addictive than all the fans who've screamed my name.
The world is clamoring for me to get back on stage, but I'm not willing to leave her. I've got to find a way to coax the hermit from her shell and keep her with me. Because, with Libby, everything has changed. Everything.
---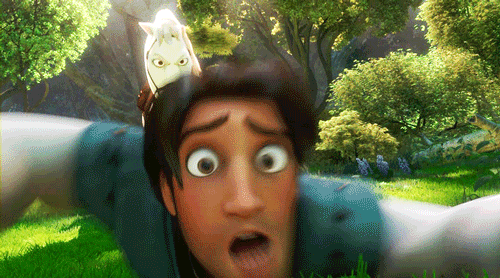 MAXIMUS FROM TANGLED
THE OBSTACLE IN FLYNN RIDER'S WAY – NAME A CHARACTER THAT FACES A LOT OF OBSTACLES
I've got one name for this and it's Mia Corvere from Nevernight Chronicle. From the start, she faces lots of obstacles in her path to revenge. I recently finished Godsgrave and it was freaking good. 
---
HAMISH, HUBERT, & HARRIS FROM BRAVE: 
FAVORITE FAMILY DYNAMICS IN A NOVEL
The Start Of Me and You is a wonderful read. Author Emery Lord has beautifully portrayed the importance of family, friendship and love in this book. I highly recommend this book to all the YA contemporary lovers.
BLURB:
It's been a year since it happened—when Paige Hancock's first boyfriend died in an accident. After shutting out the world for two years, Paige is finally ready for a second chance at high school . . . and she has a plan. First: Get her old crush, Ryan Chase, to date her—the perfect way to convince everyone she's back to normal. Next: Join a club—simple, it's high school after all. But when Ryan's sweet, nerdy cousin, Max, moves to town and recruits Paige for the Quiz Bowl team (of all things!) her perfect plan is thrown for a serious loop. Will Paige be able to face her fears and finally open herself up to the life she was meant to live?
---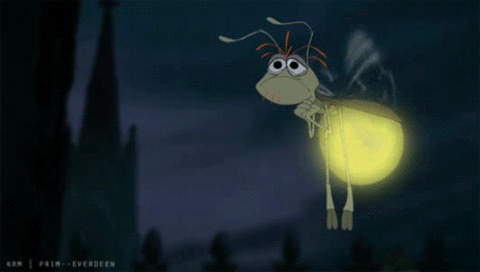 RAY FROM THE PRINCESS AND THE FROG / 3 FAIRIES FROM SLEEPING BEAUTY:
THE ADVICE GIVERS – BOOK THAT MOST IMPACTED YOUR LIFE
SLAMMED BY COLLEEN HOOVER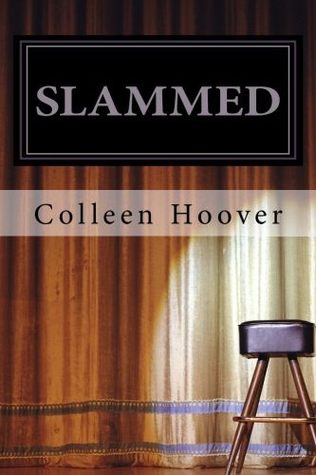 BLURB: Following the unexpected death of her father, 18-year-old Layken is forced to be the rock for both her mother and younger brother. Outwardly, she appears resilient and tenacious, but inwardly, she's losing hope.
Enter Will Cooper: The attractive, 21-year-old new neighbor with an intriguing passion for slam poetry and a unique sense of humor. Within days of their introduction, Will and Layken form an intense emotional connection, leaving Layken with a renewed sense of hope.
Not long after an intense, heart-stopping first date, they are slammed to the core when a shocking revelation forces their new relationship to a sudden halt. Daily interactions become impossibly painful as they struggle to find a balance between the feelings that pull them together, and the secret that keeps them apart.
---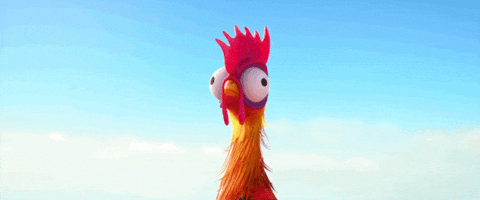 HEI HEI FROM MOANA
NAME A CHARACTER THAT STEALS THE SHOW
Nikolov Lantsov from Grisha Trilogy
Magnus Bane From The Mortal Instruments
A.I.D.A.N from The Illuminae Files 
---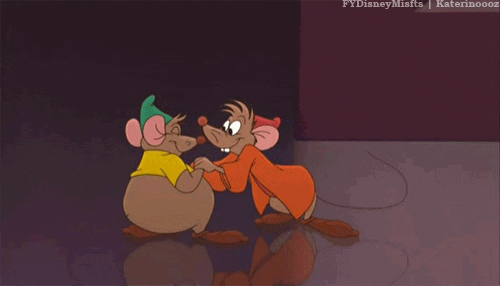 GUS & JAQ FROM CINDERELLA
OPPOSITES ATTRACT – NAME YOUR FAVORITE OR WORST OPPOSITE ATTRACTS PAIRING
Favorite Pairing: Rose and Dimitri Belikov from The Vampire Academy. They're my NO.1 favorite OTP. 

Worst Pairing: Adelaide and Cedric from The Glittering Court by Richelle Mead. Their romance was dull and totally boring. 
---
That's it! I'm not going to tag anyone, but feel free to do this tag if you want to.
Until Next time and Have a great day! ❤