Hey guys! Today, I'm back with another new book tag named The Alphabet Book Tag. I've been recently tagged by the wonderful Deb @The Reading Chick to do this tag so thank you so much Deb. For this tag, all you have to do is share the books that you still need to read in an alphabetical order from your owned bookshelf. You can also include books from your NetGalley account, Kindle, Book subscriptions, Physical ARC's etc. This tag is pretty helpful for those who has hard time deciding which book to pick up next.

Alice (The Chronicles of Alice #1) by Christina Henry
Genre:  Adult/Fantasy/Dark Retelling
I like Christina Henry's books and I've been wanting to read this book for a while. I'm not fan of Alice retellings but I've heard great things about this book.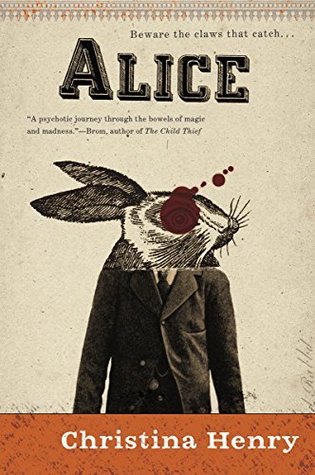 BLURB:
A mind-bending new novel inspired by the twisted and wondrous works of Lewis Carroll…
In a warren of crumbling buildings and desperate people called the Old City, there stands a hospital with cinderblock walls which echo the screams of the poor souls inside.
In the hospital, there is a woman. Her hair, once blond, hangs in tangles down her back. She doesn't remember why she's in such a terrible place. Just a tea party long ago, and long ears, and blood…
Then, one night, a fire at the hospital gives the woman a chance to escape, tumbling out of the hole that imprisoned her, leaving her free to uncover the truth about what happened to her all those years ago.
Only something else has escaped with her. Something dark. Something powerful.
And to find the truth, she will have to track this beast to the very heart of the Old City, where the rabbit waits for his Alice.
Barefoot on the Wind  Zoë Marriott
Genre: Young-Adult/Fantasy/Retelling
I recently bought this book because of its beautiful cover and also it's a dark retelling of beauty and the beast set in a fairytale Japan. Sounds exciting, Isn't it? Has anyone read this book yet?
There is a monster in the forest…
Everyone in Hana's remote village on the mountain knows that straying too far into the woods is a death sentence. When Hana's father goes missing, she is the only one who dares try to save him. Taking up her hunting gear, she goes in search of the beast, determined to kill it – or be killed herself.
But the forest contains more secrets, more magic and more darkness than Hana could ever have imagined. And the beast is not at all what she expects…
Carve the Mark (Carve the Mark #1) By Veronica Roth
Genre: Young-Adult/Dystopia/Fantasy
I loved Veronica Roth's Divergent and I was pretty excited to read this book but after hearing lots of mixed reviews on it, I decided to read this after the finale is released.
 BLURB: In a galaxy powered by the current, everyone has a gift.
Cyra is the sister of the brutal tyrant who rules the Shotet people. Cyra's currentgift gives her pain and power — something her brother exploits, using her to torture his enemies. But Cyra is much more than just a blade in her brother's hand: she is resilient, quick on her feet, and smarter than he knows.
Akos is the son of a farmer and an oracle from the frozen nation-planet of Thuvhe. Protected by his unusual currentgift, Akos is generous in spirit, and his loyalty to his family is limitless. Once Akos and his brother are captured by enemy Shotet soldiers, Akos is desperate to get this brother out alive — no matter what the cost.
The Akos is thrust into Cyra's world, and the enmity between their countries and families seems insurmountable. Will they help each other to survive, or will they destroy one another?
Darkfever (Fever #1) by Karen Marie Moning
Genre: Adult/Urban-Fantasy/Paranormal/Romance
I think many UF readers are pretty much familiar with this book. Fever is a  pretty popular series and being a fan of Paranormal romance myself, I want to give this series a shot someday.
BLURB: MacKayla Lane's life is good. She has great friends, a decent job, and a car that breaks down only every other week or so. In other words, she's your perfectly ordinary twenty-first-century woman. Or so she thinks…until something extraordinary happens.
When her sister is murdered, leaving a single clue to her death–a cryptic message on Mac's cell phone–Mac journeys to Ireland in search of answers. The quest to find her sister's killer draws her into a shadowy realm where nothing is as it seems, where good and evil wear the same treacherously seductive mask. She is soon faced with an even greater challenge: staying alive long enough to learn how to handle a power she had no idea she possessed–a gift that allows her to see beyond the world of man, into the dangerous realm of the Fae….
As Mac delves deeper into the mystery of her sister's death, her every move is shadowed by the dark, mysterious Jericho, a man with no past and only mockery for a future. As she begins to close in on the truth, the ruthless Vlane–an alpha Fae who makes sex an addiction for human women–closes in on her. And as the boundary between worlds begins to crumble, Mac's true mission becomes clear: find the elusive Sinsar Dubh before someone else claims the all-powerful Dark Book–because whoever gets to it first holds nothing less than complete control of the very fabric of both worlds in their hands….
Ever the Hunted (Clash of Kingdoms #1) By Erin Summerill
Genre: Young-Adult/Fantasy/Adventure
This is one of those books in my shelf that I really want to read but still hesitant to pick it up.
Seventeen year-old Britta Flannery is at ease only in the woods with her dagger and bow. She spends her days tracking criminals alongside her father, the legendary bounty hunter for the King of Malam—that is, until her father is murdered. Now outcast and alone and having no rights to her father's land or inheritance, she seeks refuge where she feels most safe: the Ever Woods. When Britta is caught poaching by the royal guard, instead of facing the noose she is offered a deal: her freedom in exchange for her father's killer.
However, it's not so simple.
The alleged killer is none other than Cohen McKay, her father's former apprentice. The only friend she's ever known. The boy she once loved who broke her heart. She must go on a dangerous quest in a world of warring kingdoms, mad kings, and dark magic to find the real killer. But Britta wields more power than she knows. And soon she will learn what has always made her different will make her a daunting and dangerous force.
Firelight (Firelight #1) By 
by

 Sophie Jordan
Genre: Young-Adult/Fantasy/Dragons/Romance

I love YA fantasy books with Dragons! I haven't read any book by Sophie Jordan but I really want to read this. I hope it doesn't disappoint me.
 BLURB: A hidden truth. Mortal enemies. Doomed love.
Marked as special at an early age, Jacinda knows her every move is watched. But she longs for freedom to make her own choices. When she breaks the most sacred tenet among her kind, she nearly pays with her life. Until a beautiful stranger saves her. A stranger who was sent to hunt those like her. For Jacinda is a drakia descendant of dragons whose greatest defense is her secret ability to shift into human form.
Forced to flee into the mortal world with her family, Jacinda struggles to adapt to her new surroundings. The only bright light is Will. Gorgeous, elusive Will who stirs her inner draki to life. Although she is irresistibly drawn to him, Jacinda knows Will's dark secret: He and his family are hunters. She should avoid him at all costs. But her inner draki is slowly slipping away if it dies she will be left as a human forever. She'll do anything to prevent that. Even if it means getting closer to her most dangerous enemy. Mythical powers and breathtaking romance ignite in this story of a girl who defies all expectations and whose love crosses an ancient divide.
The Great Pursuit (Eurona Duology #2) by Wendy Higgins
Genre: Young-Adult/Fantasy/Romance
I enjoyed Great Hunt, the first book in this duology. I hope the second one is even much better than the first one.
BLURB: Lochlanach has traded the great beast for something far more terrible, a Lashed enemy veiled in beauty, deception, and a vengeance passed down through generations: Rozaria Rocato. And she's offering the hunter Paxton Seabolt power and acceptance he could never receive in his homeland. Pax must decide how far he's willing to go under her tutelage, knowing she is the opponent of Princess Aerity Lochson.
In a land where traditionalists dread change, the Lochlan throne must contend with mysterious foes and traitors, while attempting to keep revolt at bay. As dire circumstances strike the royal family, matters of the castle are left in Aerity's hands. It's time to put aside her fears and grasp the reign, taking actions that have the potential to save or destroy her people.
One hunt has ended, but the pursuit for love and justice continue. In this sequel to The Great Hunt from New York Times bestselling author Wendy Higgins, political intrigue and romance intensify in another thrilling fantasy. Princess Aerity embraces a quest for identity and passion before making the ultimate sacrifice for her kingdom.
Hunted (Sinners #2) by Abi Ketner, Missy Kalicicki
Genre: Young-Adult/Sci-Fi/Dystopia/Romance
Sinners in an interesting YA dystopian series! I absolutely loved the first book in this book. The third book has been released recently so I'm planning to pick this up soon. I highly recommend this trilogy to everyone who loves YA Dystopia.
 FIRST BOOK BLURB: Fifty years ago The Commander came into power and murdered all who opposed him. In his warped mind, the seven deadly sins were the downfall of society. To punish the guilty, he created the Hole, a place where sinners are branded according to their sins. Sinners are forced to live a less than human existence in deplorable conditions, under the watchful eye of guards who are ready to kill anyone who steps out of line. Now, LUST wraps around my neck like thick, blue fingers, threatening to choke the life out of me. I've been accused of a crime I didn't commit, and the Hole is my new home. Constant darkness. Brutal and savage violence. Excruciating pain. Every day is a fight for survival. But I won't let them win. I will not die in the Hole. I am more than my brand. I'm a fighter. My name is Lexi Hamilton, and this is my story.
Island of Exiles (The Ryogan Chronicles #1) by Erica Cameron
Genre: Young-Adult/Fantasy
I  have this in my e-reader for a long time but I haven't gotten around to it yet. It has an intriguing premise. Has anyone read this yet?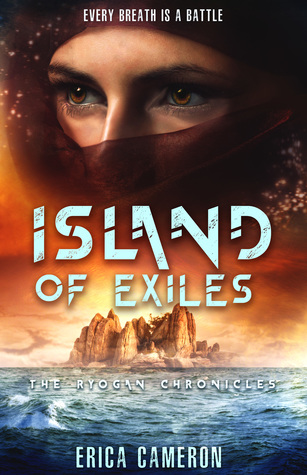 BLURB: 
In this diverse, gritty survival fantasy, a girl warrior turns against her island clan to find the brother they claim died, uncovering secrets. Perfect for fans of Graceling and Snow Like Ashes.
In Khya's world, every breath is a battle.
On the isolated desert island of Shiara, dying young is inevitable. The clan comes before self, and protecting her home means Khya is a warrior above all else.
But when following the clan and obeying their leaders could cost her brother his life, Khya's home becomes a deadly trap. The only person who can help is Tessen, her lifelong rival and the boy who challenges her at every turn. The council she hoped to join has betrayed her, and their secrets, hundreds of years deep, reach around a world she's never seen.
To save her brother's life and her island home, her only choice is to trust Tessen, turn against her clan, and go on the run—a betrayal and a death sentence.
Jagger (Broken Doll #2) By Heather C. Leigh
Genre:  Adult/Dark/Suspense/Romance
I loved the first book Junkie in this duology which ended with a cliffhanger. It's pretty emotional and beautiful read. I hope I'll get to its sequel soon.

 FIRST BOOK BLURB:  I'm a heroin addict. A junkie. A whore. I'll do anything to get my next fix. Anything. Including walking right onto the property of Austin's most ruthless and feared drug lord to beg for some H. I don't know his name, only that people call him Boss. Oh, and that he won't think twice to put a bullet in my head. But like I said, I'll do anything to get my next fix. Even if it costs me my life. Or changes it forever.

Keystone (Crossbreed #1) by Dannika Dark
Genre: Adult/Urban-Fantasy/Paranormal/Romance
I want to read this book because the premise sounds so intriguing.
FIRST BOOK BLURB: Raven Black hunts evildoers for fun, but her vigilante justice isn't the only reason she's hiding from the law. Half Vampire, half Mage, she's spent years living as a rogue to stay alive. When a Russian Shifter offers her a job in his covert organization hunting outlaws, dignity and a respectable career are finally within her grasp. The catch? Her new partner is Christian Poe – a smug, handsome Vampire whom she'd rather stake than go on a stakeout with.
They're hot on the trail of a human killer who will stop at nothing to get what he wants. One misstep during her probationary period could jeopardize Raven's chance at redemption, and her partner would love nothing more than to see her fail. Will Raven find the courage to succeed, or will she give in to her dark nature?
Last Stand (The Black Mage #4) by Rachel E. Carter
Genre: Young-Adult/Fantasy/Magic
The Black Mage is another exciting YA series that I really want to finish. I already read the first two books in the series and loved it.
FIRST BOOK BLURB: Before the age of seventeen, the young men and women of Jerar are given a choice —pursue a trade or enroll in a trial year in one of the realm's three war schools to study as a soldier, knight, or mage… For fifteen-year-old Ryiah, the choice has always been easy. Become a mage and train in Combat, the most prestigious faction of magic. Yet when she arrives, Ry finds herself competing against friend and foe for one of the exalted apprenticeships. Everyone is rooting for her to fail—first and foremost among them is Prince Darren, the school prodigy who has done nothing but make life miserable since she arrived. Will Ry survive, or will her dream go down in flames?

Monstress, Vol. 2: The Blood By  Marjorie M. Liu, Sana Takeda
Genre: Adult/Sci-Fi/Fantasy
Monstress is a fantasy graphic novel with beautiful illustrations and interesting plot. I loved Volume one so I'm pretty excited to read this soon.

Set in an alternate matriarchal 1900's Asia, in a richly imagined world of art deco-inflected steam punk, MONSTRESS tells the story of a teenage girl who is struggling to survive the trauma of war, and who shares a mysterious psychic link with a monster of tremendous power, a connection that will transform them both and make them the target of both human and otherworldly powers.
---
I TAG!
Aimal  @Bookshelves and Paperbacks
Anna  @My Bookish Dream
Ashley @The Infinite Library
Breeny @Breeny's Books
Cassie @Rants And Raves Of A Bibliophile
Melanie @Mel To The Any
Sophie @Blame Chocolate
Sofii @A Book A Thought
There's no pressure, Feel free to disregard it if you're not interested in doing it.
---
Has anyone read any of the books from the above list?  Please share your thoughts in the comments below.
Until Next Time and Have a Great Day!