RELEASE DATE: July 13th 2017
AUTHOR: Ameriie
GENRE: Young-Adult, Anthology, Fantasy.  
PUBLISHER: Bloomsbury Publishing
SUMMARY: Leave it to the heroes to save the world–villains just want to rule the world.
In this unique YA anthology, thirteen acclaimed, bestselling authors team up with thirteen influential BookTubers to reimagine fairy tales from the oft-misunderstood villains' points of view.
These fractured, unconventional spins on classics like "Medusa," Sherlock Holmes, and "Jack and the Beanstalk" provide a behind-the-curtain look at villains' acts of vengeance, defiance, and rage–and the pain, heartbreak, and sorrow that spurned them on. No fairy tale will ever seem quite the same again!
Featuring writing from . . .
Authors: Renée Ahdieh, Ameriie, Soman Chainani, Susan Dennard, Sarah Enni, Marissa Meyer, Cindy Pon, Victoria Schwab, Samantha Shannon, Adam Silvera, Andrew Smith, April Genevieve Tucholke, and Nicola Yoon
BookTubers: Benjamin Alderson (Benjaminoftomes), Sasha Alsberg (abookutopia), Whitney Atkinson (WhittyNovels), Tina Burke (ChristinaReadsYA blog and TheLushables), Catriona Feeney (LittleBookOwl), Jesse George (JessetheReader), Zoë Herdt (readbyzoe), Samantha Lane (Thoughts on Tomes), Sophia Lee (thebookbasement), Raeleen Lemay (padfootandprongs07), Regan Perusse (PeruseProject), Christine Riccio (polandbananasBOOKS), and Steph Sinclair & Kat Kennedy (Cuddlebuggery blog and channel).
I'm not really a fan of Anthologies but I really wanted to read this because it's a book about Villains and I love Villains/Anti-Heroes. Add to that it was featuring some of the famous authors that I'm already familiar with so I really can't miss this one. So, without further adieu, let's talk about the collection of stories in this book.
The Blood of Imuriv by Renée Ahdieh
Prompt from Christine Riccio 
Rating: 4/5 stars
I'm fan of Renee Ahdieh and it was no surprise that I loved this story but I wish it was a bit longer. The story is about rivalry between two royal siblings and royal politics. The story is set in a fictional world where only women rules in a royal family and men worked on the sidelines assisting them. I loved the wonderful writing style. The ending was unpredictable but it's a a book about Villains so I saw that coming.
Jack by Ameriie
Prompt from Tina Burke/The Lushables  
Rating:4/5 stars
This story is based on the Jack the Beanstalk and the Giants. I didn't expect to enjoy it as much as I did because I'm not really fan of Jack and the Beanstalk. The story is engaging and also a bit dark. I was engaged to the story right from the start and the ending left me totally shocked.
Gwen and Art and Lance by Soman Chainani
Prompt from Samantha Lane/Thoughts on Tomes
Rating: 3/5 stars
This story is based on King Arthur, Guinevere and Lancelot. It is either  hit or miss because it's  a love triangle and some readers might find it annoying. The entire story is written as text messages. Gwen has a crush on the school's heartthrob Art and she wants to go to prom with him. Lance is a nerd in her school who really likes Gwen. Art and Lance are best friends so he rejects Gwen because he knows Lance has a crush on her. I really hated Gwen in this book how she plays with two guys. This story is pretty predictable with some clichedness and it was easy to guess with whom she's gonna end up with but I still enjoyed reading it.
Shirley & Jim by Susan Dennard
Prompt from Sasha Alsberg/Abookutopia
Rating: 4/5 stars
We have a female Sherlock Holmes named Shirley in this story. It's a story based on characters Sherlock Holmes, Watson and Moriarty. I don't have a deep knowledge on Sherlock Holmes and the other characters but I loved reading this story. I wish it was a written as a full length novel cause this left me wanting for me. The twist at the end is predictable and I really liked Jim, the villain of the story.
The Blessing of Little Wants By Sarah Enni
Prompt from Sophia Lee/Thebookbasement
Rating: 2/5 stars  
This story is about two witches and their struggle to live in the modern world without getting discovered by the humans. With magic slowly becoming scarce, they both set on a journey to find a mysterious magical island that can grant them powerful magic and a Sorcerer's Wisdom. Okay, this one has a harry potter feel to it but sadly, it didn't impressed me much. I really wanted to love this story but I felt this one a bit lacking. Still, I think It might work out for others.
The Sea Witch by Marissa Meyer
Prompt from Zoe Herdt/ReadbyZoe
Rating: 5/5 stars
This is one of my favorites in this anthology. I've never read a book about Sea Witch and I immensely enjoyed reading this one. This was based on Little Mermaid's story. Imagine Sea witch in Ariel's footsteps but instead of a happy ending she gets a sad ending which makes her turn into a villain. This is actually a heartfelt story and I felt pretty sad for Nerit, the Sea Witch. She is a pretty lonely creature and all she ever wanted is to get accepted and loved by others. Marissa Meyer has done a great job in writing this story and It's a total perfection. I loved the characters, the world building and the plot.
Beautiful Venom by Cindy Pon
Prompt from  Benjamin Alderson/BenjaminofTomes 
Rating:4/5 stars
I haven't read a book by Cindy Pon and after reading this story, I can't wait to check out her new sci-fi book Want. Beautiful Venom is a wonderful story. It's a story based on Medusa and how she turned from a beauty into a ugly thing. I liked the Chinese setting and also the main character Mei-Du, the most beautiful lady in the province who is promised to become the emperor's next bride but unfortunately, someone else has already set his on her. Trigger Warning: This story has a rape scene but it's not graphic. It's really a well written story and I liked the message it delivers.
Death Knell by Victoria Schwab
Prompt from  Jesse George/JessetheReader
Rating: 5/5 stars
Death Knell was interesting, emotional and also a bit creepy! It's a story about Grace and Death. Grace is a girl who recently lost her mother and Death is a boy with brown eyes who hungers for death. When Grace sees Death she knows who he is but she isn't ready to go yet. This story captivated me from the start and I loved both the main characters through out. The ending was pretty good and also clever. It's  the best part I loved in this story. Victoria Schwab is a great story teller and I absolutely enjoyed reading this one.
Marigold by Samantha Shannon
Prompt from Regan Perusse/PeruseProject
Rating: 3.5/5 stars
I'm totally sucker for fae stories especially the one's that are set in historical times. Marigold is a pretty enjoyable read but it's not my favorites. This story  is a tale of a prince and a princess, two men on a quest, two queens, and a maid named Marigold. It is set in a 18th century London where Erl-Folk aka fairies also exists. I haven't read any book by  Samantha Shannon but I loved her writing style in this one. All the YA fantasy lovers who loves Fae genre would definitely enjoy reading this story.
You, You, It's All About You by Adam Silvera:
Prompt from Catriona Feeney/LittleBookOwl
Rating: 5/5 stars
I absolutely loved this story! It's a story about a masked teenage girl drug lord who sells special kind of drugs like trance, Daze and Token. It was a thrilling ride from the start till the end. The main character Slate is pretty ruthless and I loved how the author portrayed her character in this story. While reading this story, I never wanted it to end. It was sooo good! It's a unique story and the ending left me wanting for more. This would make a great book if it was written as a full length novel.
Julian Breaks Every Rule by Andrew Smith
Prompt From Raeleen Lemay/Padfootandrongs07 
Rating: 2/5 stars
I really wanted to love this story but I couldn't. This story is about a young boy named Henry who seems to have strange powers where his wishes comes true if he wills it but when it doesn't work on his enemy Steven Kemple, it makes him pretty much frustrated. Even though, I didn't loved this story, It was fun to read. At first, Julian didn't seemed that much villainy to me but the ending definitely left me surprised.
Indigo and Shade by April Genevieve Tucholke
Prompt from Whitney Atkinson/WhittyNovels
Rating: 3/5 stars
This one is based on the handsome Gaston from The Beauty and The Beast fairytale. This wasn't really bad but I wish it wasn't too predictable. 
Sera By Nicola Yoon:  
Prompt from Steph Sinclair and Kat Kennedy/Cuddlebuggery
Rating: 3.5/5 stars
I love Nicola Yoon's cute contemporary books and I was quite impressed with this story. She really needs to start writing books like these. Sera is a interesting read. It's a story about a girl who was born with a unique supernatural power that makes chaos around her. This is really a good story! Sera is a powerful female protagonist and I enjoyed reading about her. I also loved the prompt in this book and it's the best one among the entire collection. It definitely makes the perfect ending to this anthology. 
Overall, I had great fun reading this anthology! All the stories are pretty interesting to read while few of them were disappointing most of them turned out to be pretty good. The youtubers contribution to this book might make this even more exciting or special but to be honest,  I wasn't really interested in them.
Recommend it?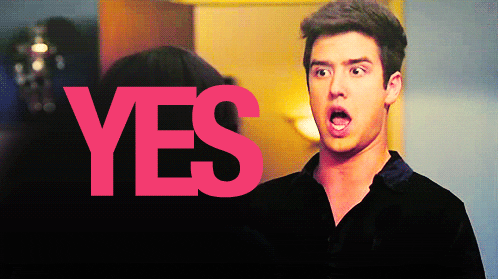 I highly recommend this book to everyone! Even if you aren't into Anthologies, just give this one a try! 
So, What do you think of this book? Have you read this yet? Do you like to read this book?
Please Feel Free To Comment Below. ❤
See You In The Next Post and Have a Great Day! 🙂