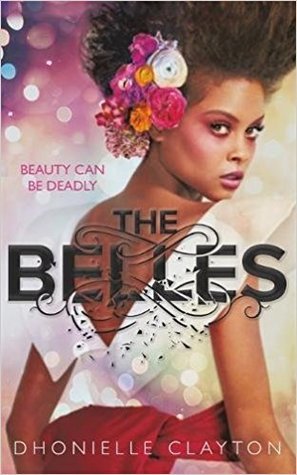 RELEASE DATE: February 08th, 2018
AUTHOR: Dhonielle Clayton
GENRE: Young-Adult, Fantasy, Magic.
PUBLISHER: Gollancz
SUMMARY: Camellia Beauregard is a Belle. In the opulent world of Orleans, Belles are revered, for they control beauty, and beauty is a commodity coveted above all else. In Orleans, the people are born gray, they are born damned, and only with the help of a Belle and her talents can they transform and be made beautiful.But it's not enough for Camellia to be just a Belle. She wants to be the favorite-the Belle chosen by the queen of Orleans to live in the royal palace, to tend to the royal family and their court, to be recognized as the most talented Belle in the land.But once Camellia and her Belle sisters arrive at court, it becomes clear that being the favorite is not everything she always dreamed it would be.
Behind the gilded palace walls live dark secrets, and Camellia soon learns that the very essence of her existence is a lie-that her powers are far greater, and could be more dangerous, than she ever imagined. And when the queen asks Camellia to risk her own life and help the ailing princess by using Belle powers in unintended ways, Camellia now faces an impossible decision.With the future of Orleans and its people at stake, Camellia must decide: save herself and her sisters and the way of the Belles or resuscitate the princess, risk her own life, and change the ways of her world forever.
I was very conflicted writing this review because I really enjoyed this book, but honestly it didn't blew my mind away. I had some issues with the heroine and also with the pacing. This book was very unique with a lush setting and a beautifully dark concept but I wish it wasn't too slow. This was my first book by Dhonielle Clayton so I don't know what to expect from her.  The Belles was really a good read with a unique concept. There are some aspects I loved in this book but there are also some parts that I'm not really fan of.  There is a huge hype over this book and I've seen so many of my fellow bloggers giving praises to it which made me quite excited for this book. Sadly, It didn't make me fall in love with it but I did enjoy the story so I'll probably continue the series. I'm gonna leave out the summary part for this book because I don't want to spoil the story for you so let's get to the characters.  
I didn't love Camellia but I didn't hate her either. I was hoping for a rebel belle who can stand up against unfairness and injustice but Camellia is definitely not that. She was very confident when it comes to her skills but as a person, she was too innocent, naive and too trusting person who follows the rules. I wanted to like her but she disappointed me twice in the book, if you had read the book then you'll know what I'm talking about. And her attraction to the stalker prince really made me roll my eyes cause I seriously don't see the appeal. The romance was extremely insta-love and I didn't love it.  I liked the other guy Rémy. He's assigned as a bodyguard for Camellia. He's an hard edged guy who's very loyal to his kingdom but he also has a sweet side that loves his little sisters. I can't wait to know more about him in the next book. I loved the sisterly bond between Camellia, Padma, Edel, Ambrosia, Valeria and Hana. Among these belle sisters, my favorite was  Edel. She's stubborn, rebellious, snarky, and also a little bit troublemaker. The villain in this book is a psycho spoiled brat princess who seemed creepy. She's pretty ruthless, clever, cunning, and quite manipulative. At the beginning, she didn't seem like the villainy character to me, but as she slowly reveals her evil side, we can say that she definitely fits the villain category but not the strongest type.
The plot was interesting and very refreshing. It was so much darker than I had expected, but I really wish it wasn't too slow. The first half of book gave princessy vibes with beautiful gowns, fashion, make-up, colorful flowers, and delicious food,  but after halfway through the plot, the story takes a dark turn and that's where things starts to get interesting. Most of the book is focused on Camellia searching for answers and the only action you'll get is at the end of the book. If you don't mind slow paced books then you'll definitely enjoy this book more than I did. The plot twists were good, they'll definitely keep you hooked to the story. I loved the diversity in this book but I've seen some of the readers having an huge issue regarding the gay characters. It didn't anger me enough to hate the book but it might anger some readers. Anyways, my major issue was with the heroine Camellia. Even after watching all the evil deeds of the princess, she hopes there's still some good inside her and I was like "does she lack common sense?". She does some few mistakes which are forgivable but what made me mad is at the ending part, where something horrible happens and she does nothing but watch and what makes it even worse is that she's part of it. Her inability to take action really frustrated me.  Even though I was a bit disappointed with her, I'm still interested to see how the story continues in the next book. Okay enough of my rants, coming to the best parts of this book. The writing was beautiful. I loved the colorful lush setting and also the unique concept which shows the dark side of beauty and glamour. I liked the magical system. It was very unique but I did struggle to understand how the whole arcana thing works. 
Overall, I enjoyed this book but it didn't make it into my favorites list! It's an interesting read filled with political intrigue, beautiful setting, and a unique magic system. 
Recommend it?
Yes
I recommend this book to everyone who's  looking for something new and refreshing in YA fantasy.
Trigger warning: Attempted Sexual Assault

MY RATING:
[3.5/5 Stars]
So, What do you think of this book? Have you read this yet? Do you want to read this book?
Please Feel Free To Comment Below. ❤
See You In The Next Post and Have a Great Day! 🙂