RELEASE DATE: September 12, 2017
AUTHOR: Christina Lauren
GENRE: Young-Adult, GLBT, Contemporary, Romance.
PUBLISHER: Simon & Schuster Books for Young Readers
SUMMARY: Three years ago, Tanner Scott's family relocated from California to Utah, a move that nudged the bisexual teen temporarily back into the closet. Now, with one semester of high school to go, and no obstacles between him and out-of-state college freedom, Tanner plans to coast through his remaining classes and clear out of Utah.
But when his best friend Autumn dares him to take Provo High's prestigious Seminar—where honor roll students diligently toil to draft a book in a semester—Tanner can't resist going against his better judgment and having a go, if only to prove to Autumn how silly the whole thing is.
Writing a book in four months sounds simple. Four months is an eternity.
It turns out, Tanner is only partly right: four months is a long time. After all, it takes only one second for him to notice Sebastian Brother, the Mormon prodigy who sold his own Seminar novel the year before and who now mentors the class. And it takes less than a month for Tanner to fall completely in love with him.
This was my first book by Christina Lauren who is pretty famous for her Beautiful Bastard Series which I haven't read yet but I really want to. When my eye caught Autoboyography, I got very curious. The blurb quite intrigued me! I'm very picky when it comes to GLBT romances and this one sounded very promising. And boy, it turns out to be pretty good. Autoboyography is a sweet and an adorable contemporary novel that deals with sexuality, family, religion, friendship, and love. It's a forbidden love story between two teen boys who lives in two different worlds. This was totally fun book to read but the diverse and religious aspects in this book makes it more special.
Tanner Scott is a high school student who is bi-sexual and Jewish. Three years ago, his family moved from California to Utah, a place which is filled with highly conservative religious community. To avoid scrutiny and fearing that he might not get accepted among them, Tanner keeps his sexuality hidden from his friends and neighbors but his parents are always supportive of him. With only one semester to go, his only goal is to graduate as soon as possible and get out of Utah so he can get back to his normal self without fearing that someone will find out about his secret. When his best friend Autumn dares him to take Provo High's prestigious Seminar where he needs to write a book in four months, Tanner accepts the challenge for fun but later regrets it when his eyes falls on Sebastian Brother, the Young Mormon prodigy who'll soon become the death of him. He's the new mentor of his writing class and Tanner quickly develops a hard core crush on him. Now four months feels like an eternity to him. Despite knowing any relationship between them is pretty much impossible, Tanner can't help but getting attracted to him.
Tanner is a super fun character and I absolutely loved him. He is sweet, witty, caring, adorable and sometimes a bit stupid. He quite reminded me of Simon from Simon Vs Homosapiens. He's totally confident of his sexuality but he was forced to hide it because of the town he was living in which is mostly surrounded by Mormons (members of the Church of Jesus Christ of Latter-day Saints) who wouldn't warmly welcome people like him. His adorable nature always put a smile on my face. He struggles a lot while keeping his feelings for a mormon boy a secret but he couldn't reveal it to him or even his best friend Autumn who isn't aware of his bi-sexuality. Sebastian Brother is a pretty likable character. He's another great character in this book and it's too bad that we don't have his perspective. He's a mormon boy who grew up among a highly religious community and never had a friend who's non LDS. He's totally calm, gentle, and caring who has lots of faith and belief in Jesus christ. He's very loyal to his parents and the church but his feelings for a boy makes him feel guilty and he tries very hard to deny his sexuality.
I loved the sweet insta-love romance between Tanner and Sebastian. I usually hate insta-love but this one really surprised me because I found myself enjoying this a lot. Autumn, Tanner's best friend is another great addition to the plot. She has feelings for Tanner but their relationship didn't worked out but they're still best friends. I actually loved the friendship between these two. They really care for each other and would always be there for each other whenever they're in need. Tanner's family was simply amazing! I loved his goth loving sister Hailey who likes bickering with him and also his parents who're very supportive, understanding and very open. As for Sebastian's family, they seemed pretty normal at the beginning but later, I didn't like them at all. The way they treated him after the revelation seemed quiet hurtful to me.
The plot of this book is very well written and captivating but I must be honest that some scenes seemed pretty draggy to me. Nonetheless, it was still an enjoyable read throughout. The story begins with a slow start but eventually you'll get attached to the characters and get immersed into the story. Apart from the sweet romance between the MC's, this book has some diverse and a bit controversial aspects. Actually I'm not familiar with Mormon/LDS culture but the way the author described it seemed quite accurate to me. According to Mormons any romantic relationship between the same sex is considered a huge taboo. To be honest, I actually gave this book a shot because I'm totally into books that has forbidden relationship and when I found this book, I knew I had to read this. I thoroughly enjoyed the author's writing style which was quiet addictive and compelling. The whole book was told from Tanner's first person POV. He's a fun protagonist and I absolutely enjoyed reading the story from his perspective.
Overall, it was lovely and a heart warming read! I was a bit worried with the insta-love thing but I'm glad that I still gave it a shot. This book was more than just a romance and the ending was satisfying.
Recommend it?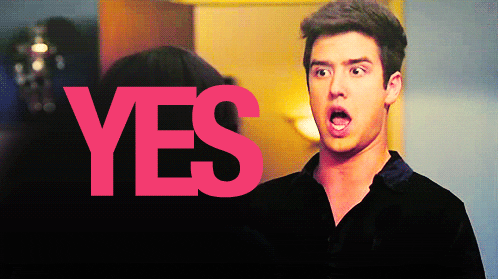 I highly recommend this book to all the readers who loves to read cute GLBT contemporary romance and also diverse YA contemporary books!
So, What do you think of this book? Have you read this yet? Do you want to read it?
Please Feel Free To Comment Below. ❤
See You In The Next Post and Have a Great Day! 🙂