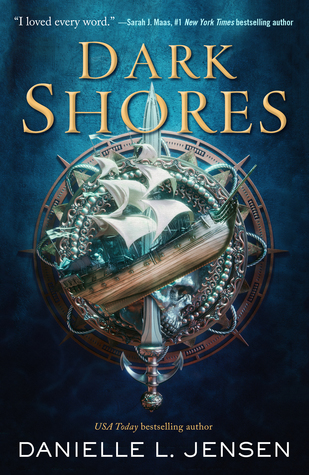 RELEASE DATE: May 07th, 2019
AUTHOR: Danielle L. Jensen
GENRE:  Young Adult, Fantasy, Mythology, Adventure, Romance.
PUBLISHER:  Tor Teen
SUMMARY :
In a world divided by meddlesome gods and treacherous oceans, only the Maarin possess the knowledge to cross the Endless Seas. But they have one mandate: East must never meet West.
A PIRATE WITH A WILL OF IRON
Teriana is the second mate of the Quincense and heir to the Maarin Triumvirate. Her people are born of the seas and the keepers of its secrets, but when her closest friend is forced into an unwanted betrothal, Teriana breaks her people's mandate so her friend might escape—a choice with devastating consequences.
A SOLDIER WITH A SECRET
Marcus is the commander of the Thirty-Seventh, the notorious legion that has led the Celendor Empire to conquer the entire East. The legion is his family, but even they don't know the truth he's been hiding since childhood. It's a secret he'll do anything to protect, no matter how much it costs him – and the world.
A DANGEROUS QUEST
When an Empire senator discovers the existence of the Dark Shores, he captures Teriana's crew and threatens to reveal Marcus's secret unless they sail in pursuit of conquest, forcing the two into an unlikely—and unwilling—alliance. They unite for the sake of their families, but both must decide how far they are willing to go, and how much they are willing to sacrifice.
Dark shores is the first installment in a new YA fantasy series from author Danielle L. Jensen, the author of The Malediction Trilogy. I was really looking forward to this book, since I've heard it has pirates, sea adventure, and a slow burn romance. I'm pretty sucker for anything that has pirates and this book was a delight to read. It's a perfect mix of political intrigue, mythology, and adventure. The world was inspired by the ancient Rome. If I had to be honest, this book is less about pirates and more about the complex characters, politics, and few dangerous quests. So keep your expectations low before jumping into this world.
Seventeen Year Teriana is the second mate of the Quincense and heir to the Maarin Triumvirate. They're all from the mysterious dark shores, a place which is considered as myth. Only a Maarin possess the ability to cross the endless sea. When a evil senator discovers the existence of Dark shores, he captures all the Maarin and the entire crew of Quincense to help them cross the endless sea and take them to the dark shores. Teriana's mother Captain Tesya is reluctant to reveal the information, but when he starts to torture her Teriana agrees to take them, in exchange for her people's safety and freedom. Marcus(20) is the commander of the Thirty-Seventh, the notorious legion that has led the Celendor Empire to conquer the entire East. When a power hungry senate discovers his secret, he blackmails him into helping him win the next senator election. Later he offers him a deal in exchange for him and his entire legion's freedom which Marcus had no choice but to accept. When Teriana and Marcus's fates collide, they both make an unlikely alliance and they will do anything to save their loved ones.
I loved both Teriana and Marcus! They're pretty complex characters especially Marcus who's been through a lot. Every family living under the Celendor Empire's control was required to give their second-born son to the military. Since he was a legionnaire, Marcus killed many people including innocents. He's very loyal and protective towards his legion who're more like a family to him. I love morally grey characters and I can't help but like Marcus. He might be a commander of an entire legion, but he really wasn't that ruthless. Teriana was stubborn, fierce, and soft hearted. She wouldn't hesitate to break the rules to save her loved ones. I enjoyed her character. Some of her actions towards Marcus seemed a bit unrealistic but it didn't bother me much. The romance was definitely a slow burn. I loved every interaction between Teriana and Marcus. Teriana wants to hate Marcus her enemy but after learning more about him, she couldn't help falling for him. The secondary characters were not that interesting but I wouldn't say they're bad either. We have Lydia, Teriana's best friend who's adopted by a noble family. I'm still curious about what happened to her. I also liked Bait, one of the crew members of Quincense. Marcus's legionaries are pretty fun especially Quintus and Miki. I loved those two. They brought humor to the plot. And finally, we have Magnius, the sea monster who guards Quincense. Coming to the villain, the senator was an evil crook who loves power more than anything.
The plot was interesting with some diverse set of characters. Although the pacing was a bit slower than I had expected, it didn't hinder my enjoyment. I really liked the overall concept. The meddling gods aspect gave more intrigue to this book. I'm hoping there's going to be more magic and action in the next book. The writing was great and loved the third person perspective. The world building was perfect. I liked the idea of Celendor empire and their legionaries inspired by the Roman empire. And also can't wait to explore more lands in dark shores.
Overall, It was a good start to a series! It's a fun ride filled with politics, magic, adventure, action, and romance. The book finally concludes with no cliffhangers but there's still so many questions left unanswered so I'm definitely looking forward to the next book.
Recommend it?

I highly recommend this book to all the YA fantasy lovers! If you're looking for a YA Pirate novel with lots of sea battles then this one is not for you.
MY RATING: 

[4/5 Stars]
---
So, What do you think of this book? Have you read it yet? Do you Plan to read it?
Please feel free to comment below!
See You In The Next Post and Have a Great Day!

 🙂