RELEASE DATE: January 08, 2019
AUTHOR: Holly Black
GENRE: Young-Adult,  Fantasy,  Fae, Romance .
PUBLISHER: Hot Key Books
SUMMARY:
You must be strong enough to strike and strike and strike again without tiring.
The first lesson is to make yourself strong.
After the jaw-dropping revelation that Oak is the heir to Faerie, Jude must keep her younger brother safe. To do so, she has bound the wicked king, Cardan, to her, and made herself the power behind the throne.
Navigating the constantly shifting political alliances of Faerie would be difficult enough if Cardan were easy to control. But he does everything in his power to humiliate and undermine her, even as his fascination with her remains undiminished.
When it becomes all too clear that someone close to Jude means to betray her, threatening her own life and the lives of everyone she loves, Jude must uncover the traitor and fight her own complicated feelings for Cardan to maintain control as a mortal in a Faerie world.
"Power is much easier to acquire than it is to hold on to." 
The Wicked King was an entertaining and a clever sequel to The Cruel Prince. This was actually 3.5 stars read for the most part but the last chapter blew my mind away. It was definitely the best part in the whole book. So, I finally decided to give it a four. I'm not saying it was a bad sequel. The story had kept me engaged till the end but I was kinda expecting a bit more from this book and why the heck it was so short?
"If he thought I was bad, I would be worse. If he thought I was cruel, I would be horrifying." 
The story picks up five months after the events in Cruel Prince where Cardan gets tricked by Jude and crowned as the new king of Faerie. Jude's little brother Oak who's also the true heir to Faerie is living with her elder sister Vivi in human world. Meanwhile Cardan gets to play King of Faerie but no one knows that he's just the puppet and Jude holds his strings. For one year, he must play by her whims and he wouldn't make things easier for her. He wants to humiliate her but he couldn't diminish his obsession for her. Jude navigates the politics of the court while fighting her enemies and her growing feelings for Cardan but when a new threat surfaces, she must find out the traitor before it's too late.
"The point of a fight is not to have a good fight, it's to win." 
Jude was still fierce, tough, and  smart as ever. She's not the helpless human anymore. I enjoyed the way she outsmarted the cunning fae. Cardan was dark and mysterious.  He spends his days as King by getting wasted. To be honest, his character was dull for the most part but that ending was everything. Seriously, it was the best. I loved the slow burn romance between Jude and Cardan! Their relationship was complex filled with angst and tension. I enjoyed their every interaction especially their banters. As for the secondary characters, I'm still not fan of Taryn and I wouldn't care even if she died. Locke was still a douche-bag but he's weirdly interesting character. I also liked Madoc, Jude's adoptive father and grand general of the Kings army. Even though he's Jude's parents killer, I really liked his character. Prince Balekin is a total creep. Besides abusing, he also loves manipulating. I liked how Jude outsmarted him. Coming to Nicasia, Well she and Taryn together can rot in hell. I also liked the members of the Court Of Shadows, I wish their characters were more fleshed out. I almost forgot about Lord Roiben. Although he appeared only once in this book, he played a major role too.
"You must be strong enough to strike and strike and strike again without tiring. The first lesson is to make yourself that strong."
The plot was addicting and engaging filled with lots of Court politics, betrayals, and scheming. It was  very much a slow ride but the pacing does improve in the second half. For a short book, I was actually expecting it to be a fast paced read but anyways, the last ten percent was pretty much intense filled with twists and turns. The major twist at the end had left me shocked even though I predicted some part of it. That is so clever and well played. I can't wait to know what happens next. The writing was addicting.  The whole book was told in Jude's POV but I craved for Cardan's POV. I wanted to know what's really going on his mind. The world building was pretty good. Holly's world of Faerie never fails to fascinate me. I wish we got more glimpse on the undersea world and the creatures living in it.
"It is said we learn more from our failures than our successes." 
Overall, it was a good sequel! I wish it was a bit longer because some things felt rushed in the end. The cliffy ending had left me wanting for more. I'm super excited for the next book.
Recommend it?

I highly recommend this series if you like dark YA fantasy, fae, and court politics.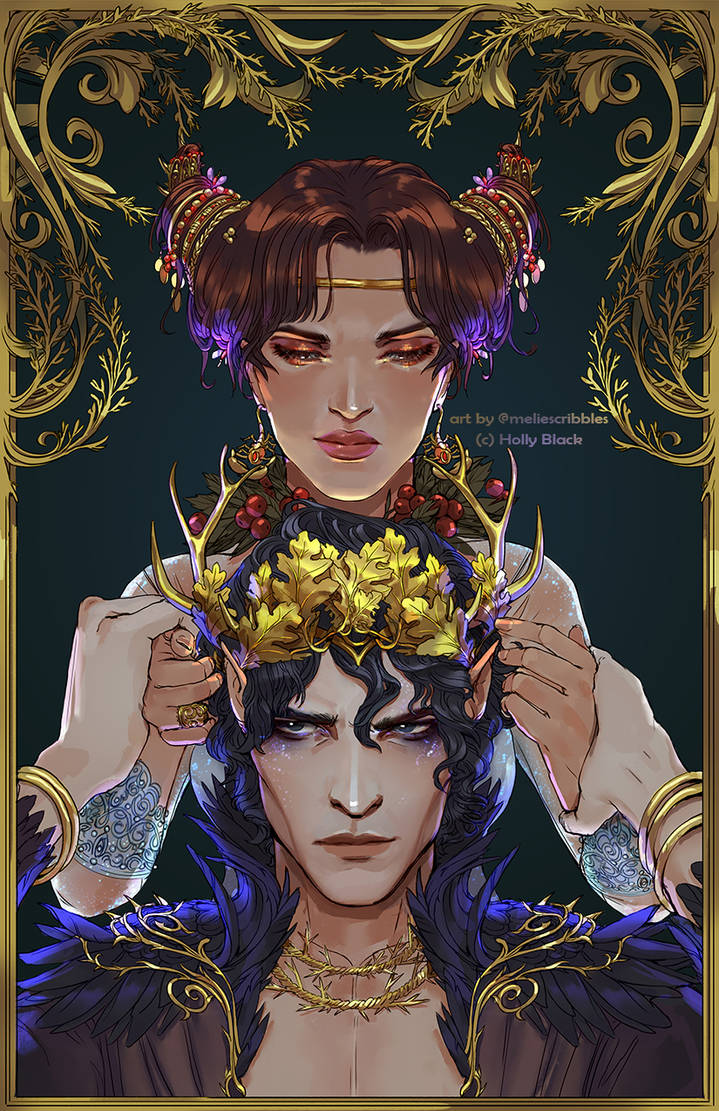 MY RATING:


[4/5 Stars]
So, What do you think of this book? Have you read it yet? Do you Plan to read it?
Please feel free to comment below!
See You In The Next Post and Have a Great Day!

 🙂