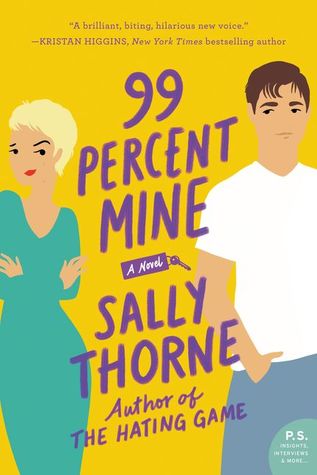 RELEASE DATE: January 29th 2019
AUTHOR: Sally Thorne
GENRE:  Adult,  Contemporary,  Romance.    
PUBLISHER: William Morrow
SUMMARY:
Crush: a strong and often short-lived infatuation, particularly for someone beyond your reach…
Darcy Barrett has undertaken a global survey of men. She's travelled the world, and can categorically say that no one measures up to Tom Valeska, whose only flaw is that Darcy's twin brother Jamie saw him first and claimed him forever as his best friend. Despite Darcy's best efforts, Tom's off limits and loyal to her brother, 99%. That's the problem with finding her dream man at age eight and peaking in her photography career at age twenty—ever since, she's had to learn to settle for good enough.
When Darcy and Jamie inherit a tumble-down cottage from their grandmother, they're left with strict instructions to bring it back to its former glory and sell the property. Darcy plans to be in an aisle seat halfway across the ocean as soon as the renovations start, but before she can cut and run, she finds a familiar face on her porch: house-flipper extraordinaire Tom's arrived, he's bearing power tools, and he's single for the first time in almost a decade.
Suddenly Darcy's considering sticking around to make sure her twin doesn't ruin the cottage's inherent magic with his penchant for grey and chrome. She's definitely not staying because of her new business partner's tight t-shirts, or that perfect face that's inspiring her to pick up her camera again. Soon sparks are flying—and it's not the faulty wiring. It turns out one percent of Tom's heart might not be enough for Darcy anymore. This time around, she's switching things up. She's going to make Tom Valeska 99 percent hers.
"I'm the client. I'm his best friend's sister. I'm Mr. and Mrs. Barrett's weak-hearted daughter. I'm the liability he swore to take care of."
Last year, I loved Sally Thorne's The Hating Game and It was one of my best reads of 2018. This year I was eagerly anticipating to get my hands on 99 Percent Nine and I expected to love it but sadly I didn't. It certainly was an entertaining read but it wasn't really as amazing as The Hating Game. I had two major issues with this book, the heroine and the plot. The overall story felt a little bit silly and I expected more from it. In the end, I was kinda left disappointed even though I enjoyed some parts of the romance and the side characters.
When Darcy Barrett's grandmother dies, she leaves her old cottage house to her and her twin brother Jamie. In order to get the inheritance money, they need to renovate the house and sell it. For the renovating the cottage, Jamie appoints Tom Valeska, their childhood best friend and also Darcy's major crush. Darcy has undertaken a global survey of men and she feels that Tom is the perfect one for her but sadly he's pretty much off limits and moreover he's 99 percent loyal to her brother. Darcy always had been bad at expressing her feelings and every time she feels too much she just leaves everyone behind and escapes to another new place. During the renovation process, when Darcy and Tom are both forced to work together, sparks fly between them. After spending some time with Tom, Darcy feels that one percent is not enough for her and she finally decides to make him 99 percent hers before her brother arrives.
Darcy Barrett was a fun, reckless, and quirky character but most of her actions seemed immature and annoying to me. I honestly didn't enjoyed her which is one of the major issues I had with this book. Tom Valeska on the other hand, I loved him. He was pretty sweet, shy, and good at heart. Did I mention that he's freaking 6′ 6″ tall? He's totally a swoon worthy character. I loved him every time he got jealous. I also liked Jamie, Darcy's Twin Brother. He was pretty fun and also a bit of a Jerk. Darcy and Jamie has this weird kind of sibling relationship. Although they care for each other, they always clash with each other. They're both grown ups but they still fight like little kids. The last fight was hilarious, I felt bad for Tom. And last but not the least, I loved Darcy's best friend Truly. She was totally amazing! If the author ever decides to write her story, I would definitely read it.
The plot sure was entertaining and angst filled but for the most part it felt dragged to me. I would've enjoyed this book a lot more, if the author also focused on Tom's Past and also a little bit more on side characters. The entire book was predictable. Nothing exciting happens in the first half except for the push and pull between Darcy and Tom which really annoyed me. From the start, we can clearly see that they both have feelings for each other which they try to hide. I honestly enjoyed their romance. They have a great chemistry and I give full points for all the sexy times.  The writing was okay, but It's not my favorite. It was totally different from the Hating Game. The book was told in Darcy's POV and I wish it had dual POV's.
Overall, it was an okay-ish read for me! My expectations were too high for this book and that's why it turned out to be a disappointment for me, otherwise I might've liked it a bit more because it's really not a bad read and I'm pretty certain that there're many people who would absolutely love it.
Recommend it?
YES
Although I didn't enjoy it as much as I hoped, I would still recommend everyone to give it a shot. Maybe it'll work out for you.
MY RATING:


[3.5/5 Stars]
So, What do you think of this book? Have you read it yet? Do you Plan to read it?
Please feel free to comment below!
See You In The Next Post and Have a Great Day!

 🙂