RELEASE DATE: January 15th 2019
AUTHOR: Joanna Ruth Meyer
GENRE: Young-Adult,  Fantasy, Magic, Retellings, Adventure.    
PUBLISHER: Page Street Kids 
SUMMARY:
Echo Alkaev's safe and carefully structured world falls apart when her father leaves for the city and mysteriously disappears. Believing he is lost forever, Echo is shocked to find him half-frozen in the winter forest six months later, guarded by a strange talking wolf—the same creature who attacked her as a child. The wolf presents Echo with an ultimatum: if she lives with him for one year, he will ensure her father makes it home safely. But there is more to the wolf than Echo realizes.
In his enchanted house beneath a mountain, each room must be sewn together to keep the home from unraveling, and something new and dark and strange lies behind every door. When centuries-old secrets unfold, Echo discovers a magical library full of books- turned-mirrors, and a young man named Hal who is trapped inside of them. As the year ticks by, the rooms begin to disappear and Echo must solve the mystery of the wolf's enchantment before her time is up otherwise Echo, the wolf, and Hal will be lost forever.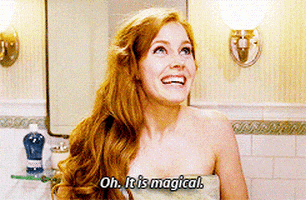 This was my first book by Joanna Ruth Meyer and I absolutely loved it. I also loved its beautiful cover. It was the first thing that caught my attention and after reading the synopsis, I knew I had to read this book. If you're a fan of magical fairytale retellings, then this is a must read. The story was very much unique and totally enchanting. It was actually a retelling of East of the Sun and West of the Moon but the author also incorporated other stories like Tamlin, and Cupid and Psyche into it. I'm honestly not much familiar with these stories but I really had fun reading this book. The author weaved a wonderful tale. It overall felt like a unique version of Beauty and the Beast fairytale.  The characters, the writing, the magic, and the world was just great.
The story follows sixteen year old Echo Alkaev who lives with her father and her brother. Her mother died while giving birth to her and she was named Echo because her father felt the echo of her mother's heartbeat within her. When she was seven years old, one side of her face was disfigured by a mysterious white wolf in the woods. Everyone in  her town was repulsed by her scars and since then she grew up lonely with no friends. Her father owns a books shop and she escapes the reality by drowning herself in the books. One day, her father leaves the city and mysteriously disappears. After six months, she sets on a journey to the woods to find him by herself. When she was losing hope, she finds him in the middle of the woods half frozen guarded by the same white wolf who disfigured her when she was young. The wolf promises to save her father, if she agrees to live with him for one year. Echo was quite desperate to save her father so she agrees to his deal. After arriving to the enchanted house beneath a mountain, Echo was fascinated by the magical rooms, venomous gardens, and the mirror-books. Each room in the house must be sewn together to keep them from unraveling. During her stay in the enchanted house, Echo learns that there is more to the wolf than meets the eye and she wants to unveil the mystery of his enchantment so that she could help free him of the curse that is binding him.
Echo was a pretty likable character! She was a brave  and selfless heroine with a strong heart. Despite her vulnerability, she always stood strong before a challenge and never gave up hope. I absolutely enjoyed her character in this book. The white wolf was mysterious and a total gentleman. I quite enjoyed the relationship between Echo and Wolf, and how they grew to trust each other. It was so sweet and adorable. Hal and Mokosh are nice additions to the plot. I enjoyed Echo's adventures with them especially with Hal. He was total fun and charming! I loved the light sweet romance in the book. To avoid giving away any spoilers, I'm not going to reveal anything about it. The villain in this book was wicked and totally cunning.
The plot was very much interesting! I was hooked on this book from the very first page. The first half felt a little bit slow for me but I really loved the second half where things take a surprising turn and I enjoyed every minute of it. The author did a great job in writing her own version of the tale which was refreshing and unique. The writing was beautiful and captivating. The story was told in Echo's first person POV. The world building and the magic was fantastic. The author has a great imaginative and creative skills. I loved the world she had created. She described the icy landscapes and the atmosphere with vivid detail and it was easy to picture everything clearly.
Overall, it was a beautiful read! Although it wasn't a total perfection, I immensely enjoyed it and it was totally worth giving a shot. I would love to read more from this author.
Recommend it?

I highly recommend this book to all the readers who loves YA fairytale retellings!
MY RATING:


[4/5 Stars]
So, What do you think of this book? Have you read it yet? Do you Plan to read it?
Please feel free to comment below!
See You In The Next Post and Have a Great Day!

 🙂