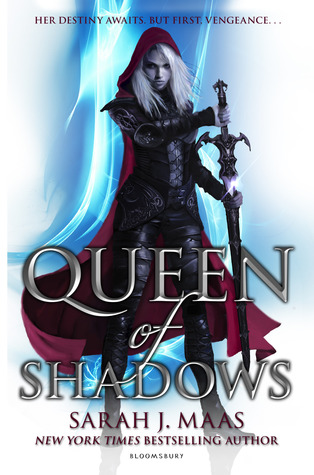 RELEASE DATE: September 1st 2015
AUTHOR: Sarah J. Maas
GENRE:  Young-Adult, Fantasy, Adventure, Fae, Magic.  
PUBLISHER: Bloomsbury  
SUMMARY:
Everyone Celaena Sardothien loves has been taken from her. But she's at last returned to the empire—for vengeance, to rescue her once-glorious kingdom, and to confront the shadows of her past . . .
She will fight for her cousin, a warrior prepared to die just to see her again. She will fight for her friend, a young man trapped in an unspeakable prison. And she will fight for her people, enslaved to a brutal king and awaiting their lost queen's triumphant return.
Celaena's epic journey has captured the hearts and imaginations of millions across the globe. This fourth volume will hold readers rapt as Celaena's story builds to a passionate, agonizing crescendo that might just shatter her world.
" She was a whirling cloud of death, a queen of shadows, and these men were already carrion."
Queen Of Shadows is the fourth installment in Throne Of Glass series. Well, this book has been a whirlwind of emotions. I might've enjoyed reading this book, but honestly I didn't love it due to some issues I had with some characters. This book was pretty long and I found some unnecessary fillers in it. Nonetheless, it was an enjoyable read till the end. Thanks to SJM's wonderful writing skills, I flew through it easily without any struggle. I loved the new set of characters. It made this book even more interesting but I was a little disappointed about how some old main characters were sidelined like Dorian and Chaol. Skip reading the summary part, If you want to avoid major spoilers for the Heir of Fire.
SUMMARY
 Aelin Ashryver Galathynius, Queen of Terrasen is finally back in Adarlan to defeat the evil king. After she defeated the king's Vlag army with her fire power in Wendyln, everyone is now aware that the heir of Terrasen had survived and they're calling her fire-breathing bitch queen. Dorian becomes prisoner in his own body and is slowly consumed to the darkness with each passing day. After revolting against his King, Chaol becomes an Oathbreaker and a Traitor. Dorian sacrifices himself to help Chaol escape from the castle which makes him feel guilty and he wants to save his friend and his king at any cost. Aelin's Cousin Aedion, ex-general of Adarlan army is now a prisoner in the King's dungeons awaiting for his execution. To save her Cousin, her friend, and her Kingdom, Aelin is finally ready to battle with the King.
CHARACTERS & RELATIONSHIPS
Celaena and Aelin are the same person but their personalities are totally different. If you ask me whom I liked the most, I would pick Celaena because I've connected more with her than Aelin. It doesn't mean that I didn't liked Aelin. She's a great protagonist too but sometimes her actions seemed a bit cold to me like how she was easily ready to kill Dorian without any hesitation. Coming to Chaol, he's one of the major issue I had with this book. His character seemed very weird. I didn't liked the guy he has become and I was disappointed that he didn't get many chapters. He turns into a jerk and that is not him. For the first half of the book, Aelin and Chaol were busy blaming each other. In the first two books they were perfect couple but now they're totally incompatible. I was annoyed with these two fighting each other and here I was hoping that they would get back together. Now I know it's never going to happen. I wish Chaol was a Bi so I could ship him with Dorian. Till the end, he was loyal to his friend and never gave up on him. Seriously, I loved their bromance. I really missed Dorian in this book. I'm glad that he was finally back.
Rowan Blackthorn was a typical overprotective fae prince. I enjoyed his character in Heir Of Fire but in Queen Of Shadows I didn't enjoyed him as much as I hoped because I'm not fan of overprotective alpha male. I might've loved him if he was similar to Rhysand. To be honest, I didn't care much about Rowan and Aelin's romance. I liked both of them as individual characters and I also enjoyed their friendship but when it turned into romantic relationship, I didn't feel anything. I enjoyed Lorcan Salvaterre,  demi-Fae male and a former member of the cadre that served Queen Maeve. He was an interesting character and I would love to know more about him. I loved meeting some of the old characters like Arobynn,  Lysandra and Kaltain. We have a  new character named Nesryn. She's a  friend of Chaol and really a good addition to the plot, but sorry I can't ship them. I want them to stay as friends. Elide was also a nice addition and finally we have Manon and Abraxos. Manon is my favorite character in this book. I've enjoyed her chapters the most. For some people it might be the opposite, but I really loved her character development in this book. And also, I totally approve of her new love interest. I ship them hard!!! I hope SJM doesn't ruin it. Abraxos is so adorable! He's a pretty cool dragon and very much loyal to his mistress. I don't know why Sarah forgot to write more about Fleetfoot. I'm glad to know that he was at-least alive.
PLOT,WRITING, & WORLD BUILDING
The plot was great but I felt this one dragged in few places and also some parts felt like unnecessary fillers. The pacing was slow in the beginning, but in the end it was totally worth it. The last twenty percent of the book was pretty much intense and I couldn't put it down even for a second. There are lots of twists and turns in this book, so be prepared to get blown away. The action scenes were very well written.  The writing was compelling, dramatic, and very descriptive, I flew through the pages without any struggle. This book was told in multiple third person POV. As you can see in the characters section, this book has a lot of characters. If you can't handle multiple POV's then this book might give you some trouble. The world building was excellent! Sarah never fails to impress me in this aspect.
FINAL VERDICT
Overall, this was a good sequel, but not my favorite. The story was entertaining filled with action, romance, magic, and adventure. The ending was satisfying and I can't wait to read the next book because I want more Dorian and Manon.
RECOMMEND IT?
YES
Oh, this series was so addicting like a TV series! I highly recommend it to all the YA fantasy lovers.
MY RATING:


[4/5 Stars]
So, What do you think of this book? Have you read it yet? Do you Plan to read it?
Please feel free to comment below!
See You In The Next Post and Have a Great Day!

 🙂