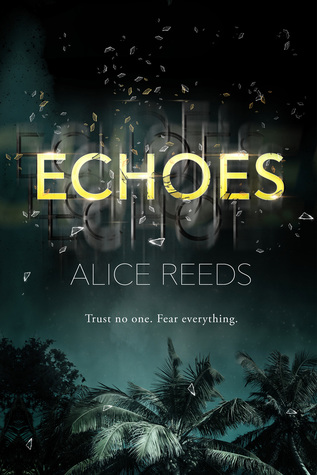 RELEASE DATE: August 07th, 2018
AUTHOR: Alice Reeds
GENRE:  Young-Adult, Contemporary, Mystery, Romance. 
PUBLISHER: Entangled Teen
SUMMARY:
They wake on a deserted island. Fiona and Miles, high school enemies now stranded together. No memory of how they got there. No plan to follow, no hope to hold on to.
Each step forward reveals the mystery behind the forces that brought them here. And soon, the most chilling discovery: something else is on the island with them.
Something that won't let them leave alive.
*eARC received from the publisher Via Netgalley in exchange for an honest review*
I've mixed thoughts about this book. I liked it but I didn't loved it. The concept was interesting, but sometimes the story really confused me. It has a suspenseful and mysterious plot mixed with some typical YA cliches. I enjoyed the story, but It didn't excite me as much as I had hoped. The characters aren't my favorite, but they aren't too bad either. The whole book is about Fiona and Miles stranded on an island searching for answers and in the end we don't get any answers which is so frustrating. I actually thought it was a stand-alone novel, but the book concluded with an unresolved ending which means there's going to be another book.
Fiona and Miles are high school enemies, and they both come from different backgrounds. Fiona is a star lightweight kickboxing champion, and Miles is a rich kid with smart brain. When Fiona and Miles are selected for an internship with Briola Pharmacy in Germany, they aren't happy with the partnership but they couldn't lose this once in a life time opportunity either. They both aboard an expensive plane for their journey, and the next time they wake up to find themselves crash-landed and stranded on a deserted island, but they're not alone. Something dangerous lurks on the island hunting them. Fiona and Miles only option is to survive by putting aside their long time enmity towards each other and work together.  They've no memories about how did they ended up on the island, but they do suspect Briola Tech is somehow responsible for their current situation so they both searches for answers and each step forward reveals the mystery behind the forces that brought them there.
Fiona and Miles are your typical YA characters with parent issues, but i'm glad they're not boring. Fiona is a kickass kickboxer which was very refreshing to read in YA contemporaries. I like reading books with female protagonists who can kick ass not the damsel in distress types. The only thing that I didn't like about Fiona was, how she was so judgy about Miles at the beginning because of some silly incident when they were kids. She never gave him another chance. On the other hand, Miles has a smart brain, but he's also pretty fun and sweet. He doesn't have a muscle power like Fiona but together they make a strong team. The romance between Fiona and Miles was sweet, but it was also a little cliched. The secondary characters were okay-ish. They aren't memorable. No one stand out for me except for Fiona's homeless friend Joe who didn't played much part in this book. 
The plot was interesting, but the execution of the story was a bit confusing and I was like "What the heck is happening?". It really took me some time for me to put everything together. The story moved in a fast pace. The mystery was good filled with some twists and turns. The mysterious Island was a nice setting, but the clues Fiona and Miles were searching for is actually inside their lost memories. No major secrets were revealed in this book which is somewhat disappointing, but we get some glimpses of what actually happened before they ended up in the island. The book was told by switching between Fiona and Miles's time in Berlin, and The Island.  It will be a little confusing to understand everything at first, but as the story progresses, it'll get easier. The author's writing style was simple. The book was written in Fiona's first person POV and I don't know why it doesn't have a Miles POV. 
Overall, it was a good read but not my favorite! People who're new to this genre will definitely love this book. The book concluded with a cliffhanger and I might read the next book just to find out what happens next to our characters. 
Recommend it?
Yes
I would recommend this to the readers who likes YA mystery with a dash of romance but I advice you to go in with low expectations and you might enjoy it more than I did.
MY RATING: 
[3.5/5 Stars]
So, What do you think of this book? Have you read it yet? Do you Plan to read it when it comes out?
Please feel free to comment below!
See You In The Next Post and Have a Great Day!

 🙂