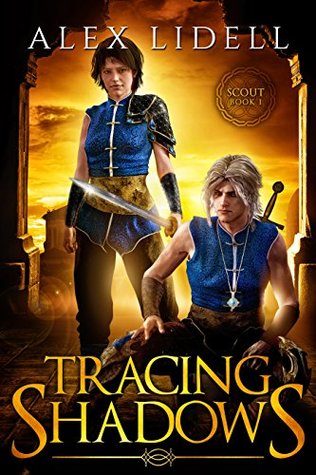 RELEASE DATE: April 08th, 2018
AUTHOR:  Alex Lidell
GENRE: Young-Adult,  Fantasy, Magic, Adventure. 
PUBLISHER: Danger Bearing Press
SUMMARY:
To protect the throne, seventeen-year-old spy Kali must play a male guardsman trainee by day and royal lady by night.
Orphaned and trained on a spymaster's remote estate, Kali is a scout who works alone in the shadows. But when a terror group threatens the Dansil throne, the king forces Kali to accept a mission at the palace or forfeit her sister's life.
Suddenly thrust into the light, Kali must infiltrate high society as the royal Lady Lianna while penetrating the servant ranks as Kal, a male guardsman trainee. 
It doesn't help that Trace, the harsh and enigmatic captain of the king's guard, is soon assigned as both Lady Lianna's palace escort and Kal's commanding officer.
As Kali edges closer to the truth behind the violent group's identity, she uncovers dangerous secrets that could bring her mission to a brutal end. A scout's job is to observe and report, never to engage . . . but if it means saving her sister and kingdom, Kali may have no choice.
 I loved Alex Lidell's Tides series and this new series didn't disappoint me.  I'm not much fan of the cover but the story was pretty entertaining! It totally gave me Mulan vibes. I love books where Woman disguises herself as a man trying to spy on the enemy or enter into a war. Tracing Shadows is a  first book in the scout duology and I think It was a good start to a series. I loved the main characters, the setting, the plot, the slow burn romance, and the world building. I recently read Lidell's NA Reverse Harem fantasy series which sadly didn't work out for me so I think I should better stick to her YA fantasy series only.
Seventeen Year Old Kali and her older Sister Leaf are the bastard children of the king's dead brother. After her father's death, King Firehorn of Dansil has cut ties with them and sent them to a remote estate where they're raised by a Spymaster. She grew up as a Scout and unlike other scouts, Kali can dress as man and woman simultaneously. Her sister Leaf is disabled since birth, she's a Whisperer who can manipulate and tune magic crystals. When a group of rebels named Viva Sylthia tries to overthrow Dansil throne by making unrest in his kingdom, king Firehorn orders Kali to gather information on Viva Sylthia or forfeit her sister's life. To infiltrate the high society,  she becomes Lady Lianna King's nephew by night, and by day she becomes Kai, a male guardsman trainee. She was trained under Trace, captain of the king's guard who's also a palace escort to Lady Lianna. Kai isn't happy to train under a harsh master but he's the best when it comes to swordsmanship. She needs to train with the men without getting her identity revealed. Under the disguise of Kai, Kali searches for the information on the Viva Sylthia which eventually leads her to dangerous secrets that could get her killed. As a scout, she was always told to observe, gather information and report but never to engage. To save the kingdom and her sister, she goes against that rule which lands her into deep trouble.
Kali is a strong protagonist! She's fierce, loyal, stubborn, rebellious and totally protective of her sister. She's skilled in combat and spying, but honestly she's not good at spying because she always engages with the enemy at the end when her job is to hide in the shadows and gather information. Nonetheless, I still enjoyed her character. She's fearless when it comes to scouting, but in front of sharp needles she's a total coward LOL! Trace is an intriguing character. He has secrets and a dark past that he's afraid to share. He always wears a hard edged face and seemed a bit harsh towards his pupils but there's a soft side hidden inside him. I loved the slow burn romance between Kali and Trace. I enjoyed watching their relationship develop with each interaction which mostly ended up with an argument. Leif is a wonderful older sister who deeply cares for her troublemaker younger sister. I really loved the sister-bond between her and kali. Luca is a total fun side character. I wish we had more of him. I also liked the sweet and naive prince Will who quickly becomes friends with Kai. I've mixed feelings about Princess Violet. I pity her but at the same time I hate her. 
The plot was engaging and interesting! It took some time for me to get into this world but it gets easier as the story progresses. The pacing was good. The twists in the plot aren't easy to predict but I did predict some of them. The writing was addicting and easy to follow. The whole book was told in multiple pov's but it's mostly written in Kali's first person pov. It also has Violet's POV which felt unnecessary and I don't know why it doesn't have Trace's POV. I would love to know what he's feeling inside and also learn a bit more about him. The world building was fascinating and the magical tuning with the crystals seemed very interesting. I'm still not sure about how the whole magic works but I hope we get a clear picture in the next book. 
Overall, I really liked this book! Despite flaws, I quite enjoyed it. It was an entertaining read filled with  mystery, magic, adventure, and a dash of romance. This one has a good cliffhanger at the end and I would definitely pick up the next book when it comes out.
Recommend it?

I recommend this book to all the readers who loves YA fantasy books with a gender bender aspect.
MY RATING: 
[4/5 Stars]
So, What do you think of this book? Do you Plan to read it?
Have you read any book by Alex Lidell? 

Please Feel Free To Comment Below. ❤

See You In The Next Post and Have a Great Day!

 🙂