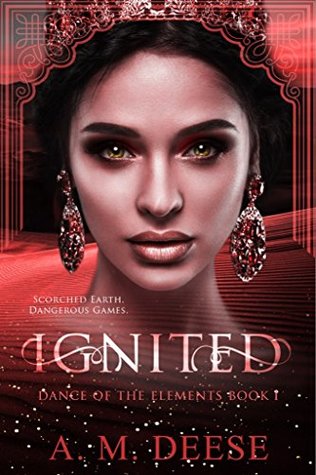 RELEASE DATE: March 27th, 2018
AUTHOR: A.M. Deese
GENRE: Young-Adult, Fantasy, Magic.
PUBLISHER: RadianTeen
SUMMARY:
A NOBLE DAUGHTER.
A FORMER SLAVE.
SCORCHED EARTH AND DANGEROUS GAMES.
"Jura imagined it sounded like rain."
Juggling death is nothing new for seventeen-year-old Jura, daughter of the First of the Thirteen, successive rulers of the Republic of the Sand Sea. However, when a blood chain ensnares her father, she is thrust into the seat of power and forced to rule her elders.
"To Tylak, water had never tasted sweeter."
Jura must track down her father's assassin and balance a country on the verge of collapse. To find the Prince of Shadows and uncover the truth, Jura puts her trust in Tylak, a former slave accused of stealing from the Everflame—a man she once condemned to death.
In a world where water is currency and enemies lurk around every corner, Jura will use her wits or risk igniting a world war.
*I received an eARC from the publisher via Netgalley in exchange for my honest review *
This book is an exceptionally enjoyable read that left me wanting for more! I requested this book on netgalley because I liked its premise and the *cough* pretty cover *cough* but I really wasn't expecting to enjoy it as much as I did. It has an interesting story line and unique fantasy elements. It actually started as a three star read for me but eventually it became a four star read. The characters were pretty interesting and I loved the main protagonists Jura and Tylak. It has an intriguing fantasy world that seems to have a persian vibe. I loved the magical system and OMG, it also has fire breathing dragons which came as a total surprise to me. I love dragons and this book has lots of it. Although I love this book, It doesn't mean that it was a perfect read without flaws. There were some cliched and predictable parts which can be overlooked if you enjoy the story. Anyway, it was really a solid start to a new series and I want more of it.
Seventeen Year old Jura is the daughter of the first of thirteen, successive rulers of the Republic of the Sand Sea. When her father was blood chained by an unknown enemy who can now control him like a puppet, She was forced to attend the council meetings. Jura has never been to the council meetings, but in order to save their place as the first she needs to stand in his place as the ruler without revealing her father's condition. On the first day, she was forced to give a death sentence to a man named Tylak, a former slave who was accused for stealing everflame but later he becomes her reluctant ally. To free her father from the ancient blood chain she needs to track down the prince of shadows and Tylak is the only one who can lead her to him. To survive the council and the new threat, Jura needs to be coy and smart because no one can be trusted. With enemies lurking everywhere, Jura searches to find the answers which eventually leads her to dangerous secrets and she realizes that they've been facing a bigger threat that can ignite a world war.
I liked all the characters in this book but my favorite was the little girl Kay. I actually expected this book to be about Jura and Tylak but we have three more interesting characters Ash, Kay and Beshar. Jura is a strong protagonist but she's not perfect. She's fearless and smart but she seemed a bit naive when it comes to trusting people. Nonetheless, I really enjoyed her character. I liked how she handled every difficult situation, despite her naivety. I absolutely loved Tylak! His cocky, sweet, and smart personality totally appealed to me and I can't wait to know more about him. The relationship between Jura and Tylak was definitely a slow burn. They haven't realized their feelings yet but I'm so looking forward to know how their relationship develops further. Coming to the other characters, I also loved Kay. She's seven year old fire dancer and I quite enjoyed her chapters. She's adorable, sweet, and oh so powerful. I can't wait to see her kicking ass. Ash and Beshar were interesting characters too and I'd love to know how they play their roles in the next book.
The plot was very intriguing and engaging throughout. This book actually has two subplots which is somehow connected to the main story  It took some time for me to get into the story because of the shifting pov's, but as the story progressed everything became clear to me and I started to enjoy the story and the characters.  The story began with a slow start to get oriented with the world and everything but eventually the pace picks up speed. I liked the mystery and political intrigue in the plot. The Villain in this book is kinda predictable but the twists totally surprised me. The writing is pretty good and I liked the multiple POV's(third person). This book has five multiple POV's and I  really enjoyed reading the story from different perspectives. At the beginning, I was a bit annoyed with so many POV's but as I get to know them better, I started to like them because everyone has a major role in this book. The author created an interesting world filled with magic and political intrigue. The Republic of the sand sea is a desert world where water is the highest commodity. This world seemed like a mix of Persian and Indian setting. The magical system was pretty awesome in this book. I really liked the aspect of shadow dancers, fire dancers and also not to forget about the dragons. I would love to explore more of this world, magic, and the other creatures living in it.
Overall, I loved this book! It's an entertaining fantasy read filled with magic, political intrigue, suspense, mystery, and a dash of romance. This book doesn't have any huge cliffhanger at the end but it does conclude with a surprising twist that'll make you desperate for the next book. So yeah, I'll definitely look forward to the next book.
Recommend it?

I highly recommend this book to all the YA fantasy lovers! This book is totally worth a shot!

MY RATING:
[4/5 Stars]
So, What do you think of this book? Have you read this yet? Do you want to read this book when it comes out?
Please Feel Free To Comment Below. ❤

See You In The Next Post and Have a Great Day! 🙂