RELEASE DATE: March 06, 2018
AUTHORS: Audrey Grey & Krystal Wade
GENRE: Young-Adult, Sci-fi, Adventure, Romance.
PUBLISHER: Blaze Publishing, LLC
SUMMARY:
While she sleeps, the whole universe changes.
Princess Talia Starchaser has it all. Wealth. Status. Adoring citizens. But on the eve of her eighteenth birthday, she's forced to publicly betray her best friend, a companion mock she's had since birth, setting events into motion that lead to the destruction of the humans, and the princess floating through space, a remnant of a time when humans ruled over droids.
One hundred years later, half-mock captain Will Perrault and his ragtag crew discover a device floating in space. When a very human Talia emerges from its depths, Will suspects she's the key to buying his way back into the regiment he once commanded against the last remaining rebel humans—and the ruling mock queen's good graces.
Both Talia and Will would rather get space-tossed than trust one another, but with the queen's forces chasing them across the galaxy and the fate of both worlds hanging in the balance, they'll forge the unlikeliest of alliances to survive.
*I received a digital ARC copy from the Publisher Via Netgalley in exchange for an honest review*
OMG, This book was really good! It took me by surprise and I really didn't expect to enjoy it as much as I did. It was totally fast paced, action packed, and engaging YA sci-fi read. I've never read any of Audrey grey's books but I want to give this a shot because I loved the premise and also not to forget the gorgeous cover that was literally calling my name. It kinda reminded me of defy the stars by Claudia Grey but they're definitely not the same. After finishing the book, I was left wanting for more. I enjoyed every aspect in this book. The characters were pretty good and they're the best thing I loved about it. The plot was a bit predictable but It didn't hinder my enjoyment of it at all. 
Princess Talia Starchaser is the sovereign to the Starchaser dynasty, ruler of the seven planets. In their world every  human has a companion mock, human looking androids with emotions programmed inside them. Because of a virus, the mocks started to make their own decisions and they start to rebel against their makers because of the way they're being treated as slaves. Eventually, the rebellion starts to get out of control. To save the Starchaser dynasty, a  political wedding was set between Talia and a prince from another planet. Talia and her mock Companion Ailat have grown together and they're best friends since forever but when she was forced to betray her on the eve of her eighteen birthday, a chain of events takes place which leads to a princess floating in space, an end to the humans authority and a start to the Mock's reign over humans.
Hundred years later, half-Mock Captain Will Perault of the ship Odysseus and his scavenger crew discovers a floating device in the space surrounded by mines. He retrieves it by risking his life along with his crew members in the ship. Everyone gets surprised, when a flesher(a term used by mocks for humans)  emerges from inside it. When the Queen' s forces starts to chase after them, Will believes that she's going to be the key to buying his way back to the queen's regiment and also earning her good graces. Six months ago, he was kicked out from Queen's regiment for getting away an alliance ship filled with humans. So in order get his old life back, he needs to hand Talia over to the Queen. Will and Talia can't stand each other and they don't trust each other either but to survive they both make an unlikely alliance. When Talia brings out the buried human feelings inside him, Will wants to get rid of her as soon as possible even though he feels guilty about it.
Talia and Will were pretty enjoyable characters! I loved Talia! She's strong, stubborn, sassy, and also a bit spoiled. I enjoyed her character from the start. She loves adventure and deeply cares for her loved ones. She didn't hated her family even when they arranged a political marriage with a jerk prince from another planet. Ailat, her companion mock is her only friend in her entire life and she always treated her like a sister. I liked the sisterhood between Ailat and Talia at the beginning and I felt bad when Talia was forced to betray her. Will is a very intriguing and also a bit complex character! He had a dark past that made him hate humans. After he was turned into a mock, he forgot about human emotions and how to feel them. I wish we had more glimpses of Will's past so we could know a bit more about his childhood. I absolutely enjoyed the relationship between him and Talia. I'm so glad it wasn't an insta-love. I'm always a sucker for slow burn romances. Talia and Will constantly clashed with each other at the beginning. She always gets on his nerves whenever she fails to obey his command. But eventually they start to trust to each other and feelings bloom. I loved their chemistry, their banters and the tension between them. As for the secondary characters, Will's crew members Leo, Lux, Dorian and Jane are pretty likable too. I enjoyed their playful banters and how they cared for each other as a family.  It would've been great if the authors focused a bit more on the side characters too. 
I really liked the plot even though it was predictable. The story was pretty entertaining and fun, I was never left bored. It's really a unique sci-fi retelling of Sleeping Beauty and I enjoyed every minute of it. The space adventure and action in the book made this book even more enjoyable. The pacing was good but some parts felt a bit rushed though. There are some interesting twists and turns in the book. Some were predictable but some came as a surprise for me too. The writing style was funny and captivating through out. I'm glad this book had a dual POV. I enjoyed reading the story from Will and Talia's third person perspective. The world the authors created was pretty good and I want to explore more of it. 
Overall, I loved this book! It's an entertaining YA sci-fi read filled with adventure, action, humor, and light romance. For now, it's a stand-alone novel but I really hope there's more of this story.
Recommend it?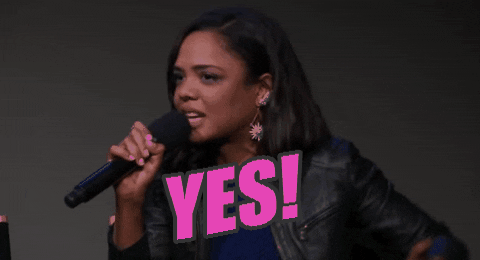 I highly recommend this book to everyone who loves fast paced action packed YA sci-fi books. 

MY RATING: 
[4/5 Stars]
So, What do you think of this book? Have you read this yet? Do you want to read this book when it comes out?
Please Feel Free To Comment Below. ❤
See You In The Next Post and Have a Great Day! 🙂