Hello everyone! Only one day left before the start of a new year and a new beginning. I know everyone is pretty much looking forward to it. 2017 turns out to be a great bookish year for me because I managed to read 156 books and I really didn't expect to read that many books. So today I'm here to share my favorite books that I've read in 2017. Without further ado, let's check them out.
---
YOUNG ADULT
---
NEW ADULT
---
ADULT
---
BEST STAND-ALONE:
AN ENCHANTMENT OF RAVENS BY MARGARET ROGERSON
 BLURB: A skilled painter must stand up to the ancient power of the faerie courts—even as she falls in love with a faerie prince—in this gorgeous debut novel.
Isobel is a prodigy portrait artist with a dangerous set of clients: the sinister fair folk, immortal creatures who cannot bake bread, weave cloth, or put a pen to paper without crumbling to dust. They crave human Craft with a terrible thirst, and Isobel's paintings are highly prized. But when she receives her first royal patron—Rook, the autumn prince—she makes a terrible mistake. She paints mortal sorrow in his eyes—a weakness that could cost him his life.
Furious and devastated, Rook spirits her away to the autumnlands to stand trial for her crime. Waylaid by the Wild Hunt's ghostly hounds, the tainted influence of the Alder King, and hideous monsters risen from barrow mounds, Isobel and Rook depend on one another for survival. Their alliance blossoms into trust, then love—and that love violates the fair folks' ruthless laws. Now both of their lives are forfeit, unless Isobel can use her skill as an artist to fight the fairy courts. Because secretly, her Craft represents a threat the fair folk have never faced in all the millennia of their unchanging lives: for the first time, her portraits have the power to make them feel.
---
BEST COMPLETED SERIES:
1. PENRYN AND THE END OF DAYS BY SUSAN EE
2. ACOTAR BY SARAH J. MAAS
3. WOLF BY WOLF DUOLOGY BY RYAN GRAUDIN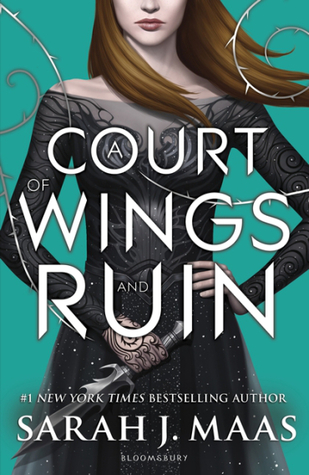 ---
BEST ONGOING SERIES:
THE ILLUMINAE FILES BY AMIE KAUFMAN AND JAY KRISTOFF:
2. THE NEVERNIGHT CHRONICLES BY JAY KRISTOFF:
3. WINTERNIGHT TRILOGY BY KATHERINE ARDEN:
---
So, these are my best books of the year!
Have you read any of the books from the above list? What are your favorite reads of 2017? Please feel free to share your thoughts in the comments below.
Until Next time, and Happy New year! 🙂