Greetings Everyone! I'm back with another book tag. With 2017 almost over, I think it's the perfect time to do this tag. A huge thank you to Rae @Bookmark Chronicles for tagging me. She's an amazing book blogger so don't forget to check out her blog.
---
RULES:
Link to the person who tagged you
Link to the creator of the tag (Bookmark Chronicles)
Share the tag image
Answer the questions below
Tag friends (or not if you don't feel like it)
---
Best book and/or series that you've read in 2017
This book was freaking awesome! It was totally action packed with badass characters. I thoroughly enjoyed reading it.
Authors that you've recently found and would like to read more of in the new year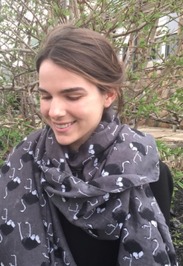 Katherine Arden: I'm currently reading her debut novel the bear and the nightingale and I totally fell in love with her lyrical writing style and I loved the way she weaved the story so beautifully. I would love to read more books from her in the new year.
Margaret Rogerson: I absolutely loved her debut novel An Enchantment Of Ravens. It was so beautiful and captivating. I really hope she writes more fae novels or fantasy novels like that in the future.
Most anticipated book turned movie/tv show?
Ready Player One: I haven't read the book yet but I watched its movie adaptation trailer and it looks pretty awesome. The original is always the best so I'll read the book before watching the movie.
Love Simon: I enjoyed Simon Vs Homo-sapiens. It's not one of my favorite books but I had fun reading it. I'm really hoping its movie adaptation is as good as the book.
Name a character that you wouldn't mind sharing a kiss with at midnight (if there is one)
It's really a hard question to answer because my list is pretty long but anyways, here's a very short list.
Raffe from Penryn & The End of the days
Rhysand from ACOTAR(obviously)
Darkling from the Grisha Trilogy by Leigh Bardugo
What's on you TBR for 2018? (Top 5-10 will suffice if it's an extremely long list!)
How many books do you hope to read in 2018?
I hope to read more than 100 books in 2018.
Will you participate in the Goodreads Reading Challenge or any others (PopSugar, Down the TBR Hole, etc.)
As always, I'm participating in Goodreads Reading Challenge but I'm not participating in any other challenges.
Any New Year's Resolutions? (Bookish, blogging (or vlogging), and otherwise)
Read more,  blog more without stressing myself out, and have lots of fun.
---
Tag, You're it!
Dani @Perspective Of The Writer
Poulami @Daydreaming books
Marie @Drizzle&Hurricane Books
Sophie @Beware Of The Reader
Sophie @Blame It On The Chocolate
Melanie @Mel To The Any
Kayla @Books and Blends
Larkin @Wonderfilled Reads
---
So, do you have any new year resolutions and what are your top anticipated books of 2018? Let me know in the comments below ❤
Until then, Happy Holidays and Happy New year! 🙂