RELEASE DATE: October 30, 2017
AUTHOR: Caroline Peckham
GENRE: Young-Adult, fantasy, paranormal, Vampires.
SUMMARY:
LAST ONE TO THE GRAVE, WINS.
Being a killer wasn't what eighteen year old Selena Grey ever expected she'd become. But with her stepfather's blood fresh on her hands, she finds herself walking into an eight by six prison cell where she'll live out the next twenty five years of her life.
Or so she thought…
When a man as beautiful as he is terrifying walks into the prison, Selena is the only one seemingly unaffected by his charms. But Varick's impossibly dark eyes are trained on her and her alone, frightening Selena of what his presence forewarns. It's not long before she finds out as she wakes on a ship in the dead of night, a captive of the forbidding Varick who seems more beast than man.
But when she arrives at a barren and isolated island in the stormy north sea, she soon realises that the obnoxious Varick may be her only hope of survival. Because, in a place where polar night reigns for the next six months, a powerful and cruel family are about to start this year's season of the V Games. And Selena is marked to participate in the blood sport, hunted by ravenous vampires and surviving the harsh terrain of the bleak island. And, not only that, but Selena just became the highest bid on contestant in a century…
 I loved the beautiful cover of this book it's obviously the first thing that grabbed my interest. I picked this up for fun and I couldn't resist myself after reading its interesting premise. The V games was such an entertaining read. It's like Hunger Games meets the Vampires. I honestly didn't expect to enjoy it as much as I did.   I'm so glad it wasn't another cheesy YA vampire romance novel. This book was totally an entertaining read filled with kickass action, engaging plot, and a slice of romance. I really liked the concept of the book even though it was a bit bloody. There are some flaws in the book, but despite that, it still was an enjoyable read.
The story follows Eighteen Year Old Selena Grey who was sentenced for 25 years in jail for killing her abusive step father. She didn't know how she could survive alone in a jail but soon she makes a new friend named Cassandra aka Cass who is also her cellmate. One night, all the prisoners are woken up for a sudden inspection which Selena found a bit strange. After everyone was gathered, She's surprised to find that their inspector is quite young and handsome but Selena's instincts told her that he's very dangerous. Next time, she wakes up to find herself in a ship with the same guy who calls himself Varick.  Selena soon comes to learn that she's been kidnapped along with another 6 young girl prisoners who are from the same jail. They're all taken to an isolated island with high security. Selena confused about why they've been kidnapped but later she's horrified to learn that they're contestants in a blood sport held by a powerful family in which they're hunted by hungry blood thirsty vampires. To win the game they need to survive the island for one week  but it's not an easy task if the island is surrounded by hungry vampires. With no choice left, every contestant should learn to fight the V's or else get killed by them.  The last one to the grave wins the grand prize which is their freedom.
Selena was a pretty likable character! She's strong, brave, and very compassionate. Even though some of the other contestants were a total bitch to her, she never held a grudge against them. She helped the other girls whenever they're in danger. Since young, she led a tough life especially with her step father being abusive and when he finally crossed the limit, she did a great thing by putting a stop to it. I also enjoyed her character development. With each checkpoint, Selena begins to grow more strong and more badass against vampires. Varick is a mysterious and very intriguing character. He's a powerful vampire and also a reluctant slave to the powerful Van Helsing's family. I really liked his character. I actually thought he was a bad guy but soon we get to see the good side of him. He loathes the Van Helsing's family and their ruthless tradition where innocent girls gets killed for their entertainment. I enjoyed the light romance between Varick and Selena. The first time Varick meets Selena he gets totally captivated by her scent and his strange attraction to her makes him feel confused because he's a vampire and the only thing that he should care about is the blood flowing in her veins but something about her awakens feelings inside him that he thought he has lost forever. I know it does sound a bit cliched and insta-lovish but trust me, it's really not that bad. Both of them don't get along well from the start. So it's kinda like hate to love relationship. The secondary characters that I liked are Cass and Kite. Cass was a sassy and fun character. I really enjoyed the friendship between her and Selena. Kite is a queen bee bully from Selena's jail and I really didn't expect to like her. 
The plot was engaging, action-packed, and totally entertaining! I was hooked to the story right from the very first page. The writing style of the author was pretty good and I'm so glad that this book was written in dual POV because it brought more insight to the story.  The plot moved in a fast pace filled with action, thrill and light romance. I really liked the unique take on vampire novels. We know that the Van Helsing's are the famous Vampire Hunters, the good guys who hunts vampires to save humans but in this book, they're actually the villains who're uber rich and they've got nothing to do but organizing blood sport games for their entertainment. I enjoyed the V-games concept where every girl needs to reach the checkpoints in order to get to the next level and also not to forget the ticking time bomb that is placed on the back of their heads. Before entering the game, all the girls are dolled up in beautiful gowns. With limited food supplies and a wooden stake as their only weapon, they fight for their lives against the vampires and being weak will get you killed.  I loved the world building! The island is a perfect setting for the V-games.
Overall, I immensely enjoyed reading this book! It might not be a total perfection but it's still a good read and I'll definitely be checking out the next one.   
Recommend it?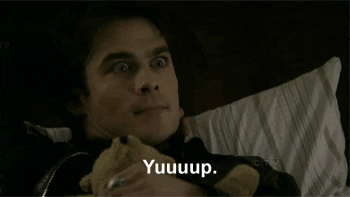 I highly recommend this book to everyone who's looking for a fun action packed YA vampire novel. 
MY RATING: [3.5/5 Stars]
So, What do you think of this book? Have you read this yet? Do you want to read it?




Please Feel Free To Comment Below. ❤




See You In The Next Post and Have a Great Day! 🙂