Greeting Everyone! I never set monthly TBR's because they never work out for me and also because I'm a mood reader but for this December month, I wanted to give my full attention to some of the books that I wanted to read for a while but haven't gotten around to them yet. So, here's my TBR list!
THIS MORTAL COIL(THIS MORTAL COIL#1) BY EMILY SUVADA

GENRE: YOUNG-ADULT, SCI-FI, DYSTOPIA
I'm nearly finished with this book and so far, I'm loving it! I've seen some mixed reviews for this book which made me a bit hesitant to pick this up but I'm glad that I finally gave it a shot. It was really good!  
3 billion lives at stake. 2 people who can save them. 1 secret hidden in their DNA. A breathtaking debut series about one girl's quest for answers in a genetically and technologically advanced future. There's no gene for RUN LIKE HELL.
When a lone soldier, Cole, arrives with news of Lachlan Agatta's death, all hope seems lost for Catarina. Her father was the world's leading geneticist, and humanity's best hope of beating a devastating virus. Then, hidden beneath Cole's genehacked enhancements she finds a message of hope: Lachlan created a vaccine.
Only she can find and decrypt it, if she can unravel the clues he left for her. The closer she gets, the more she finds herself at risk from Cartaxus, a shadowy organization with a stranglehold on the world's genetic tech. But it's too late to turn back.
As the pieces fit together it's clear there is one final secret that Cat must unlock. A secret that will change everything.
---
THE BEAR AND THE NIGHTINGALE(THE WINTERNIGHT SERIES#1) BY KATHERINE ARDEN
GENRE:

YOUNG-ADULT, FANTASY, RETELLING
I've been hearing nothing but amazing things about this series so I'm very very excited to finally start this series.
 BLURB:
'Frost-demons have no interest in mortal girls wed to mortal men. In the stories, they only come for the wild maiden.' 
In a village at the edge of the wilderness of northern Russia, where the winds blow cold and the snow falls many months of the year, an elderly servant tells stories of sorcery, folklore and the Winter King to the children of the family, tales of old magic frowned upon by the church.
But for the young, wild Vasya these are far more than just stories. She alone can see the house spirits that guard her home, and sense the growing forces of dark magic in the woods…
---
WONDER WOMAN: WARBRINGER (DC ICONS#1) BY LEIGH BARDUGO
GENRE: YOUNG-ADULT, FICTION, FANTASY
It's been sitting in my shelf for a month and I think it's finally time for me to pick this up.  
Princess Diana longs to prove herself to her legendary warrior sisters. But when the opportunity finally comes, she throws away her chance at glory and breaks Amazon law—risking exile—to save a mortal. Diana will soon learn that she has rescued no ordinary girl, and that with this single brave act, she may have doomed the world.
Daughter of death.
Alia Keralis just wanted to escape her overprotective brother with a semester at sea. She doesn't know she is being hunted by people who think her very existence could spark a world war. When a bomb detonates aboard her ship, Alia is rescued by a mysterious girl of extraordinary strength and forced to confront a horrible truth: Alia is a Warbringer—a direct descendant of the infamous Helen of Troy, fated to bring about an age of bloodshed and misery.
Together.
Two girls will face an army of enemies—mortal and divine—determined to either destroy or possess the Warbringer. Tested beyond the bounds of their abilities, Diana and Alia must find a way to unleash hidden strengths and forge an unlikely alliance. Because if they have any hope of saving both their worlds, they will have to stand side by side against the tide of war.
---
EVERYTHING UNDER THE SUN BY J.A. REDMERSKI
GENRE:
NEW-ADULT, DYSTOPIA, SURVIVAL, ROMANCE
I was so excited when I first read this book's synopsis. Besides fantasy, I love reading dystopian books with a hint of romance and this one sounds very promising. It's a pretty long book and I really hope it doesn't bore me to death. 
 BLURB:
Thais Fenwick was eleven-years-old when civilization fell, devastated by a virus that killed off the majority of the world's population. For seven years, Thais and her family lived in a community of survivors deep in the heart of the Appalachian Mountains. But when her town is attacked by raiders, she and her blind sister are taken away to the East-Central Territory where she is destined to live the cruel and unjust kind of life her late mother warned her about.
Atticus Hunt is a troubled soldier in Lexington City who has spent the past seven years trying to conform to the vicious nature of men in a post-apocalyptic society. He knows that in order to survive, he must abandon his morals and his conscience and become like those he is surrounded by. But when he meets Thais, morals and conscience win out over conformity, and he risks his rank and his life to help her. They escape the city and set out together on a long and perilous journey to find safety in Shreveport, Louisiana.
Struggling to survive in a world without electricity, food, shelter, and clean water, Atticus and Thais shed their fear of growing too close, and they fall hopelessly in love. But can love survive in such dark times, or is it fated to die with them?
---
UNEARTHED(UNEARTHED#1) BY AMIE KAUFMAN AND MEAGAN SPOONER [ARC]
GENRE:

YOUNG-ADULT, SCI-FI, ADVENTURE
This book is one of my anticipating reads of 2018. I felt quite happy when I've been approved for an eARC from the publisher. I'm really hoping it doesn't disappoint me. Has anyone read this book yet?
 BLURB: When Earth intercepts a message from a long-extinct alien race, it seems like the solution the planet has been waiting for. The Undying's advanced technology has the potential to undo environmental damage and turn lives around, and Gaia, their former home planet, is a treasure trove waiting to be uncovered.
For Jules Addison and his fellow scholars, the discovery of an alien culture offers unprecedented opportunity for study… as long as scavengers like Amelia Radcliffe don't loot everything first. Mia and Jules' different reasons for smuggling themselves onto Gaia put them immediately at odds, but after escaping a dangerous confrontation with other scavvers, they form a fragile alliance.
In order to penetrate the Undying temple and reach the tech and information hidden within, the two must decode the ancient race's secrets and survive their traps. But the more they learn about the Undying, the more their presence in the temple seems to be part of a grand design that could spell the end of the human race…
---
THE LAST NAMSARA(ISKARI#1) BY KRISTEN CICCARELLI
GENRE:
YOUNG-ADULT, FANTASY, DRAGONS
I love Dragons and Forbidden Love stories so I really don't want to miss this book which sounds quite intriguing. My copy will be arriving soon and I can't wait to devour it! If you've read this book then let me know what you think of it.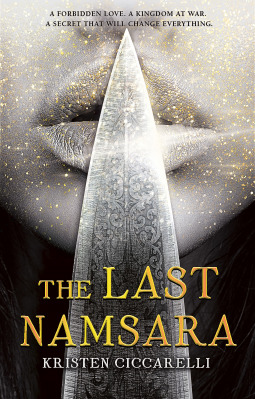 BLURB: In the beginning, there was the Namsara: the child of sky and spirit, who carried love and laughter wherever he went. But where there is light, there must be darkness—and so there was also the Iskari. The child of blood and moonlight. The destroyer. The death-bringer.
These are the legends that Asha, daughter of the king of Firgaard, has grown up learning in hushed whispers, drawn to the forbidden figures of the past. But it isn't until she becomes the fiercest, most feared dragon slayer in the land that she takes on the role of the next Iskari—a lonely destiny that leaves her feeling more like a weapon than a girl.
Asha conquers each dragon and brings its head to the king, but no kill can free her from the shackles that await at home: her betrothal to the cruel commandant, a man who holds the truth about her nature in his palm. When she's offered the chance to gain her freedom in exchange for the life of the most powerful dragon in Firgaard, she finds that there may be more truth to the ancient stories than she ever could have expected. With the help of a secret friend—a slave boy from her betrothed's household—Asha must shed the layers of her Iskari bondage and open her heart to love, light, and a truth that has been kept from her.
---
THE LANGUAGE OF THORNS BY LEIGH BARDUGO
GENRE: YOUNG-ADULT, FANTASY, SHORT STORIES
Leigh Bardugo is a wonderful writer and a narrator. I loved her Grisha trilogy and Six of Crows duology. I like dark fairytales and The Language of thorns is definitely a perfect read for me. The illustrations looks so beautiful! I want to enjoy and devour this book slowly.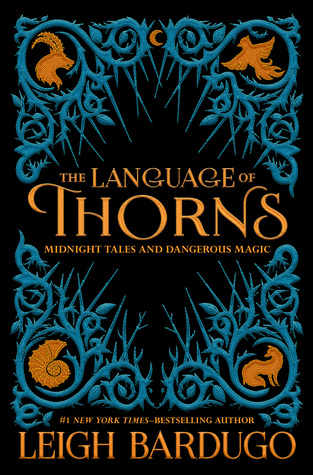 BLURB: 
Love speaks in flowers. Truth requires thorns.
Travel to a world of dark bargains struck by moonlight, of haunted towns and hungry woods, of talking beasts and gingerbread golems, where a young mermaid's voice can summon deadly storms and where a river might do a lovestruck boy's bidding but only for a terrible price.
Inspired by myth, fairy tale, and folklore, #1 New York Times–bestselling author Leigh Bardugo has crafted a deliciously atmospheric collection of short stories filled with betrayals, revenge, sacrifice, and love.
Perfect for new readers and dedicated fans, these tales will transport you to lands both familiar and strange—to a fully realized world of dangerous magic that millions have visited through the novels of the Grishaverse.
---
THE REBELS OF GOLD(LOOM SAGA#3) BY ELISE KOVA

GENRE:
YOUNG-ADULT, FANTASY, DRAGONS, STEAMPUNK
Elise Kova is a creative and very talented author! Her books are filled with unique plots, interesting characters, and amazing world buildings. Loom Saga is my second series by her and I'm very much looking forward to this epic finale. 
 BLURB: 
A new rebellion rises from the still-smoldering remnants of the five guilds of Loom to stand against Dragon tyranny. Meanwhile, on Nova, those same Dragons fight amongst themselves, as age-old power struggles shift the political landscape in fateful and unexpected ways. Unlikely leaders vie for the opportunity to shape a new world order from the perfect clockwork designs of one temperamental engineer.
This is the final installment of USA Today bestselling author Elise Kova's Loom Saga, THE REBELS OF GOLD will reveal the fate of Loom's brilliantly contrasting world and its beloved inhabitants.
---
So, that's it for this month! I hope you guys enjoyed my TBR list. I might read some more books if I have more time but the above books gets the highest priority. Anyways, what books are you reading this month? If you have a December TBR post please share your link in the comments below. 
Until next time and have a great day!