RELEASE DATE: July 11th 2017 
AUTHOR: Natalie Decker
GENRE: Young-Adult, Contemporary, Romance.  
PUBLISHER: Swoon Romance
SUMMARY: 
High school juniors Layla and Tyler are complete opposites. Sure she's a cheerleader and he's a football player, but she thinks he's the biggest jerk in the school and he thinks she is too high on her horse to even be worthy of a second glance from him. And when the two of them are near one another, sparks fly in all the wrong directions. They are NOT interested in speaking to one another, let alone date.
But when Layla unknowingly sends Tyler a smack-down text meant for the girl sending naked photos to her then-boyfriend, Adam, Tyler has no idea it's Layla and decides to play along. After all, Tyler cannot resist messing with the pissed off girl firing off texts about junk pictures, cheating, and girl code.
As the fallout from Adam's sexting scandal plays out in front of the entire school, Tyler and Layla secretly continue to text one another using fake names. But as days and weeks pass, things take a turn for the serious between them, and suddenly, their texts mean more. They both begin to consider revealing their true identity to the other and taking the relationship from texts to dates, then kissing and maybe more.
They say there's a thin line between love and hate. Can reality live up to the fantasy, or will Layla and Tyler be forever offsides?
This was such a super fun and cute read! I love reading hate to love romance tropes and I absolutely enjoyed reading this book. The story was both hilarious and romantic. After reading so many fantasy reads, I picked this up for a change in genre and I was looking for something fun. I'm so glad that It didn't disappoint me because it was so entertaining and nothing too emotionally serious that'll make me too sad. Although the plot seemed a bit cliched, I was totally engaged to the story. The characters are quiet fun and I loved the sweet budding romance between Layla and Tyler. There's also so much drama in this book and I can't believe that I actually enjoyed it because I usually hate too much drama in YA contemporary books.
The story follows two high school students Layla and Tyler who are not only complete opposites they also pretty much hate each other's presence. Layla is a cheerleader who thinks Tyler is a Jerk.  Tyler is a star football player of their school and he thinks Layla is someone who thinks too highly of herself and everyone should bow down to her. When Layla finds her longtime boyfriend Adam sexting with some other girl, she lashes out her feelings of rage through a txt message to the girl but unfortunately, she sends it to a wrong number because of her Dyslexia problem that only few members know about it. The wrong number turns out to be Tyler's number. When he sees a message from an unknown number in his phone, he plays along for a while for fun but later he reveals that she's got a wrong number. From then on, they start chatting with each other using fake names but they're still unaware of each other's identity. In school, they always clash with each other but when they chat on phone, they act like they're best pals in the world. Slowly their friendly relationship grows into something more and they both start to develop feelings for each other but what will happen when Layla finally finds out that she's been falling in love with her  nemesis.
I liked both the main characters in the book. I enjoyed Layla's character  but sometimes I hated her bitchiness towards Tyler. I've never met a character who has a Dyslexic problem and how they deal with it. Layla hides her problem from everyone because she's afraid everyone would treat her as someone stupid. But despite her insecurities, she always stood strong and never let them hold her back which is something I loved about her. I loved Tyler! He is fun, sweet, sexy and totally swoon worthy guy with a good heart. Everyone knows him as a star football player who loves partying but they don't know about the real him. I loved how Layla and Tyler's relationship began with the wrong number.  They both make a connection with each other by bringing their real selves in the online chat and sharing their issues that they never told anyone. I absolutely enjoyed their online sweet romance and also the offline clashing between them. People who love hate to love romance will definitely have fun reading this book. I also liked secondary characters especially Juliet, Layla's twin. I loved the sibling relationship between them. I didn't liked Julia's best friend Rachel because of her extreme rudeness towards Juliet.
The plot is entertaining and also a bit cliched but still I enjoyed it.  I loved the whole teen drama, angst and sweet romance. The story made me laugh, angry, frustrated and sad. I wish there was more sexy scenes between Layla and Tyler. Whenever they meet, I really can't help myself from grinning. The pacing is pretty good and It never left me bored. My only issue with this book was the last twenty percent of the book which seemed a bit messy otherwise I would've given it a four star. I loved the dual POV of the book and also the witty writing style of the author. It was easy to understand and I flew through it without any struggle.
Overall, I loved it! I had lots of fun reading this book and I might check out the next book in the series which is Juliet's story.
Recommend it?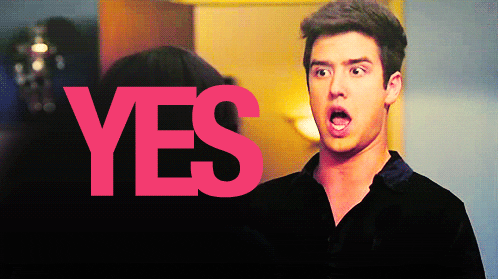 I highly recommend this book to everyone who loves to read fun and cute YA contemporary romance with enemies to lovers trope.
So, What do you think of this book? Have you read this yet? Do you like to read this book?
Please Feel Free To Comment Below. ❤
See You In The Next Post and Have a Great Day! 🙂