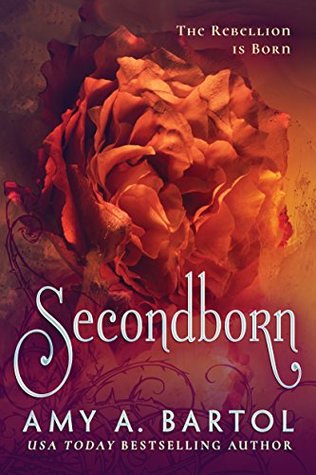 RELEASE DATE: August 1st 2017 
AUTHOR: Amy A. Bartol
GENRE: New-Adult, Dystopia, Fantasy, Romance.  
PUBLISHER: 47North
SUMMARY: Firstborns rule society. Secondborns are the property of the government. Thirdborns are not tolerated. Long live the Fates Republic.
On Transition Day, the second child in every family is taken by the government and forced into servitude. Roselle St. Sismode's eighteenth birthday arrives with harsh realizations: she's to become a soldier for the Fate of Swords military arm of the Republic during the bloodiest rebellion in history, and her elite firstborn mother is happy to see her go.
Televised since her early childhood, Roselle's privileged upbringing has earned her the resentment of her secondborn peers. Now her decision to spare an enemy on the battlefield marks her as a traitor to the state.
But Roselle finds an ally—and more—in fellow secondborn conscript Hawthorne Trugrave. As the consequences of her actions ripple throughout the Fates Republic, can Roselle create a destiny of her own? Or will her Fate override everything she fights for—even love?
Oh my, this was such a disappointment! I was pretty excited to read this book. Despite all the mixed reviews I've heard, I really wanted to give this a shot because the premise quiet intrigued me. I mean look at that blurb, Isn't it sounds amazing? Although I enjoyed some aspects of this book, there are too many flaws to ignore especially the romance which felt dull. I really enjoyed Amy Bartol's first book in Premonition series but this one seemed a bit messy and confusing. Honestly, Secondborn really has so much potential to be a hit series. I loved the unique concept which is pretty amazing, the kickass action, and also the interesting world building that I enjoyed exploring but I didn't liked the execution of the plot. It's my major issue with this book.
The story is set in a dystopian world where the firstborns are treated like royalty and the secondborns are forced to serve in  the military. The thirdborns are not tolerated so they're hunted and killed by the assassins called Censors. If a firstborn is either died or killed in a family then the secondborn will immediately become the firstborn. Roselle St. Sismode is a secondborn and also the daughter of the leader of the powerful Fate of Swords. On her approaching Eighteenth birthday, she needs to join the military and become a soldier. Her mother is quite happy to send  her away because she feels that she's a threat to her older brother Gabriel's life who'll become the next leader of the Fate Of Swords. Since childhood Roselle is a media darling and her every move was televised across the world which earned the resentment of her secondborn peers who hated for her special privileged life. Since early age she was trained with her mentor Dune to become a soldier. When she arrives at the Sword's military training base everyone is not happy with her presence and they're not in a rush to get close to her except for the alluring, Hawthorne Trugrave. Any kind of intimate relationship between secondborns are forbidden but she can't help getting attracted to him.  With their ongoing war with the secondborn rebellions the whole Fate Of Swords is always on alert for the next attack. When Roselle's certain actions makes huge consequences, she needs to recreate her destiny and fight for it.
The characters in this book aren't fully fleshed out. Except for the main character, we don't know much about the secondary characters. Roselle is a kickass female protagonist and I love strong female protagonists but she seemed quiet perfect in everything which really irked me. The other thing that made me a bit annoyed was how every handsome male in this book are attracted to her like you find in a reverse harem genre. On the other hand, the first love interest Hawthorne didn't impressed me much and the second one named Clifton is barely there in the plot. There's also this other creepy handsome guy  named Kipson Crow aka Agent Crow who has some kind of crazy obsession with her. The romance in this book was totally meh and disappointing. There's not many heart to heart conversations between Roselle and Hawthorne but suddenly they love each other and their chemistry seemed lacking. I didn't feel any sparks and passion between them. It mostly felt like Insta-love and I'm really not fan of it because I want a relationship to develop slowly with each interaction.  The secondary characters aren't fleshed out well enough to intrigue me and they're not memorable enough to describe.
The plot is very interesting but the poor execution and the fast pacing failed it.  The story began with a great start but slowly it took a downhill. It really took me some time for me to get into the story because the author dumps us in a world that we don't know much about. Everything seemed confusing to me at the beginning and only after getting halfway through the book, I was able to understand the story and the world. There are some twists and turns in this plot which I really enjoyed. The ending seemed very rushed and the book finally ends with a twist that I didn't saw coming. The writing is good but It needs more editing. The story is told from Roselle's first person POV but I think this one would've been more enjoyable if it was written in multiple POV. The world building is very unique but I struggled a lot to understand it fully. I wish the author provided a map for it. The world is divided into Nine Fates of Republic and so far, we're only introduced to Fate of Swords and I'd like to explore more of this world.  
Overall, I liked this book but I don't love it! I really wanted to love this book but unfortunately, the cons outweighed the pros. Nevertheless, I'll definitely look forward to the next book in this series and I hope it's much better than the first book.
Recommend it?
Yes!
It's either a hit or miss book. So, if you want to read this book then definitely give it a shot cause you might like it more than I did.
So, What do you think of this book? Have you read this yet? Do you like to read this book?
Please Feel Free To Comment Below. ❤
See You In The Next Post and Have a Great Day! 🙂