RELEASE DATE: February 23rd 2016
AUTHOR: Jessica Khoury
GENRE: Young-Adult, Fantasy, Magic, Retelling, Romance.  
PUBLISHER: Razorbill
SUMMARY: 
She is the most powerful Jinni of all. He is a boy from the streets. Their love will shake the world…
When Aladdin discovers Zahra's jinni lamp, Zahra is thrust back into a world she hasn't seen in hundreds of years—a world where magic is forbidden and Zahra's very existence is illegal. She must disguise herself to stay alive, using ancient shape-shifting magic, until her new master has selected his three wishes.
But when the King of the Jinn offers Zahra a chance to be free of her lamp forever, she seizes the opportunity—only to discover she is falling in love with Aladdin. When saving herself means betraying him, Zahra must decide once and for all: is winning her freedom worth losing her heart?
---
As time unravels and her enemies close in, Zahra finds herself suspended between danger and desire in this dazzling retelling of Aladdin from acclaimed author Jessica Khoury.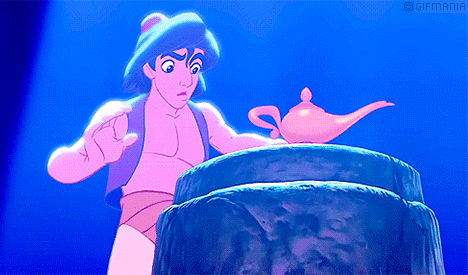 "You're very pretty," he murmurs, his voice thick with sleep, "for a jinni."
"Have you met many jinn?"
"No." His lips curl into a dazed grin. "But I've met a lot of pretty girls."
The Forbidden Wish is a beautiful retelling of Aladdin and I absolutely loved it. I'm a huge fan of fantasy retellings but I never gave much thought to this book mostly because of the mixed reviews I've heard. I finally decided to give this a shot when so many people highly recommended it to me and now I'm so glad that I did.  I've read only few Aladdin retellings and this is definitely the best one so far. It was far better than I had expected. I loved the plot, the characters, the writing, and the setting. This is my first book by Jessica Khoury and I'm very much impressed. I'll definitely look forward to more books from her.
"If you're not free to love, your're not free at all." 
Zahra is a jinni who is trapped for five hundred years inside a lamp which is buried under the ruins of an ancient city called Neruby. When a boy discovers the mysterious lamp and rubs it, she  finally gets free and sees the outside world which she hasn't seen in centuries. Her new master is a thief named Aladdin and she has to grant his three wishes but first she needs to disguise herself with her shape shifting ability in order to travel with him in Parthenia because the Jinn's are illegal in his city after the war between them and dealing with everything related to magic is totally forbidden. When a ghoul sends a message from the Jinn king himself who is offering her freedom from the lamp in exchange for a job that only she could do, Zahra quickly accepts it because it would finally free her from the curse and she doesn't have to get trapped inside the lamp again awaiting for her next  master. In order to fulfill her deal, Zahra needs to betray her master Aladdin or else the Jinn king will destroy the whole Parthenia city killing Aladdin and all the humans residing in it.
"The price of every lie is that the truth will always come out." 
I loved Zahra! She's strong, smart, beautiful, compassionate and totally badass but she still has some vulnerabilities which makes her a perfect protagonist. I really enjoyed her character in this book and how she handled every difficult choices. Aladdin is a super fun character. He's smug, sassy, witty, and a womanizer. Despite being  a thief, I'm glad he's still loyal and selfless person. I loved the relationship between Zahra and Aladdin. Their romance is totally swoon worthy. Zahra believes herself as a monster but Aladdin only saw her as a lonely sad girl. I enjoyed their every interaction and their banters always made me smile.  The romance between them is a total slow burn and definitely not an insta-love  like some people has stated.  As for the secondary characters, I liked princess Caspida and her female group who are totally kickass and quite deadly. They're pretty good addition to the plot.
"He is the sun, and I am the moon. We must stay apart or the world will be thrown out of balance." 
The plot is intriguing and unique. The story has captivated me from the start and it was hard for me to put this down even for a sec.  It's a perfect ya romantic fantasy filled with exciting romance, fun, adventure, and magic. The pacing is perfect and there's never a dull moment through out. The story is mostly focused on romance so don't expect for an action packed plot.  I liked the unique twists in the plot and I'm glad it wasn't an exact replica of the original story.  I enjoyed reading the story from Zahra's POV[first-person]. The author's beautiful writing style is another thing that made this book even more irresistible. I enjoyed the world the author has created.  There's not much world building in this book but I loved the whole setting of Parthenia city and also the Jinn magic. 
"You can't choose what happens to you, but you can choose who you become because of it.
Overall, I loved this book! The story finally concludes with a satisfying ending. I had so much fun reading this book and I really didn't expect to enjoy it as much as I did. The main characters are pretty enjoyable and they're definitely the best part of this book.
Recommend it?

I highly recommend this book to everyone who loves to read YA fantasy retellings. It is definitely worth a read! 
So, What do you think of this book? Have you read this yet? Do you like to read this book?
Please Feel Free To Comment Below. ❤
See You In The Next Post and Have a Great Day! 🙂