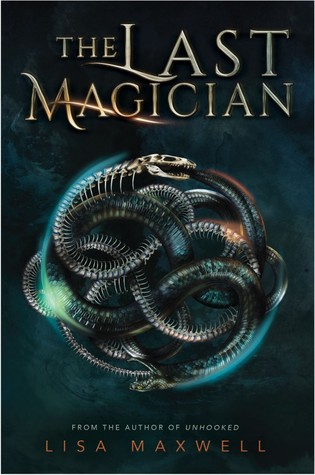 RELEASE DATE: July 18th 2017
AUTHOR: Lisa Maxwell 
GENRE: Young-Adult, Fantasy, Historical, Time-Travel, Magic, Adventure.  
PUBLISHER: Simon Pulse
SUMMARY: 
Stop the Magician. Steal the book. Save the future.
In modern-day New York, magic is all but extinct. The remaining few who have an affinity for magic—the Mageus—live in the shadows, hiding who they are. Any Mageus who enters Manhattan becomes trapped by the Brink, a dark energy barrier that confines them to the island. Crossing it means losing their power—and often their lives.
Esta is a talented thief, and she's been raised to steal magical artifacts from the sinister Order that created the Brink.
 With her innate ability to manipulate time, Esta can pilfer from the past, collecting these artifacts before the Order even realizes she's there. And all of Esta's training has been for one final job: traveling back to 1902 to steal an ancient book containing the secrets of the Order—and the Brink—before the Magician can destroy it and doom the Mageus to a hopeless future.
But Old New York is a dangerous world ruled by ruthless gangs and secret societies, a world where the very air crackles with magic. Nothing is as it seems, including the Magician himself. And for Esta to save her future, she may have to betray everyone in the past.
The Last Magician is one of my highly anticipated books of this year. I'm a fan of Time-Travel books and I've been eagerly waiting to get my hands on this for a while. I got so freaking excited when I finally got to read this book and it definitely worth all the wait. This book was totally amazing. I loved this even more than Unhooked, another fantasy book by Lisa Maxwell which is also pretty amazing. The Last Magician met every one of my expectations and became one of my favorites of 2017. It definitely lives up to the intriguing premise and the awesome cover. Even though It's a pretty long book, I enjoyed every minute of it and I never left bored. Every aspect in this book is a perfection and I loved the way the author weaved this wonderful story from the start till the end. The characters made this story even more enjoyable.  The story sucks you in and it won't let you go, which of course meant I couldn't put it down. This book gave me huge vibes of Six of Crows which made me love it even more.
The story starts in a modern day 20th Century New York where magic is nearly extinct and a few Mageus still live in hiding from the humans. Esta is a talented thief who has rare ability to manipulate time and also can travel through different periods in past with the help of a magical silver cuff. By using her ability she travels to different time periods and steals artifacts without getting caught but she was raised for a purpose and the time finally comes when she was told to travel back to 1902 Manhattan to steal an ancient book which holds the secret of the order and the magical brink that holds every Mageus its prisoners. She must steal the book before the magician gets a hold of it and destroys it with him which will eventually destroy their future. But this last Job is pretty dangerous than her other jobs. In 1902, there are so many people with old magic like her and the streets are roamed by ruthless gangs, secret societies, and the Order. Every Mageus is trapped inside the brink and crossing the border will strip their powers which will lead to madness and death. The people of Order are quiet powerful who'll  execute anyone that has old magic in them and getting into the stronghold of Order is not an easy task. So Esta needs to join a powerful group of mageus as a talented thief without disclosing her true ability and identity. When the heist finally happens, she has to steal the book for herself by betraying her gang and bringing it to her mentor in the future.
Esta Filosik is quite an intriguing character! I absolutely enjoyed her character in this book. I loved her fun, brash, and confident personality. She has the cool ability to manipulate time and also a talented thief which makes her pretty interesting protagonist. She can also handle any difficult situation. Harte Darrigan is another interesting main character I really loved. He's totally fun, smart and mysterious. I love  the way he outsmarts his enemies. Esta and Harte are pretty hilarious together. I enjoyed every interaction between them and I can't help grinning whenever they meet. The chemistry between them is pretty good. Even though they don't trust each other, they can't help getting attracted to each other. I also liked the supporting characters especially Dolph Saunders, Viola, and Jianyu. Dolph is not only a mageus but also the leader of a powerful gang and he reminded me so much of Kaz from Six of Crows. When Dolph loses his love/gang-member by the hands of the Order, he thirsts for revenge against them by destroying the brink that holds all the mageus captive inside it.  Viola is Dolph's deadly assassin who can kill anyone pretty easily with her knife. Jianyu is of Chinese  descent and also another interesting member of Dolph's group. His ability helps him hide inside the shadows and not getting caught by his enemies.
The plot is brilliant and well written! The unique concept of this book makes it a refreshing read. The story starts with a slow pace but it didn't hinder my enjoyment. I was totally immersed into the story right from the very start. There was never a dull moment and as the story slowly progresses, the plot becomes even more exciting and interesting to read. There are lots of surprising twists in the second half which I really loved. I pretty much enjoyed the time travel aspect in this book which is one of the major highlights of this book. I enjoyed the writing style of the author which seems to have improved a lot since her last book. The story is told in third person multiple POV. The world building is absolutely fantastic! It's the best aspect of this book. The historical setting felt so accurate and I liked how the alternative worlds connected to each other. I actually felt that I was living in a 19th century while reading this book. It seems the author has done lots of research while writing this book and she totally nailed it. I also liked the magical system in this book which perfectly blended well with the historical setting.
Overall, it was a fantastic read! It's a perfect package of entertainment filled with right amount of action, magic, adventure and romance. I didn't know this was actually a first book in a duology. The ending left me wanting for more so I'll definitely look forward to the next book.
Recommend it?

I highly recommend this book to everyone who loves to read YA fantasy placed in a historical setting. Readers who loved Six Of Crows will definitely enjoy reading this book.


So, What do you think of this book? Have you read this yet? Do you like to read this book?
Please Feel Free To Comment Below. ❤
See You In The Next Post and Have a Great Day! 🙂