RELEASE DATE: June 6th, 2017
AUTHOR: Sarah Tolcser
GENRE: Young-Adult, Fantasy, Adventure, Romance.
PUBLISHER: Bloomsbury USA Children
SUMMARY: Caroline Oresteia is destined for the river. Her father is a wherryman, as was her grandmother. All Caro needs is for the river god to whisper her name, and her fate is sealed. But at seventeen, Caro may be too late.
So when pirates burn ships and her father is arrested, Caro volunteers to transport mysterious cargo in exchange for his release. Secretly, Caro hopes that by piloting her own wherry, the river god will finally speak her name.
But when the cargo becomes more than Caro expected, she finds herself caught in a web of politics and lies. 
With much more than her father's life at stake, Caro must choose between the future she knows, and the one she could have never imagined.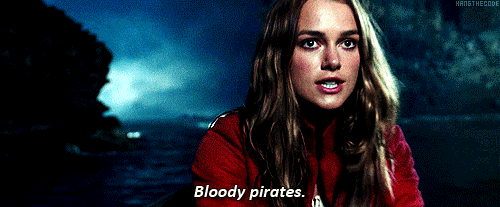 Oh my, this was quite an adventurous read! Song of the current is the first installment in the new YA fantasy series from debut author Sarah Tolcser. I had so much fun while reading this book. Once I saw its wonderful synopsis, I was sold because I love reading books with pirates in it. This book really has everything that I'd wish for. It has pirates, a head strong heroine, an arrogant male lead/love-interest, hate-to-love romance, sea adventures, magic etc. I loved the intriguing main characters, the wonderful setting and also the engaging plot. Even though I struggled with the writing style of this book, I enjoyed every minute of it. For a debut, It's really a great start for the author and I'm quite excited to know what she has in store for us next.
Seventeen year old Caro Oresteia has always wanted to become a wherryman like her father. She has spent her entire life with her father on Cormorant, smuggling goods through out the interconnected riverlands. All the Oresteia in her ancestry are favored by the river god. They're gifted with the power to speak to him through small things. Her father was only fifteen years old when the god first whispered his name and even after seventeen years, the river god haven't spoken her name yet and she's starting to lose hope that he never will. When Caro's father begins to feel unrest in the river, they come across some wherries on fire and later Caro's father is captured for smuggling by some military officials. In order to save her father from the prison, Caro needs to smuggle a mysterious crate to Valonikos. Even though Caro knows the routes to her destination very well, this job is easier said than done because the crate have been highly sought after by the deadly pirates, the black dogs. Now Caro needs to bring the shipment to the Valonikos safely without getting herself killed.
I loved Caro! She's sassy, stubborn, sarcastic, funny and a total badass. She's really an amazing character and I liked her character growth through out. Even in dangerous situations she always stood brave and strong. Her strengths and weaknesses is what makes her feel realistic. The male lead in this book is a spoiled arrogant jerk at the start but as the story progressed, I slowly fell in love with him just like Caro. The first time he tries to kiss Caro, it ends with a slap on his face. He doesn't know a thing about being on a boat and I enjoyed watching him messing everything up. The romance in this book was more intense then I thought It would be and I absolutely loved it.  The banters between them are epic. I loved every time they clashed and it's fun watching both of them provoking each other. Their relationship is quite a treat for readers who loves hate to love romance. This book also has some female friendship which I really enjoyed. The  supporting characters in this book are pretty good. I liked Fee, the frog woman, Caro's cousin Kenté and Nereus.
I loved the plot! It was quite intriguing, fun, unique and engaging. From the start I was hooked to the plot. Though the story moved in a slow pace, I never felt bored through out. The twists in the plot are pretty predictable but it never lessened my interest. The only issue I had with this book was the writing style. I struggled a bit in the beginning but eventually I got used to it. Apart from the writing style, I loved every aspect of this book. The whole story was told from Caro's POV[first-person] but I wish it was written in dual POV. Nevertheless, I enjoyed seeing everything from her perspective. The world building is totally amazing! The world of riverlands with interconnected waterways and lands seemed very unique. I've never read a book similar to this world before so it was very refreshing for me. I liked the magical system and also the gods aspect in this book.
Overall, it was a great read and a pretty good start for a new fantasy series! Readers who like sea faring adventures will definitely enjoy devouring this book. The book finally concludes with no cliffhanger but Caro's adventure continues in the next book and I'll definitely look forward to it.
Recommend it?

I highly recommend this book to everyone who likes to read YA fantasy read filled with adventure, magic and exciting romance.
So, What do you think of this book? Have you read this yet? Do you like to read this book?
Please Feel Free To Comment Below. ❤
See You In The Next Post and Have a Great Day! 🙂