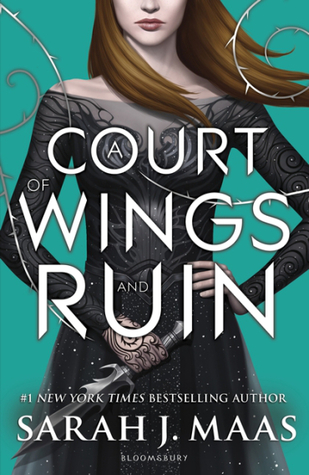 RELEASE DATE:  May 2nd 2017
AUTHOR: Sarah J. Maas
GENRE: New-Adult, Fantasy, Fae, Romance.
PUBLISHER: Bloomsbury Children's Books
SUMMARY:
A nightmare, I'd told Tamlin. I was the nightmare.
Feyre has returned to the Spring Court, determined to gather information on Tamlin's maneuverings and the invading king threatening to bring Prythian to its knees. But to do so she must play a deadly game of deceit—and one slip may spell doom not only for Feyre, but for her world as well. As war bears down upon them all, Feyre must decide who to trust amongst the dazzling and lethal High Lords—and hunt for allies in unexpected places.

"Only you can decide what breaks you, Cursebreaker. Only you."
ACOWAR was really a great conclusion to the feyre's story and it was totally a blast. This is one of my highly anticipated books of this year and I'm so glad that It met all of my expectations. The cover of this book looks so gorgeous and I literally screamed with excitement when I first saw it. This is my second best favorite cover in this series so far and I totally fell in love with that gorgeous black dress. Coming to the story, this book was really a long journey but I never felt bored through out. I loved getting back into the world of prythian and meeting all of my favorite characters once again. I really missed Feyre, Rhys and the inner circle. They're the best part of this series and I always enjoyed the banters among them. I really felt sad when I finally finished this book because I don't want to leave this world yet. Now we have to wait for a year until the next book is released which is a f*cking torture.
"Remember that you are a wolf. And you cannot be caged."
When their plan to destroy Cauldron has failed, Feyre and the group gets caught by King of Hybern thanks to Tamlin, the traitor. Because of the betrayal from the human queens, Feyre's sisters Nesta and Elain are reluctantly turned into Fae by the power of Cauldron. To save her mate and her friends from getting killed, Feyre pretends to be freed from Rhys compulsion and agrees to go back with Tamlin in exchange for their safety. After getting back to the spring court, Feyre acts as a spy to get information on the hybern war plans but Lucien is still suspicious of her because he doesn't fully bought her act. With no one aware of  her being High Lady of the Night Court, Feyre plays a dangerous game of deceit to ruin the spring court from the inside. With the war looming closer, Feyre and Rhysand must gather as many allies as possible in order to win against the King of Hybern. So they hunt for allies in unlikely places and they must decide whom to trust amongst all the lethal High Lords.
"You belong to all of us, and we belong to you."
I loved and adored every character in this book especially the inner circle. Feyre definitely grew as a character after becoming a High Lady. After overcoming all the trauma she has faced before, she's finally become a strong woman. She's confident, cunning, fierce, stubborn, dark and smart just like her High Lord Rhysand. She's definitely not the feyre from before and I really liked this new side of her. I adored Rhysand in this book! He is definitely a mother hen of the inner circle and will no doubt become a martyr in order to save his family and friends. Being a High Lord, he always stood strong and patience even in difficult situations and never showed his vulnerable side to the others. As for the other characters, Nesta is still fierce and grumpy as before. Besides Feyre, Nesta is my other favorite female character in this series. In the end, she finally evolves into a great character and I'm really hoping the next book going to be about Cassian and Nesta. Elain is such a sweet and innocent character. With her whole world being turned upside down, she's gone into a total shock because now she couldn't go back to her human fiance who hates Fae. I loved Cassian! We've already seen his fun and flirty side of him but we never saw his true strength as a commander and boy,  I was pretty much impressed when he erupts in the war slaying his enemies like it was no big deal. Azriel, the shadow singer is always a mysterious character to me because he rarely shows his feelings which makes him so intriguing. I have to give props for his strength, in one of the scenes he gets deeply hurt while saving Feyre but he still goes on and never gives up.  Mor is still sassy as ever and I'm glad that we get to know more about her.  When she finally reveals her secret to feyre, I was pretty much surprised because I never saw that coming. Amren is a cool and deadly chick in this group and I'd never expect her to have a love interest which I'm going to reveal below. I also liked the high lords Tarquin and Helion. 
*Let's Talk About All The Ships*




*SPOILERS*




Feyre and Rhysand:   After overcoming so many obstacles, this ship has finally sailed. They've become one of my favorite OTP's. I Just Swoon every time Rhys calls her Feyre darling and yeah, It might sound a bit cheesy but I don't care. The romance between them is still hot and sexy but to be honest, I really missed the sexual tension between them before they mated. Still, they're a wonderful couple and I'm glad they finally had their happily ever after. 
Nesta and Cassian: I was rooting for this couple from the start. Together they are perfect! Besides Fey and Rhys, Nesta and Cassian are my other favorite couple in this series. I'm sucker for hate-to-love trope and their relationship definitely comes under that category. I enjoyed the banters between them and I always have this weird grin on my face whenever they clashed. There is one scene in the war where Nesta screams aloud for Cassian which is totally epic and it nearly gave me goose bumps. I really wished there was also Nesta's POV in this book because I wanted to know what's really going on between them. 
Elain and Azriel: I'm not really  sure about this ship yet but there are some hints given in the book which makes their relationship one of the possibilities. I really feel sorry for the people who shipped Azriel and Mor because that ship has sinked forever. Honestly, I feel Elain and Azriel are good together more than Lucien and Elain but I don't know what Sarah has in store for us next and hope she surprises us again.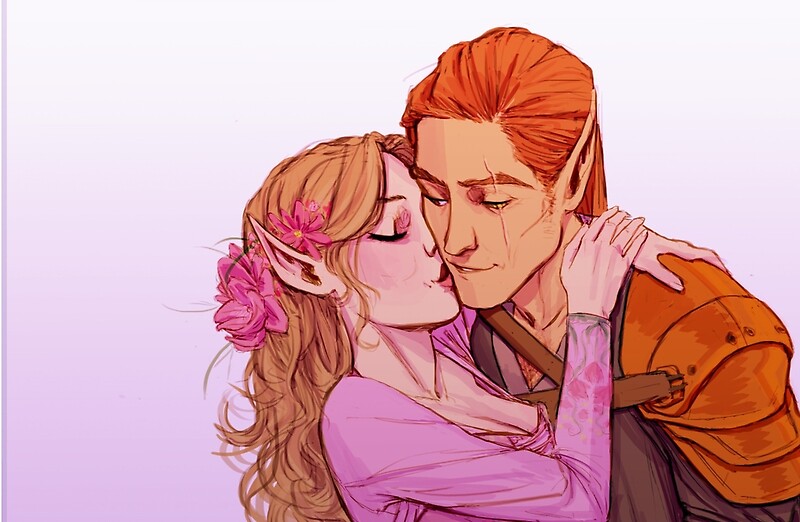 Lucien and Vassa or Lucien and Elain: We need more Lucien and I was teeny tiny bit disappointed that he didn't get much spotlight in this book either. I enjoyed his friendship with Feyre despite his allegiance to Tamlin and I'm glad he finally decides to live in valeris. I'm not sure about this relationship either but I'll ship him with whomever he ends up with even if it's Elain.
Amren and Varian: Okay, their relationship came as a big surprise for me but I totally ship it!
Jurian and ???: I thought he was a bad guy but he turns out to be a good guy. There's a huge possibility of him and Vassa(the phoenix) ending up together but lets see.
Mor and ???: I was pretty much shocked when it was revealed that she plays for the other team. There are seriously no hints that's why it came as a huge surprise for me. I have no idea with whom she's going to end up with but I'm very eager find out.
Tamlin and ???: I used to adore this guy and I felt really sad with how his love for feyre has slowly turned him into so obsessive and ugly. I'm glad he finally accepted his defeat when he sees how much Rhys and Feyre love each other *yeah, I'm talking about that ending scene*. To be honest, I was quite angered with his psycho behavior in ACOMAF but I never hated him and I really hope he finds his happily ever after too.  
The plot is brilliant, dramatic, emotional and engaging. I've gone through so many emotions while reading it. I laughed,  cried, swooned, frustrated, raged etc., Though the first half is slow paced and less action packed than it's previous installment, I never felt bored. I must agree that it was less action packed than ACOMAF but the ending definitely makes up for it. To be honest, I enjoyed this book as much as I enjoyed ACOMAF. The action packed ending is definitely the best part in the whole series so far. There are lots of twists and turns in this book which blew my mind away. Some twists are easy to predict but most of them are totally unpredictable. There are also some sentimental and heart warming scenes in this book which really made me feel gooey inside. One of the death scene nearly made me cry and I rarely cry when I read.
Sarah's Writing style is captivating and addictive, as always.  I enjoyed reading this story from feyre's POV[first-person] but I really wished it was written in multiple pov's because everyone is freaking awesome in this book and I really wanted to know what's going on their minds. Thanks to Feyre's damati mind power, we get a few glimpses of some of their thoughts. The world building is amazing through out the series! Sarah is such a creative and talented author who never ceases to amaze me. She makes us wish to live in her fictional world forever and never want to leave. 
"What we think to be our greatest weakness can sometimes be our biggest strength."
Overall, it was a fantastic read! The twist at the end is totally predictable but It definitely makes a perfect ending. With this book, the story of Rhys and Feyre is finally over and now it's time to welcome another exciting couple as leads. I'm betting all my money on Cassian and Nesta. *fingers crossed*
DO I RECOMMEND IT?

I highly recommend this series to everyone except for the younger readers because it contains mature scenes that is not suitable for young readers.
So, What do you think of this book? Have you started this series yet?
If you already read this book, Did you love it as much as I did? what are your favorite ships? Please feel free comment below, I would love to know your answers.  
See You In The Next Post and Have a Great Day! 🙂