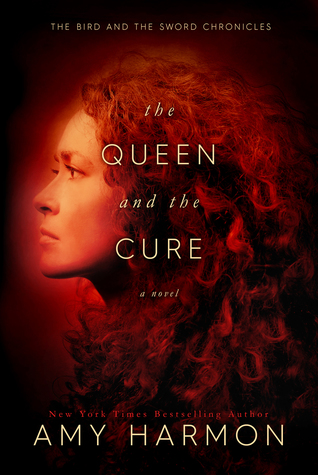 RELEASE DATE:  May 9th 2017
AUTHOR: Amy Harmon
GENRE: New-Adult, Fantasy, Magic, Romance.
SUMMARY: "There will be a battle, and you will need to protect your heart."
Kjell of Jeru had always known who he was. He'd never envied his brother or wanted to be king. He was the bastard son of the late King Zoltev and a servant girl, and the ignominy of his birth had never bothered him.
But there is more to a man than his parentage. More to a man than his blade, his size, or his skills, and all that Kjell once knew has shifted and changed. He is no longer simply Kjell of Jeru, a warrior defending the crown. Now he is a healer, one of the Gifted, and a man completely at odds with his power.
Called upon to rid the country of the last vestiges of the Volgar, Kjell stumbles upon a woman who has troubling glimpses of the future and no memory of the past. Armed with his unwanted gift and haunted by regret, Kjell becomes a reluctant savior, beset by old enemies and new expectations. With the woman by his side, Kjell embarks upon a journey where the greatest test may be finding the man she believes him to be.
"Come to me, and I will try to love you. I will try to love you, if you but come back."
The Queen and The Cure is the second installment in the The Bird and The Sword series and can also be read as stand-alone but I would recommend you to read the first book. The Bird and the sword is one of my favorite fantasy romance and when I heard there's going to be a second book with Kjell as the male lead, I was so freaking excited. Amy Harmon is one of the talented authors who writes amazing emotional roller coaster stories that you can't help but love them. All her books are deeply heart touching and beautiful and they never disappoints me. The Queen and the Cure is a great read but to be honest, I felt this wasn't as amazing as the first book. Nevertheless, I enjoyed reading Kjell's story and I'm so glad to meet my favorite couple Tiras and Lark once again.
"There were no secrets, no sorrows, nothing hidden, nothing lost. They saw not what would be or what had been, but only what was. She saw him. He saw her. And they saw nothing else."
Kjell Of Jeru, bastard son of the late King Zoltev has no desire for the throne even though he is older brother and he never envied his brother's glory.  He is comfortable being the captain of the King's army defending the crown. He  is very loyal to his younger brother King Tiras, the only family he has left and the one he deeply cares about. When he receives word of volgar activity at a village named Quondoon, Kjell and his group of warriors sets on a journey to get rid of them. On their way to the village, they stumble upon a red haired woman who is near to the death's door but Kjell saves her in time with his healing gift. The woman tells her name is Sasha who can glimpse into the future which she thinks is a curse. She's a slave in Quondoon village and has no memories of her past. The villagers in Quondoon never believed in her gift and treated her like a witch. After Kjell heals her, she feels indebted to him and claims that she belongs to him and requests him to take her with him. With a volgar threat surrounding them, Kjell reluctantly becomes her savior and he wants to prove that he wasn't kind and good hearted that she believes him to be. During their journey back to the Jeru, they start to develop feelings for each other but Kjell has decided not to fall in love again after getting betrayed by a woman who played him like a fool.
"He was not good. He was not generous. He was not courageous or compassionate. He simply loved her. And love made him a better man. That was all."
Kjell is quite an intriguing character and I'm so glad that he got his own story. He is  brave and fearless warrior but also a troubled soul. He was not loved like his younger brother. People of Jeru feared him like they feared his father during his cruel reign. Because of his healing ability, his men viewed him as something extra-ordinary which always annoyed him. He doesn't know how to care for other people but meeting Sasha changes him. I really liked Sasha. She is compassionate, stubborn, innocent and fearless person. Even though Kjell treated her harshly sometimes, she never left his side. She always believed the goodness in him and slowly broke all the walls around his guarded heart. The romance in this book is portrayed really well and the love scenes are not too explicit. This isn't a insta-love but there is some sort of attraction between Kjell and Sasha from the start which slowly intensifies into so much more. I liked how they slowly connected with each other. They really have a great chemistry and there romance is filled with lots of angst, desire, emotion, sadness, heartache and passion. Even though I liked Kjell and Sasha's relationship, my favorite couple in this series is definitely Tiras and Lark because they are totally epic.
The very best things in life are born of difficulty. Whatever comes too easily is easily abandoned."
The plot is pretty good but I really felt some parts a bit dragged though. However, there so many twists and turns in the second half  which made the story more interesting to read. There are some heart wrenching scenes especially one death scene at Caarn which totally moved me. The book mostly centers around romance but there is also action and mystery in the plot which I really enjoyed.  The pacing is good and the story is written in third person dual pov. I'm a great fan of Amy's beautiful writing style. The writing style of this book is amazing, as always. It was quite poetic, lyrical, vivid and captivating through out. It's definitely the best aspect of this book. The world of Jeru is truly fascinating and I'm so glad to be back in this magical world and explore more of it.
"I fell in love with you in pieces. Layer by layer, day by day, inch by inch."
Overall, I loved it! This book was quite an emotional roller coaster ride and I enjoyed every aspect of it. The book finally concludes with a perfect ending. I don't know if there's going to be another book in the series but I really hope there is a third book because I want more.
Recommend it?
I highly recommend this book to everyone who loves to read beautiful fantasy romances. You won't get disappointed, just give it a shot.
So, What do you think of this book? Have you read this yet? Do you like to read this book?
Please Feel Free To Comment Below. ❤
See You In The Next Post and Have a Great Day! 🙂