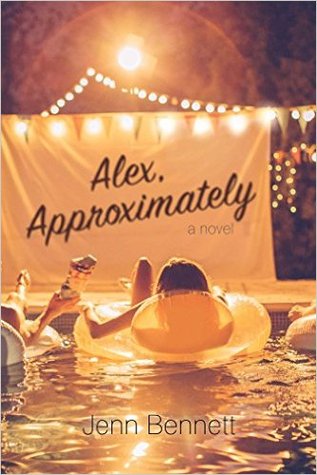 RELEASE DATE:  April 4th 2017
AUTHORS: Jenn Bennett
GENRE: Young-Adult, Contemporary, Romance.
PUBLISHER: Simon Pulse
SUMMARY:
The one guy Bailey Rydell can't stand is actually the boy of her dreams—she just doesn't know it yet.
Classic movie fan Bailey "Mink" Rydell has spent months crushing on a witty film geek she only knows online as Alex. Two coasts separate the teens until Bailey moves in with her dad, who lives in the same California surfing town as her online crush.
Faced with doubts (what if he's a creep in real life—or worse?), Bailey doesn't tell Alex she's moved to his hometown. Or that she's landed a job at the local tourist-trap museum. Or that she's being heckled daily by the irritatingly hot museum security guard, Porter Roth—a.k.a. her new archnemesis. But life is whole lot messier than the movies, especially when Bailey discovers that tricky fine line between hate, love, and whatever it is she's starting to feel for Porter.
And as the summer months go by, Bailey must choose whether to cling to a dreamy online fantasy in Alex or take a risk on an imperfect reality with Porter. The choice is both simpler and more complicated than she realizes, because Porter Roth is hiding a secret of his own: Porter is Alex…Approximately.
"And not after, when we're clinging to each other like the world just fell apart and is slowly clicking back together, piece by piece, breath by breath . . . heartbeat by beautiful heartbeat."
I picked this up on a whim when I was craving for something fun and I really had no high expectations before getting into it but this turned out to be a super fun read. I immensely enjoyed the whole California beach town setting, the characters, the romance, and also the fun plot. I think this book really makes a good summer read and the main characters are quite enjoyable. Alex, Approximately is actually my first book from the author so I don't know what to expect from her and now I really need to check out her other books. 
Bailey "Mink" Rydell is a classic movie fan who lives at DC with her mother and her new step father. When the relationship between her mother and her step father aren't working well, Bailey decides to move in to her dad's house in California, hometown to her Online best friend Alex whose been insisting her to meet him offline at a film festival held in his town. They both know each other by their nicknames Alex and Mink but not by their real names. Before arriving to California, Bailey doesn't inform Alex of her moving because of a past incident. After a few days at her dad's home, Bailey gets a summer job at a local tourist museum where she meets Porter Roth, an infuriating yet handsome security guard of the museum who takes great pleasure in riling her up. While working her summer job, Bailey decides to find Alex by herself to make sure he isn't some creep before meeting him. When Bailey comes to learn more about Porter, her hate turns into attraction and later into something more but what Bailey doesn't really know is that Porter is actually her Alex. What happens when Alex figures out that his Mink is actually Bailey? 
I really liked Bailey! She's really fun, sweet and caring character! She mostly likes being alone and calls herself a evader, master of avoiding things or someone. Though she might seem a bit awkward and shy because of her issues, she's also got a tough side to her that I really liked. Porter Roth is definitely a swoon worthy character with his handsome looks and beautiful sun-kissed curls. Porter comes from a legendary surfer family but after a tragic incident he stopped surfing. I hated him when he acted like an arrogant jerk at the beginning but I slowly grew to love him too. The relationship between Bailey and Porter is so cute and adorable. After an humiliatingly awkward first meeting, Bailey can't stand to face porter again and tries to avoid him but porter always finds her. I absolutely loved the romance! It is slow burn filled with lots of tension. I enjoyed every interaction between them because they never failed to put a smile on my face and It was fun watching Bailey getting nervous whenever Porter gets into her personal space. Bailey and Porter don't like each other at first but when they start to get to know about each other, their friendship slowly turns into love which is definitely the best part I loved about this book and I'm so glad this isn't an insta-love because it would've ruined my enjoyability.  As for the secondary characters, I liked Bailey's sweet Dad and also her friend Grace who is quite fun and sassy. I hated Davy, Porter's friend who is into drugs and I wasn't even surprised with the stunt he pulled at the end. 
I liked the plot even though it was predictable. The story was cute, fun, fluffy and totally entertaining. I also liked the movie quotes at the top of each chapter. I'm not a classic movie buff but I enjoyed the Online chats between Alex and Mink.  They're both adorable nerds. I really missed their chats when they stopped chatting after Bailey and Porter started to like each other. Both of them has their own issues and I was quite surprised with Bailey's past because I wasn't really expecting that. The pacing of the story is good and the writing is flawless. The entire book is told from Bailey's POV[first-person] and I quite enjoyed reading the story from her perspective. 
Overall, I loved it! The story concluded with a dramatic happy ending and it was pretty adorable. I don't read much contemporaries but I'm glad that I gave this a try.
Recommend it?
I highly recommend this book to everyone! It's really a good YA contemporary read filled with lots of cuteness, fun, romance and drama.
So, What do you think of this book? Please Feel Free To Comment Below. ❤
See You In The Next Post and Have a Great Day! 🙂