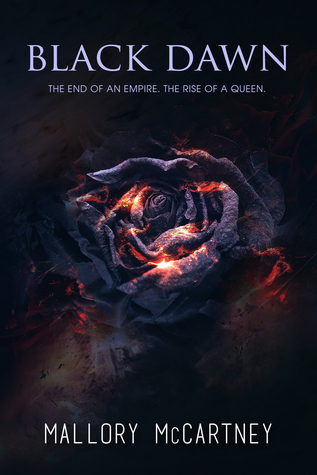 RELEASE DATE:  February 14th 2017
AUTHORS: Mallory McCartney
GENRE: YA/NA, Fantasy, Magic, romance.
PUBLISHER: Clean Reads Publishing 
SUMMARY: The end of an Empire, The rise of a Queen
Emory Fae enjoys leading a quiet, normal life. That is until two mysterious, and handsome soldiers show up at her apartment, and the life she knew is instantly whisked away. Memphis Carter and Brokk Foster come from the magical and war ridden world of Kiero, and upon Emory's arrival she will discover she is the long lost heir to the Royal Line and is thrown into the Black Dawn Rebellion with a dynamic role to ignite the rebels and reclaim her throne.
With both men being darkly woven in her past Emory uncovers hidden secrets, a power held long dormant, and will soon realize there are worse things than supernatural humans, love, loss, betrayal, and a Mad King.
Some things are better left in the shadows.
*I received this book through YA Bound Book Tours in exchange for an honest review. This does not influence my thoughts or review in any way *
Black Dawn is an entertaining read with lots of fantasy elements but it also has its own pros and cons.  When I first read the intriguing premise I really expected more than what I got. The way the book started It felt like I was reading a sequel not a first book in the series but eventually I got used to it after I completely immersed myself into the story. My major issue with this book was the super fast pacing which made some parts bit rushed and I really  wished it would slow down a bit so I could enjoy it more. Nevertheless, I liked the whole concept and also the interesting characters like Brokk and Adair. For a debut, I think it's a good start for a new fantasy series and I'm hoping the next book going to be pretty interesting to read.
 The story starts with Emory fae who is living a normal life in the human world is whisked to a magical world of Kiero by two handsome strangers who suddenly appears in her apartment.  At the new world she learns that she's the long lost heir to a royal line and she's thrown in the midst of an ongoing rebellion against the cruel King Adair who also killed her Parents. She also discovers that the two strangers who has captured her are not complete strangers at all. Emory can't believe she's a princess and also a human with supernatural abilities. She never had training to fight and lead the black dawn rebellion and she feels guilty that she has lead a happy life in the human world while  others struggled everyday to fight for their survival. To earn their respect, Emory tries her hardest to become strong while resisting her attraction towards Memphis, the commander of the black dawn rebellion.
Emory is an okay-ish character, she ins't my favorite but I liked her stubborn, fearless and determined personality who is willing to fight against the king  despite her lack of training. I wasn't much impressed with Memphis and I didn't liked the way he treated Nyx and his actions does seemed kinda manipulative. I loved Brokk! He's my  favorite character in this book. I was intrigued with his character and I didn't expected him to be a shapeshifter. This guy seemed more intriguing than Emory and I would like to know more about him. Nyx seemed like a bitchy character but as the story progressed I really felt bad for her because what she felt for Memphis is genuine and it made me hate him even more. King Adair is a pretty interesting villain, I enjoyed reading the story from his perspective and I can't wait to know more about him. As for the romance, I didn't know this book has a love square. I'm not against triangles or love square because I'm one of those readers who enjoys this kinda stuff but the sad thing is my ship sank even before it sailed 😦  I honestly didn't liked the romance between Memphis and Emory because It definitely felt like insta-love and their romance was totally meh.
The plot is decent enough to enjoy! But to be honest the story felt confusing at the start and it took some time for me to get totally into it. Some parts felt a bit cliche and predictable but it also has some unique aspects that I enjoyed. I really wished this book wasn't short because the fast pace made the story a bit rushed and before I know it, I finished the book. The story was told in multiple POV and I liked the writing, it was simple and easy enough to understand. I enjoyed the world filled with supernatural beings and also the magical elements. The academy full of humans with powerful abilities kinda reminded me of Xavier School from X-men.
Despite all the issues, I liked it! Though it wasn't a mind blowing read, I enjoyed the story. The cliffhanger and the interesting epilogue at the end has piqued my interest so I'll definitely look forward to it's sequel.
Recommend it?
Yes!
I recommend this book to all the fantasy lovers. Though the characters in this book are in their twentys, it is also suitable for young adults.
Buy Links:
ABOUT THE AUTHOR:
Mallory McCartney currently lives in London, Ontario with her husband and their two dachshunds Link and Lola. Black Dawn is her debut novel, the first in a series. When she isn't working on her next novel or reading, she can be found dog grooming, book shopping and hiking. Other favorite pastimes involve reorganizing perpetually overflowing bookshelves and seeking out new coffee and dessert shops.
Author Links:
Goodreads│Twitter│Facebook│Instagram
GIVEAWAY:
The chance to win three signed copies of Black Dawn
a Rafflecopter giveaway
Blog Tour Organized by:
YA Bound Book Tours
So, What do you think of this book? Please Feel Free To Comment Below. ❤
See You In The Next Post and Have a Great Day! 🙂