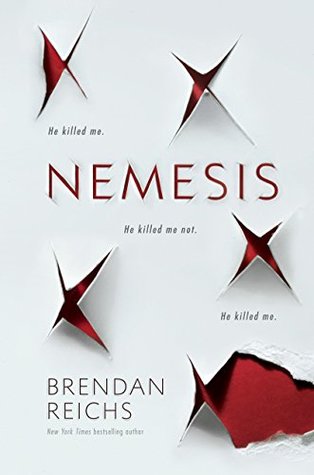 RELEASE DATE:  March 21st 2017
AUTHORS: Brendan Reichs
GENRE: Young-Adult, Sci-fi, Mystery, thriller.
PUBLISHER: G.P. Putnam's Sons Books
SUMMARY: 
It's been happening since Min was eight. Every two years, on her birthday, a strange man finds her and murders her in cold blood. But hours later, she wakes up in a clearing just outside her tiny Idaho hometown—alone, unhurt, and with all evidence of the horrifying crime erased.
Across the valley, Noah just wants to be like everyone else. But he's not. Nightmares of murder and death plague him, though he does his best to hide the signs. But when the world around him begins to spiral toward panic and destruction, Noah discovers that people have been lying to him his whole life. Everything changes in an eye blink.
For the planet has a bigger problem. The Anvil, an enormous asteroid threatening all life on Earth, leaves little room for two troubled teens. Yet on her sixteenth birthday, as she cowers in her bedroom, hoping not to die for the fifth time, Min has had enough. She vows to discover what is happening in Fire Lake and uncovers a lifetime of lies: a vast conspiracy involving the sixty-four students of her sophomore class, one that may be even more sinister than the murders.
 Oh boy, this book was really good. Honestly, I didn't give this book much thought when I first saw it but when I saw some of my fellow blogger buddies loving it, I wanted to give this a try. Now I'm glad that I did. It was really a good sci-fi thriller that will keep you on the edge till the end. I liked the characters, the plot, the concept and also the tense atmosphere. I immensely enjoyed every minute of this book because the mystery is very hard to guess and sometimes I was like "What da hell is really happening and what da f*ck is project nemesis".
The story starts with Min, a sixteen year old high school teenager who is once again being killed by the same mysterious stranger in black suit who returns for her every two years on her birthday since she was eight years old. Instead of being dead Min always ends up in the woods without any scratch on herself. No one believes her story of her being killed so Min starts to lie about her problem because she doesn't want everyone to think she is crazy. When Min discovers her delusions aren't entirely her imagination, she starts to have doubts. So with some late night sneaking around with her best friend Tack she finds about Project Nemesis and also learns there is another like her. Noah who attends the same school as Min is also having the same murderous dreams but he is better at hiding them. From Min he learns about project Nemesis and realizes that everyone has been lying to him. In the midst of chaos that is threatening the existence of all life on earth, together they began to search for more answers but what they find is far bigger than they thought they could handle.
Min is a strong protagonist, she is brave, stubborn and determined person who'll not give up easily without a fight. Noah is a vulnerable character who developed anxiety problem because of his nightmares. He is a aloof guy who mostly keeps to himself and  hangs with the school's bullies who likes to make fun of others especially Min's best friend Tack but Noah only wants to fit in despite how much he hates them. He lacks courage to stand up for what's right because of his anxiety problem that always makes him feel weak. When Min and Noah meet they start to develop a mutual connection. The romance isn't the major aspect of this book but we can definitely feel the attraction between Min and Noah as the story progresses.  Tack, Min's best friend and also her partner in crime is a fun, rebellious, and sarcastic guy who doesn't know when to shut his mouth. I liked him but sometimes I did get annoyed with his over sarcasm on some serious situations. The supporting characters are also good. They're well connected to each other.  The mysterious black suit man has really intrigued me. I was quite curious about his identity from the start and after the shocking revelation, I want to know more about him. There is also a huge character development of Noah at the end which is totally unexpected and it really surprised me.
The plot is well written and totally unpredictable! From the first page, I was hooked to the story and It was hard for me to put this down even for a sec. The mystery surrounding Project Nemesis had me guessing from the start and when it was finally revealed I was totally shocked. With each chapter, the story slowly unveils all the secrets, deceptions, lies and betrayals. The story moved in a fast pace and there was never a dull moment through out. This was my first book from the author and I enjoyed his writing style. I liked the dual pov of the book and also the tense atmosphere the author has created because it made the story even more thrilling to read.
Overall, it was a fantastic read! The ending has kinda left me shocked because I never saw that coming and now I'm dying to know what's gonna happen next.
Recommend it?

I highly recommend this book to everyone who loves to read YA Sci-fi thrillers and mysteries.
So, What do you think of this book? Please Feel Free To Comment Below. ❤
See You In The Next Post and Have a Great Day! 🙂