RELEASE DATE:  February 7, 2017
AUTHOR: Ingrid Seymour
GENRE:  Young-Adult, Fantasy, Romance.
PUBLISHER: PenDreams
SYNOPSIS:
When Marielle was little, she used to believe Grandpa about his wish-granting Djinn. But now that she's older, her beliefs have changed, and things like lousy ex-boyfriends and alcoholic fathers have become her reality.
Life isn't done shattering her truths, though, and when Grandpa dies and the Djinn he warned her never to trust shows up at her doorstep, the world becomes a dangerous, magical place she never knew existed. Reeling for her once-normal life, Marielle soon realizes there's no going back—not when she's become part of a mortal conflict between two spell-bound Djinn. Faris—her handsome slave. And Zet—his vengeance-hungry brother. They both want something from her. One, her love. The other one, her life.
Now she's afraid she will die in love.

This book was such a delight to read. I have a weakness for hot male djinn's and when I found this book I knew I had to read this. This book is different from other djinn books I've read before. The story was set in modern times and mostly have contemporary feel to it but don't worry it still has some magical elements in it. Actually this was  my first book from Ingrid Seymour so I really had no high expectations on it and I'm so glad it turned out to be an enjoyable read. The story was simply captivating and addictive! The characters are enjoyable especially Faris ❤ and I want more of him.
The story follows Nineteen Year old Marielle who lives with her grandpa and works at his exotic plants nursery. Since Marielle was a kid her grandpa used to tell her stories about wish granting Djinn's and also about a creature that trapped in a stone but now she is a grown up she doesn't believe in any of those things. When strange things starts to  happen around her, she starts to question whether she is losing her sanity or all the tales her grandpa told her are really true. With the sudden death of her Grandpa, she gets pretty much devastated and the last words he utters before dying was "The Stone". When she finally gets the hold of the Stone, she tries to release the djinn trapped inside it and when nothing happens she gets disappointed until a strange handsome guy enters her doorstep. The strange guy introduces himself as a Djinn named Faris who is there to grant her three wishes. Marielle gets surprised with his modern appearance and her Grandpa already warned her that Djinn's are tricky and never to trust them. Faris tries hard to earn her trust but she isn't someone who trusts easily and wants to make her three wishes quickly and send him back. Things take a  dangerous turn with the appearance of Zed, Faris vengeful brother who wants revenge on him. Caught in a war between two Djinn brother's can Marielle get out alive?
Marielle isn't really a likable character at start which can be understandable after everything she has gone through in her life but as the story progressed I grew to like her. Her grand father's death turns her into an angry person and I really felt sympathetic towards her situation. Faris Nassir is definitely a swoon worthy character and I absolutely loved him. He's totally different from what I expected him to be and I totally fell in love with his sweet, sexy, mysterious and kind personality. The romance between Marielle and Faris is definitely a slow burn. Marielle is always a bit rude towards Faris but it does nothing but amuse him. I'm glad that Marielle isn't like other typical teenagers who falls head over heels over a handsome guy. I liked how their relationship grew slowly. They have a sparkling chemistry and I immensely enjoyed the sexual tension between them. As for the side characters, I liked Marielle's best friends Maven and Abby. Maven is a sweet  nice guy who's got a crush on Mari but he doesn't stand a chance against the alluring Faris. Abby is a fun and energetic girl who's got lots of spunk, and I really liked her friendship with Marielle. I pretty much hated Mari's Ex Jeremy who is a total jerk and a complete A-hole. I didn't liked Zed but I don't hate him either. He is a bad guy in this book but after hearing his story I can't help but feel sad for him.  
I liked the plot. Although it wasn't mind blowingly amazing, It was engaging through out and I enjoyed every minute of it. I liked the unique aspects of this book. Instead of a Djinn lamp, we have a stone with script and  flames carved around it which can be opened only with a drop of a blood. The pacing was perfect and I was never left bored because I was fully occupied with the slow burning romance and also with the mystery surrounding Faris and his relationship with her family, his vengeful brother Zed and the powerful evil Djinn named Akeelah. The story was told in Marielle's POV and I loved the beautiful writing style of the author. 
Overall, I loved it especially the ending part which totally felt like a fairy-tale-ish ending! This book was a total entertainer filled with magic, romance and mystery. I'll definitely look forward to the next book in the series.
He inched nearer, any closer and our noses would touch. "I was also with you. As well as last night, while you slept. And before that, and every instant ever since that second day. With you, always with you. The truth is, I find myself unable to leave your side—even if you ask me to."
He placed a hand on my wrist, then let his fingers travel up to the crook of my elbow. There he stopped and pulled me closer still. He slid his other hand to the nape of my neck and raked his fingers through my hair. Tilting me back, he grazed my neck with soft, wet lips, tracing a path to my earlobe. He brushed my jaw with his lower lip and made a deep sound in his throat.
Recommend it?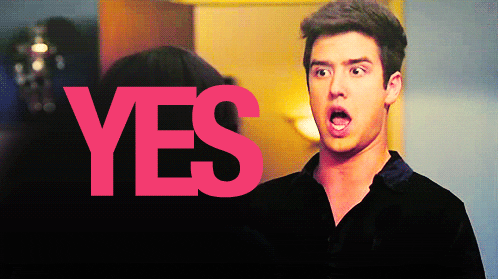 I highly recommend this book to all the Djinn lovers and also to the readers who likes YA fantasy novels set in a modern world.
This book is also available in netgalley and here's the Link
So, what do you think of this book? Please Feel Free To Comment Below. ❤
See You In The Next Post and Have a Great Day! 🙂