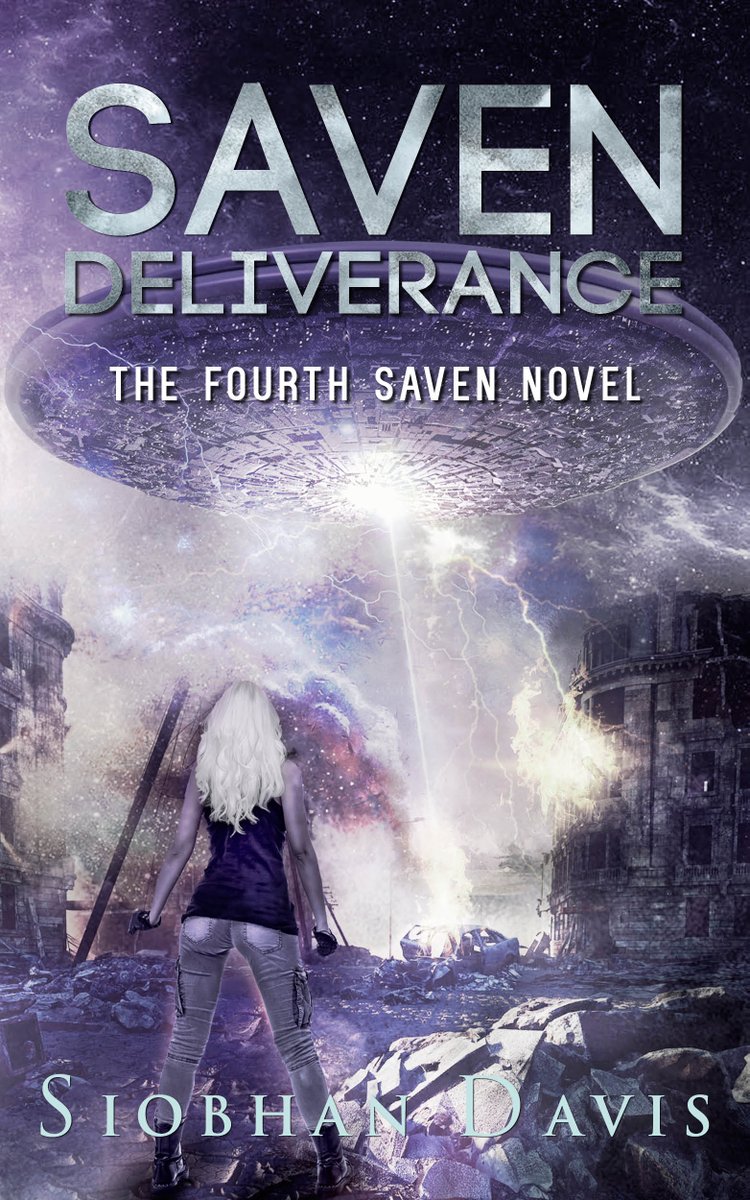 RELEASE DATE:  February 20, 2017
AUTHOR: Siobhan Davis
GENRE:  Young-Adult, Sci-Fi, Fantasy, Romance.
PUBLISHER: Siobhan Davis
SYNOPSIS:
The Truth Will Set Us Free
I've been lied to and betrayed my whole life.
Revealing the truth is the only thing that matters.
The truth truly will set us free.
With the political landscape shifting in the galaxy, and the tenuous situation on Earth growing more fraught by the day, Sadie knows time is running out to save mankind. Torn between conflicting agendas, she is forced to make difficult choices that lead to bloody battles and situations she's not entirely comfortable with.
But this is war, and war means sacrifice.
Ax's betrayal weighs heavy on her heart and her mind, but it doesn't override her concern for his welfare. Her desire to protect both the boys she loves is as strong as ever.
Logan has been inaugurated as the new Saven king, but he's struggling to cope with the pressure of responsibility and the revelation about who Axton is. His people are strongly opposed to Sadie, but she is his forever love and he won't do anything without her by his side. Faced with impossible obstacles, he is preparing to make the ultimate sacrifice in the name of love.
When the final battle draws near, and it's time to fight the enemy head on, who will be left standing? And will there be anything left to fight for?
* Recieved eARC from the author in exchange for an honest review *
The story of Logan and Sadie finally concludes in this epic finale and I can't describe how much I enjoyed it. Saven series is an interesting journey from the start and I can't believe it was finally over. Though it makes me a bit sad to say goodbye to this series, I can't help but feel happy that Sadie and Logan finally get their happily ever after. Saven Deliverance is a  emotionally intense read and I had lots of feels while reading this because there's so much loss, anger and sadness in this book. The plot is well executed and all the twists, suspense and the action in it has literally kept me on the edge of my seat. 
The story picks up where it was left off in the previous book where Haydn gets injured while saving Sadie and Logan. Axton's betrayal hits hard on Sadie but she can't stop caring about him either which makes her torn between two guys who means the world to her. Logan is finally inaugurated as the new Saven king which comes with new responsibilities. Though Sadie was bonded with Logan, the Saven people still sees her as an outsider not as an upcoming Saven queen. With the heavy threat of Amaretti looming closer, Sadie needs to control her incendio gift to increase her winning chances against her enemies. To save the entire humanity, Sadie and her friends join forces with unlikely allies for their last fight against Ameretti. Will they succeed in defeating their enemies or it will be their end? 
I liked Sadie in this book more than the previous books. She's gone through lots of devastation and had to make difficult decisions in order to save her loved ones. From the first book, she has faced pretty hard situations that finally made her strong and confident. Logan has matured a bit after becoming a king but he's definitely the same swoon worthy character. After Sadie finally eterno bonded with Logan their love for each other has become even more strong. The romance between them is definitely hot and It was sweet how they care for each other!  I liked Axton and what he went through is heart wrenchingly sad but what he did to Sadie is definitely an unforgivable thing. There are lots of interesting supporting characters in this series that I really liked but I mostly adored Haydn, Jared, Izzy, Dali, King Coryn and Luc. 
The plot is pretty amazing and suspenseful! It was engaging from the start and all the twists made the story even more exciting to read. Though I liked the book, there's something missing that I just can't put my finger on it. Nonetheless, it was an enjoyable read. The pace in this book is perfect and there isn't any dull moment in this book. The writing style of the author is compelling and as always, the book was told in both Logan and Sadie POV's. From the first first book, I've been enjoying the wonderful world created by Siobhan and I'm glad that the final showdown has took place on earth which definitely made a perfect ending to this book. 
Overall, I loved it!  I liked how everything wrapped up nicely and ended with a satisfying conclusion. The author did great job in weaving an amazing story that captivated me till the end and I can't wait to check out her new contemporary series.
Recommend it?
Yes!
I highly recommend this series to all the readers who are looking for a YA sci-fi romance series filled with adventure, action and drama.
So, what do you think of this book? Please Feel Free To Comment Below. ❤
See You In The Next Post and Have a Great Day! 🙂