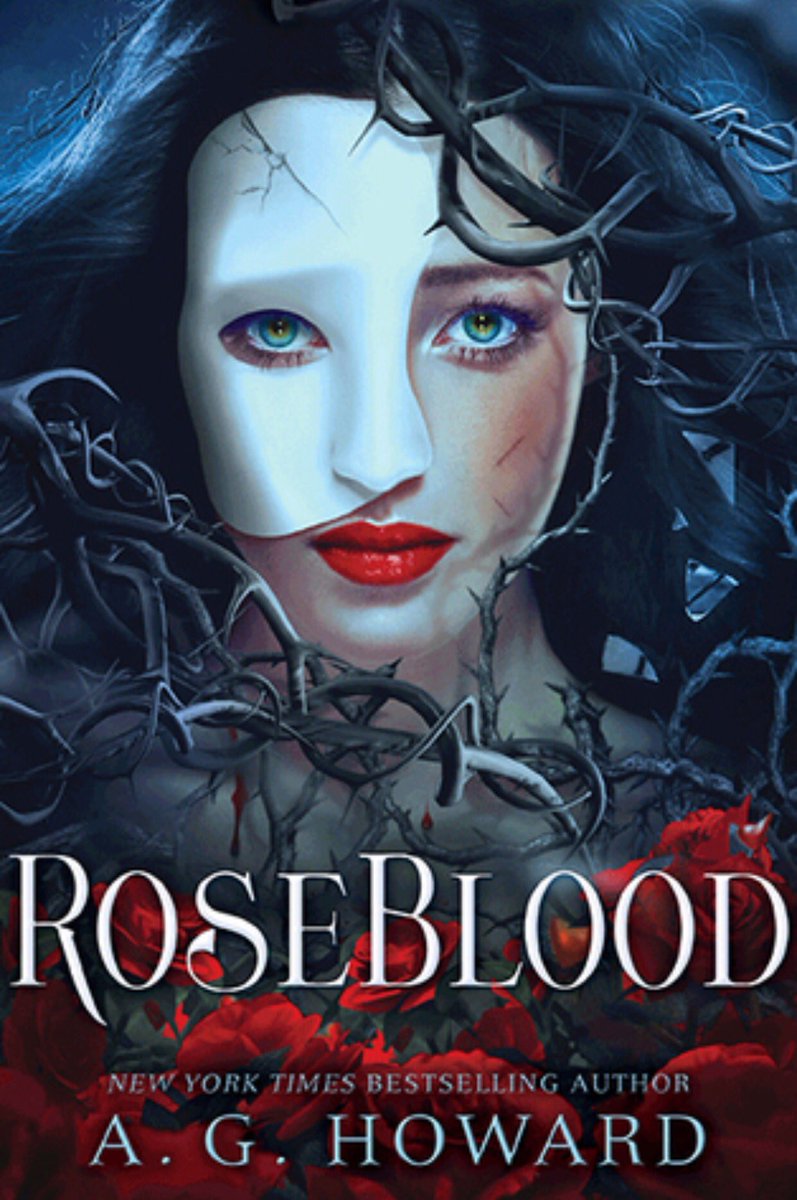 RELEASE DATE:  January 10, 2017
AUTHOR: A.G. Howard
GENRE:  Young-Adult, Fantasy, Retelling, Romance.
PUBLISHER: Amulet Books
SUMMARY: Rune, whose voice has been compared to that of an angel, has a mysterious affliction linked to her talent that leaves her sick and drained at the end of every performance. Convinced creative direction will cure her, her mother ships her off to a French boarding school for the arts, rumored to have a haunted past.
Shortly after arriving at RoseBlood conservatory, Rune starts to believe something otherworldly is indeed afoot. The mystery boy she's seen frequenting the graveyard beside the opera house doesn't have any classes at the school, and vanishes almost as quickly as he appears. When Rune begins to develop a secret friendship with the elusive Thorn, who dresses in clothing straight out of the 19th century, she realizes that in his presence she feels cured. Thorn may be falling for Rune, but the phantom haunting RoseBlood wants her for a very specific and dangerous purpose. As their love continues to grow, Thorn is faced with an impossible choice: lead Rune to her destruction, or save her and face the wrath of the phantom, the only father he's ever known.
I tried really hard to love this book because I was quite excited to read it but sadly, I was left disappointed. I'm not saying it's a bad read because it's really a wonderful book and many readers has loved it but I didn't enjoyed it as much as I expected. I loved the concept of this book but It failed to excite me. The plot pretty much lacked in action and I also had issue with the info dumping, long inner monologues, and slow pacing which has ruined my enjoyability.
 Rune who is born with a angelic voice is struggling with her musical gift that drains her every time she uses it. When a tragedy struck at her old high school, her mom decides to send her to RoseBlood academy, a french musical Conservatory hoping it might help Rune with her problem.  But when rune arrives at the academy, she sees a mysterious boy who vanishes as quickly as he appears which makes her questioning whether the rumors about the academy are actually true. Her curiosity leads her to the mystery boy who calls himself thorn and discovers secret passages in the academy that no one knew existed. . In the presence of thorn, Rune feels cured, safe and confident and she also feels some mysterious pull that always draws her towards him but she doesn't know that he's hiding a dark secret and her attending the Roseblood academy isn't coincidental at all.
The main characters Rune and Thorn are pretty much okay but they aren't that impressive either and I can't emotionally connect with them. Rune is kinda naive and innocent character who is struggling with her gift that is more of a curse to her. Thorn is a dark and mysterious character who harbors many secrets. His mysterious persona is the first thing that grabbed my interest. I felt quiet sympathetic towards him after learning his sad past. Though the relationship between Rune and Thorn seemed a bit cliche, I liked the secret rendezvous between them. They both are troubled souls who finds happiness in each others arms. The romance is quiet seductive but I still felt there is something missing in their chemistry. I liked Rune's friends sunny, jax, Audrey and Qian. I really wanted to know more about them but they aren't fleshed out well. I also liked the cute cat named Diable and I wish I have a pet cat like him.
Though it was a retelling of Phantom of Ophera, this book seemed more like  a sequel to it because the original phantom also exists in this story. The plot was interesting, creepy and very creative but the pacing is it's major downfall. I pretty much hate books with slow pace and lengthy descriptions and this  book has lots of it.  Half way through the book, I found myself counting the pages left to finish the book. The mystery surrounding the story is the only thing that kept my interest until the end. Despite the issues, I loved the beautiful concept, the stunning cover and the atmosphere the author has created. The writing was lyrical and compelling but sometimes it felt  a bit over dramatic and not to forget the unnecessary lengthy descriptions which bored the hell out of me. I'm glad that the book was told from Rune's and Thorn's POV cause I really want to know what's going on in Thorn's mind.
Overall, I like it but I don't love it! Honestly, this book was really great but I didn't like the way it was executed. I'm glad that at least it hasn't ended up in tragedy like the original tale.
Recommend it?
Yes!
Despite all the flaws, I would definitely recommend this book because I think many readers would definitely love it but I must warn you though, it is a very slow paced book.
So, what do you think of this book? Please Feel Free To Comment Below. ❤
See You In The Next Post and Have a Great Day! 🙂