RELEASE DATE:  October 18, 2016
AUTHOR: Amie Kaufman & Jay Kristoff
GENRE:  Young-Adult, Sci-Fi, Fantasy, Adventure.
PUBLISHER: Knopf Books for Young Readers
SUMMARY: Moving to a space station at the edge of the galaxy was always going to be the death of Hanna's social life. Nobody said it might actually get her killed.
The sci-fi saga that began with the breakout bestseller Illuminae continues on board the Jump Station Heimdall, where two new characters will confront the next wave of the BeiTech assault.
Hanna is the station captain's pampered daughter; Nik the reluctant member of a notorious crime family. But while the pair are struggling with the realities of life aboard the galaxy's most boring space station, little do they know that Kady Grant and the Hypatia are headed right toward Heimdall, carrying news of the Kerenza invasion.

When an elite BeiTech strike team invades the station, Hanna and Nik are thrown together to defend their home. But alien predators are picking off the station residents one by one, and a malfunction in the station's wormhole means the space-time continuum might be ripped in two before dinner. Soon Hanna and Nik aren't just fighting for their own survival; the fate of everyone on the Hypatia—and possibly the known universe—is in their hands.
But relax. They've totally got this. They hope.
Once again told through a compelling dossier of emails, IMs, classified files, transcripts, and schematics, Gemina raises the stakes of the Illuminae Files, hurling readers into an enthralling new story that will leave them breathless.
This book was fu*king awesome! If you're looking forward to read this book then get ready to have your mind blown. Illuminae is a great book that I enjoyed reading but Gemina turned out to be even more amazing than the first book. It's definitely going to my favorite list this year. I loved every aspect of this book especially the characters! Honestly, I loved Kady and Grant from Illuminae and I was a bit hesitant focusing on new characters but turns out they are pretty much badass and hilarious. I freaking loved them! The new graphics created by Marie Lu are simply amazing! It's another great aspect of this book that I immensely enjoyed. I must say Amie, Jay and Marie are a great Trio who's done a pretty marvelous job in weaving this epic masterpiece.
The story takes place in Heimdall Jump Station where we meet our new characters Hanna and Nik. Hanna is the daughter of Station's captain and Nik is the reluctant member of a crime family who calls themselves House Of Knives. After Lincoln's failure in destroying the Hypatia, Kady and their team are running towards Heimdall Jump Station carrying information about Kerenza Invasion by Beitech Industries. To destroy the evidence of their invasion, Beitech sends their strike Team to invade the Heimdall Jump Station and take control of everything before Hypatia's arrival. Luckily, Hanna and Nik escapes from the capture and together they run for their lives. Now the fate of Hypatia, the Heimdall and maybe  the whole universe lies on their hands. With the help of Nik's tech genius cousin named Ella aka Spider, they cause chaos everywhere to ruin their plans but will they succeed before it's too late?
I loved all the characters in this book including the bad guys! Hanna and Nik are awesome badass characters! I loved Hanna, she is a strong female protagonist who is rebellious, tough, stubborn and downright badass. Nik is a fun characer who likes to flirt with Hanna. His fun personality is definitely the best thing I enjoyed about him. Even though he isn't as much badass as Hanna, he is honest and good guy who won't back down without a fight.  I loved the relationship between Hanna and Nik. I always enjoyed their chat sessions and they never fail to bring a smile to my face. At the beginning, Nik and Hanna only have a friendly client and dealer relationship and nothing more, but it all changes when they become a team to fight for their survival after Beitech invades their life. Their is a romance in this book and though it isn't the central focus of this book,  I'm quite satisfied with what I've got. As for the supporting characters, I loved Nik's Cousin Ella who is a tech genius that earned the name Spider due to her hacking skills. She also played a major role in this book and I can't say how much I enjoyed her sense of humor.
The plot was mindblowingly fantastic! I've got hooked from the first page and I never want to let it go. It's definitely an exciting thrill ride with lots of, lots of, twists. There are many unpredictable twists in the end that literally blew my mind away. Besides the thrilling action and excitement, it also has a few hilarious aspects in this book like " THE LOLLIPOP SONG" that made me laugh out loud. The slimy creatures in this book are definitely a nightmare. They are too creepy and disturbing. The pacing is pretty well done! With each passing chapter, the story became more interesting and exciting to read. I loved the graphics in this book more than the first book. It definitely made it easier for me to get into the story without getting confused. This book has excellent writing style that is addictive and captivating. The world building is simply awesome! As usual, the book was told in multiple POV and I enjoyed being in everyone's perspective.
Overall, it was a magnificent YA Sci-fi read filled with  suspense , thrill , action, excitement and humor. The book finally concluded with a torturous cliffhanger that left me craving for the next book. So, I'll eagerly wait for the next book to be released.
Recommend it?

I highly recommend this series to everyone!!!
To all the readers who have read Illuminae and loved it but haven't gotten around to read Gemina yet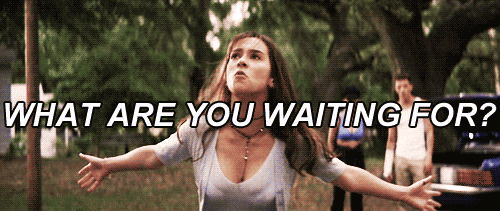 So, what do you think about this book ? Please Feel Free To Comment Below. ❤
Until Next Time and Have a great day! 🙂