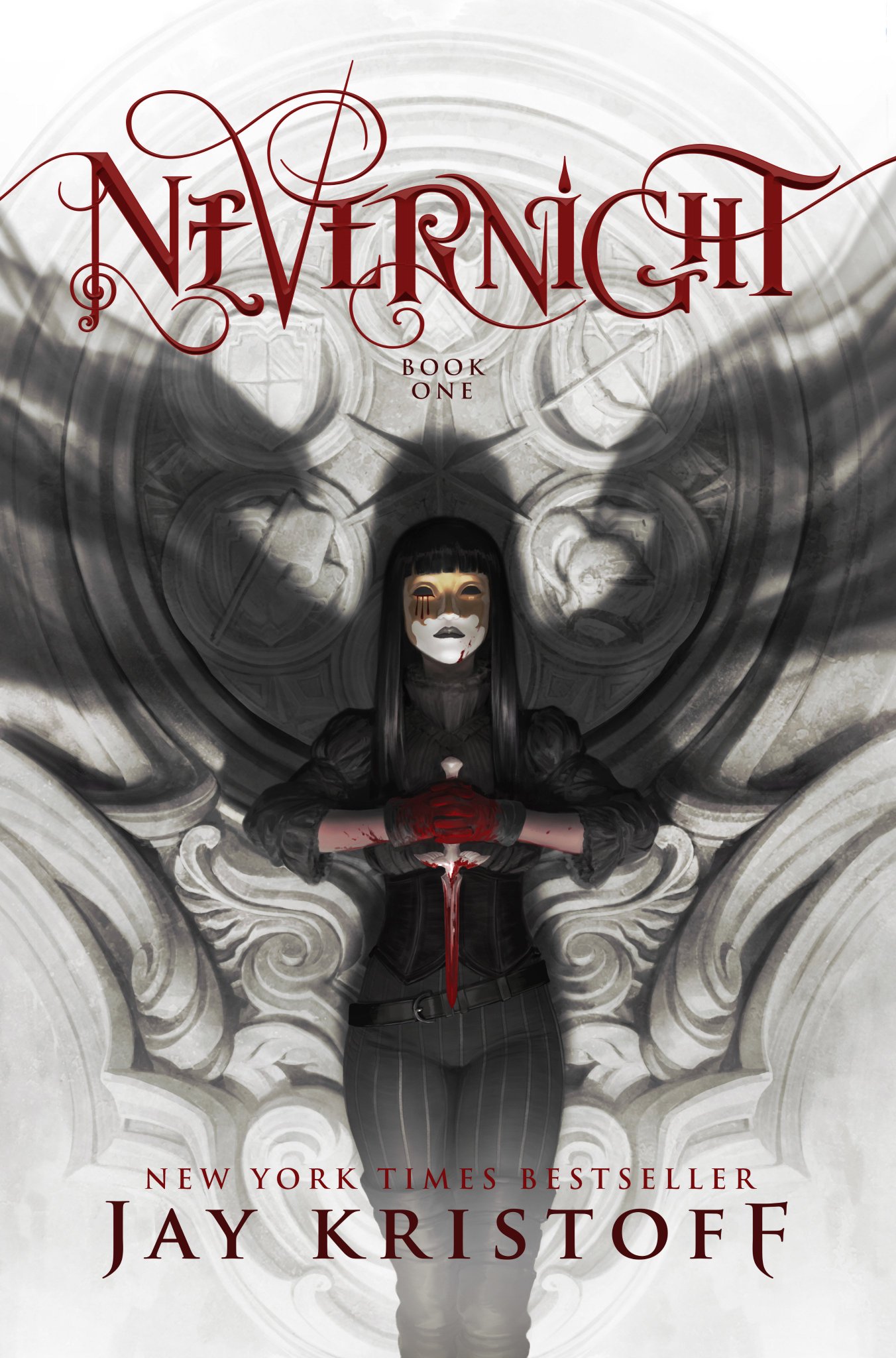 RELEASE DATE:  Aug 09, 2016
AUTHOR: Jay Kristoff
GENRE:  Adult, Dark, Fantasy, Adventure.
PUBLISHER: Thomas Dunne Books
SUMMARY: In a land where three suns almost never set, a fledgling killer joins a school of assassins, seeking vengeance against the powers who destroyed her family.
Daughter of an executed traitor, Mia Corvere is barely able to escape her father's failed rebellion with her life. Alone and friendless, she hides in a city built from the bones of a dead god, hunted by the Senate and her father's former comrades. But her gift for speaking with the shadows leads her to the door of a retired killer, and a future she never imagined.
Now, Mia is apprenticed to the deadliest flock of assassins in the entire Republic—the Red Church. If she bests her fellow students in contests of steel, poison and the subtle arts, she'll be inducted among the Blades of the Lady of Blessed Murder, and one step closer to the vengeance she desires. But a killer is loose within the Church's halls, the bloody secrets of Mia's past return to haunt her, and a plot to bring down the entire congregation is unfolding in the shadows she so loves.
Will she even survive to initiation, let alone have her revenge?
Storywise this book is absolutely amazing and beyond my expectations. The main protagonist is a 16 year old girl but this book is definitely not for Young readers. It's a adult fantasy read with some mature themes intended for mature readers. This is my first series from Jay Kristoff and I can't say how much I enjoyed reading this masterpiece. Basically, I love reading books with female assassins and after reading the intriguing synopsis of Nevernight, I knew I had to devour this book ASAP. It was a great read but it wasn't a total perfection either because this book does have some flaws. I had two issues with the book but mostly with it's unique writing style. Nonetheless it was quite an adventurous read and totally worth my time.
Mia Corvier is a daughter of traitor who is hell bent on revenge against the people who is responsible for her father's execution. To avoid death, she escapes from the senate's men and hides from the people who are hunting her. When she learns that she has a gift to speak and control the shadows. she meets an ex-killer who trains her to become an assassin. To avenge her father's death, she plans to join the red church, a school of assassins to complete her training. On her way to find Red Church, she meets a fellow young assassin named Tric who's personality intrigues her. When Mia and Tric finally make it to the Red Church, they learn that out of the whole lot of the students only four of them can become a blade. To become a blade, she must best her fellow students in contests of steel, poison and the subtle arts. All the students in Red Church are trained to kill, lie and steal so she can't trust anyone. With a killer's on the loose in the church halls, her past haunting her and with someone plotting to bring down the entire congregation, can she make it alive to avenge her family.
I loved all the characters. Mia Corvier is a strong character that'll definitely captivate the readers. She is brave, stubborn, intelligent and violent. She is totally badass who doesn't flinch when it comes to shedding blood or murdering. She is a dark character but she isn't entirely evil either because she does have some good qualities in her. I loved Mister Kindly, Mia's shadow cat or not-cat. In this dark plot, Mister Kindly has brought some humor which I really Iiked and I always enjoyed the conversation between Mister Kindly and Mia. Tric is quite an interesting character with a mysterious background. He is deadly and sweet. I liked Tric and Mia's relationship. After revealing each others sad tragic pasts, they formed a deep bond of friendship which later turned into love. The other secondary characters are also quite mysterious  and interesting. Every student aren't what they seem cause they are killers and the plot twist at the end definitely surprised me a lot. The teachers in the red church are also amazing who made this book more kickass.
The plot is absolutely brilliant.From the first page I was hooked. The story kept me on the edge until the end of the book. I loved the assassin concept of this book. It was dark, thrilling and violent. At first I was gonna dnf it because the first 30 percent of the book is slow paced and a bit confusing but I'm glad I continued cause the remaining 70 percent of the plot is filled with action, mystery and intrigue that you don't want to miss. The book was told in Mia's perspective in which the first half was told in two perspectives of Mia's younger self and older self which really helped in understanding the story more clearly. Jay Kristoff has a great writing style that many readers would've loved it but sadly, I'm not one of those. I basically love poetic writing styles but I think this one was overdone a bit. It totally irritated me and I wish this one was written with less fancy writing style. I loved the world the author has created. It was amazing but at the same time it was terrifying, dark and violent.
Although I loved this book, I have to say it was hard to get into and I've seen so many readers has DNF'd this book due to it's writing style, pacing and also for not able to get the plot. If you ever decide to read this book, then please don't DNF it cause trust me things will eventually start to get interesting after the main protagonist joins the red church so you'll need a lots of patience to read this book.
Overall, this book is one hell of a ride. Despite not liking the writing style of this book, I loved the story. The major aspects of this book is its wonderful plot and the characters. It is a great adult fantasy read filled with action, romance, violence, adventure and mystery. The ending blew my mind and broke my heart and I can't wait to read the next book.
Do I Recommend It?
It is a dark adult fantasy novel containing gruesome murders, language, sex and violence. So if you're comfortable with the above themes then definitely pick it up.
Please Feel Free To Comment Below. ❤
See You In The Next Post and Have a Great Day! 🙂