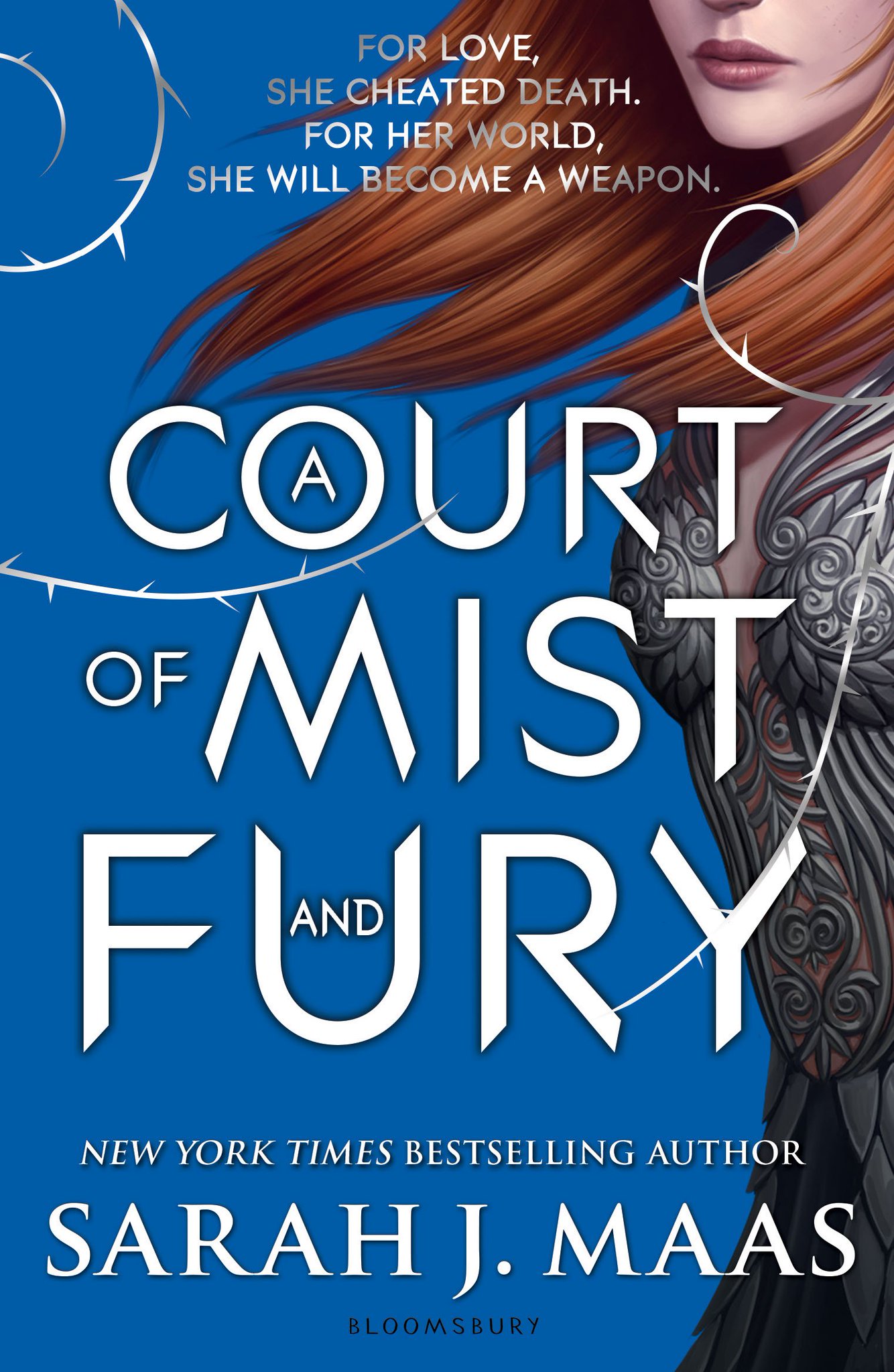 RELEASE DATE:  May 03, 2016
AUTHOR: Sarah J. Maas
GENRE:  New-Adult, Fantasy, Fae, Romance.
PUBLISHER: Bloomsbury
SUMMARY: Feyre is immortal.
After rescuing her lover Tamlin from a wicked Faerie Queen, she returns to the Spring Court possessing the powers of the High Fae. But Feyre cannot forget the terrible deeds she performed to save Tamlin's people – nor the bargain she made with Rhysand, High Lord of the feared Night Court.
As Feyre is drawn ever deeper into Rhysand's dark web of politics and passion, war is looming and an evil far greater than any queen threatens to destroy everything Feyre has fought for. She must confront her past, embrace her gifts and decide her fate.
She must surrender her heart to heal a world torn in two.
I'm late posting this review but it's still better than never. It's been a month since I've read this book but I still have the book hangover. This book is a whirlwind of emotions with lots of feels that made me cry, laugh and  angry. The plot is quite lengthy but it didn't failed to capture my attention through out. It is one of my highly anticipating sequel and even though my ship hasn't sailed, I'm glad it lived up to my expectations. Acomaf is a retelling of persphone and hades which is actually one of my favorite retellings and Rhysand definitely makes a perfect hades character. For all the tamlin lovers out there, this book might disappointment you a little bit but don't worry you're gonna love Rhysand. Most of this book is about Rhysand and Feyre and how he tries to woo her with his charming dark personality and also their adventures to fight against the new threat from the king of hypbern. There isn't much part of Tamlin and lucien which is a pity but we do get to meet some interesting friends of Rhysand that I really enjoyed.
 Even after they defeated the evil queen Amarantha, Tamlin and Feyre still can't forget the nigtmare they had faced. It has done something irreversible that totally changed them. Feyre is now a fae, a being she once used to detest.. To save Tamlin, she has done some terrible deeds and made a deal with Rhysand, the high lord of night court and soon she has to honour the deal that she has made with him. Tamlin felt helpless when he was in Amarantha's control so now he becomes quite protective over feyre's safety. Tamlin's over protectiveness has suffocated feyre enough to fled from the spring court and lives with rhysand for the time being at a place no one is aware of not even the high fae. Feyre thought that she could handle Rhysand easily and won't fall for his charms easily but as the time goes, she sees a different side of him and her walls starts to crumble. With new threat from hypbern and her increasing feelings for Rhysand, Feyre has to make a decision that will change everything.
I loved all the characters especially Rhysand! In Acotar I'm all about Team Tamin but after reading Acomaf I've switched to Rhysand's side. This is actually my first time switching sides cause I really think Rhysand is more deserving than tamlin. He understands Feyre far more better than anyone and always respects her decisions. I have no words to describe how perfect he is.  The way Tamlin acted in this book has made me angry and boy he had become quite obsessive and crazy over Feyre that made me like him less and I felt bit sad seeing him so broken. Feyre is broken but she's still strong headed and brave. Rhysand is like a dark knight who will sweep you off your feet with his irresistible dark charms. He helps Feyre become strong again and makes her see that she is someone to be treasured. In the first book, Rhysand was shown as dark,sexy and a bit villainous but in acomaf, you'll see a soft caring side of him who is quite loyal and would do anything to protect his family, friends and people. Rhysand and Feyre really have a great chemistry. The romance and the sexual tension is beyond hot and steamy so this book is definitely not for young adults. As for the supporting characters, I enjoyed Rhysand's friends Morrigan, Amren, Cassian, Azriel. They are great addition to the plot who made this book more entertaining. Besides, Rhysand and Feyre, I'm also interested in another couple Cassian and Nesta. After reading the exclusive short story of cassian and Nesta (from target edition), I'm very eager to know how their relationship further develops. If you haven't read the short story yet then you can read it here.
The plot is absolutely fantastic! It was quite emotional, adventurous and romantic. The story moved in a great pace without having any boring moments. As the plot thickens the story becomes more intense and the ending part has some surprising twists that left me wanting for more. The king of hypbern, the main villain of this story, has finally made an appearance and I really can't wait to know what happens next. The world building is simply amazing. Valeris is a beautiful fictional place that Sarah has created and it's definitely a place that i would love to visit or if possible live there. The writing is captivating as always. I'm fan of sarah's writing style and she never fails to impress me.
Overall, it was an exciting sequel with wonderful new characters, great plot and amazing world building. I'm literally dying for the next book and I'm also quite excited to know whats the next retelling going to be.
Please Feel Free To Comment Below. ❤
See You In The Next Post and Have a Great Day! 🙂