Hello there! Welcome back to another weekly WWW wednesdays meme! I know I'm a bit late to post this but anyway here we go 🙂
The WWW meme was formerly Hosted by Miz B at Should be Reading
Now It was revived at Taking on a World of Words
To play along, just answer the following three (3) questions…
• What are you currently reading?
• What did you recently finish reading?
• What do you think you'll read next?
---
I AM CURRENTLY READING:
STONE CHAMELION(IRONHILL JINN#1) BY JOCELYN ADAMS
 BLURB: When a series of unusual murders point to Lou Hudson, Ironhill's monster whisperer, as the primary suspect, she has but one choice: find the real perpetrator before her trial begins or face execution.
Lou, the last of the jinn, survives by hiding her abilities after the rest of the elementals fell victim to genocide. As a preternatural pest control expert and self-proclaimed guardian of the innocent, she's accustomed to trudging through the dregs of society. Hunting down a pesky murderer should be easy, especially with help from a dashing local media darling and a tantalizing Scottish vampire whose motives are a mystery.
For Lou, though, nothing is ever simple. When she discovers the killer's identity, to reveal it would unearth her secret and go against her strict moral code, resulting in a deadly catch twenty-two.
---
I JUST RECENTLY FINISHED READING:
THE WEREWOLF HIGH#1 #2 & #3 BY ANITA OH
Genre: Young Adult/Paranormal
My Rating: 3/5 Stars
It wasn't a mind blowing read but It was fun to read. It has decent plot and characters. I would definitely love to continue the series.
BLURB: 
As soon as I stepped onto the grounds of Amaris High, I knew I'd made a big mistake. I could never fit in at such a snobbish school – I was more IT girl than "it girl". But then I saw him.
Sam Spencer. My childhood best friend. But it couldn't be. Sam Spencer had died three years ago, on the night that changed everything. I need to know what happened, why he's suddenly not dead and is hanging out with a bunch of rich kids.
When the school is hit by a truth spell, it seems like the perfect chance to find out what Sam and his creepy new friends are hiding, but the weirder things get, the less I'm sure I want to know. Even for Sam, even for the free food, Amaris High might be more trouble than it's worth.
THE PROGENY(THE DESCENDANTS OF THE BLOOD COUNTESS#1) BY TOSCA LEE
Genre: Young Adult/Historical/Mystery/Thriller
My Rating: 3.5/5 Stars
I really liked this book but I don't love it. I really enjoyed the mystery but I can't tell the same for the romance. 
 BLURB: Emily Jacobs is the descendant of a serial killer. Now, she's become the hunted.
She's on a quest that will take her to the secret underground of Europe and the inner circles of three ancient orders—one determined to kill her, one devoted to keeping her alive, and one she must ultimately save.
Filled with adrenaline, romance, and reversals, The Progeny is the present-day saga of a 400-year-old war between the uncanny descendants of "Blood Countess" Elizabeth Bathory, the most prolific female serial killer of all time, and a secret society dedicated to erasing every one of her descendants. A story about the search for self filled with centuries-old intrigues against the backdrop of atrocity and hope.
BROKEN TROUBLE(BROKEN STORM#1) BY KRISTAN BILLUPS
Genre: Young Adult/Contemporary
My Rating: 4/5 Stars
I love reverse harem books and this one was definitely an entertaining read that I really enjoyed.
 BLURB: 17 year old Nova has one last chance to turn her life around. When the judge gave her an ultimatum of getting herself and her life together or going to prison, she is sent to a Ranch in the middle of nowhere swarming with hot cowboys.
The same Ranch that she had burnt a barn down on that had sent her back to Juvenile detention.
The same cowboys that had almost lost their ranch because of her.
How do you change when everyone hates you and doesn't trust you?
How do you change when you don't want to?
Which life will she choose? The fun but dark life she's been living her entire life or something even better?
---
NEXT I'M GOING TO READ THESE BOOKS:
AND I DARKEN(THE CONQUERORS SAGA#1) BY KIERSTEN WHITE
Genre: Young-Adult/Fantasy/Historical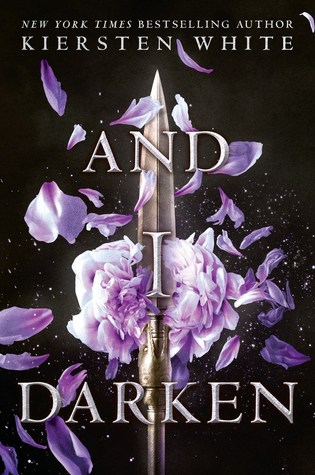 BLURB: No one expects a princess to be brutal. And Lada Dragwlya likes it that way. Ever since she and her gentle younger brother, Radu, were wrenched from their homeland of Wallachia and abandoned by their father to be raised in the Ottoman courts, Lada has known that being ruthless is the key to survival. She and Radu are doomed to act as pawns in a vicious game, an unseen sword hovering over their every move. For the lineage that makes them special also makes them targets.
Lada despises the Ottomans and bides her time, planning her vengeance for the day when she can return to Wallachia and claim her birthright. Radu longs only for a place where he feels safe. And when they meet Mehmed, the defiant and lonely son of the sultan, Radu feels that he's made a true friend—and Lada wonders if she's finally found someone worthy of her passion.
But Mehmed is heir to the very empire that Lada has sworn to fight against—and that Radu now considers home. Together, Lada, Radu, and Mehmed form a toxic triangle that strains the bonds of love and loyalty to the breaking point.
IN THE EYE OF THE STORM(STORM AND SILENCE#2) BY ROBERT THIER
Genre: Historical/Romance
 BLURB: In the desert, an instant turns life into death and hate into love. In the desert, everything is different. Boundaries break down, and you find yourself doing things that you would never, ever have imagined.
Lilly Linton finds this out the hard way: in the shadow of the pyramids, she and her boss, cold, calculating Mr Ambrose, must face death and danger together. Is the desert's heat enough to melt the cold heart of Britain's richest financier?
---
These are my WWW for this week, so what are your  recent, current and next reads? Please Feel Free To Comment Below or Leave a link to your WWW post. ❤
See You In The Next Post and Have a Great Day! 🙂