Hi there! Welcome back to another round of Sunday Book Recommendations.
Sunday Book Recommendations is the  weekly meme hosted by me. I created this meme so I could recommend you guys some interesting books which I think are worth reading. This meme includes recommending a book from three different genres. If you want to do this meme have fun with it, but don't forget to link back to the host. 🙂
Note: You can change the genres every week.
---
YA CONTEMPORARY
ADORKABLE BY COOKIE A'GORMAN
[STAND-ALONE]
I haven't read this book yet but it was highly recommended to me by so many readers.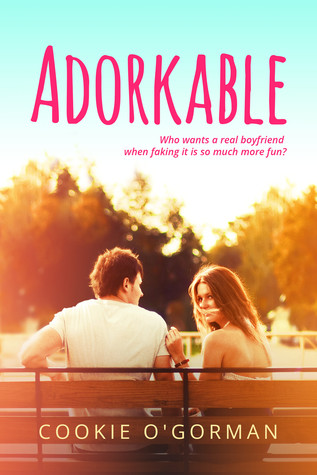 BLURB: Adorkable (ah-dor-kuh-bul): Descriptive term meaning to be equal parts dorky and adorable. For reference, see Sally Spitz.
Seventeen-year-old Sally Spitz is done with dating. Or at least, she's done with the horrible blind dates/hookups/sneak attacks her matchmaking bestie, Hooker, sets her up on. There's only so much one geek girl and Gryffindor supporter can take.
Her solution: she needs a fake boyfriend. And fast.
Enter Becks, soccer phenom, all-around-hottie, and Sally's best friend practically since birth. When Sally asks Becks to be her F.B.F. (fake boyfriend), Becks is only too happy to be used. He'd do anything for Sal–even if that means giving her PDA lessons in his bedroom, saying she's "more than pretty," and expertly kissing her at parties.
The problem: Sally's been in love with Becks all her life–and he's completely clueless.
This book features two best friends, one special edition Yoda snuggie, countless beneath-the-ear kisses and begs the question:
Who wants a real boyfriend when faking it is so much more fun?
---
YA DYSTOPIA
THE BUREAU BY MICHELLE KAY
[A CAGE FOR MEN AND WOLVES#1]
A refreshing read set in a dsytopian world where werewolves exists and are treated as slaves to the humans.
 BLURB: Only slaves and corpses come out of the Bureau.
Seventeen-year-old Clover Rhodes has been told this her whole life, but when her family is taken by the Bureau, she's forced to make a decision: follow the rules and stay hidden with her pack of werewolves, or turn away from their safety in a wild bid to rescue her parents and two younger siblings.
Elliot Montgomery, nineteen-year-old son of the Bureau Director, is next in line to lead the agency in its campaign to bring the werewolf population under strict control—and he's the only thing standing between that control and his cutthroat brother's plans for a werewolf genocide.
That is, until Clover Rhodes happens.
Determined to get her family back, Clover attacks Elliot in his own home and holds him hostage while posing as his slave. Using her new cover, she sneaks her way into the Bureau in search of her captured family. What she finds instead is a front row seat to the twisted exhibition of mistreatment her people suffer at the hands of the Bureau. And what she faces inside herself is the possibility that Elliot–her prisoner–is not as corrupt as she wanted him to be.
---
YA PARANORMAL
COUNTING SHADOWS BY OLIVIA RIVERS
[DUPLICITY#1]
A must read for every paranormal lovers!
 BLURB: Two hearts, one kiss…
…Nothing left.
Faye's soul-mate is everything she should hate—an Angel, an outcast, an enemy. Ashe is just one more imperfection in her life that somehow makes everything… perfect.
Until he's murdered.
With the only person she loves ripped away, Faye sets out to avenge Ashe's death. The task seems impossible, until she finds Lor—an Angel who looks nearly identical to Ashe's killer. Arrogant and hot-headed, Lor is everything Ashe wasn't. But Lor is connected to her soul-mate's past, and Faye needs him to find the killer—even if Lor is potentially deadly.
But when Faye discovers that Ashe's past isn't as black and white as she thought, she faces an impossible choice: Give up the hunt, and risk the lives of others. Or continue pursuing Ashe's murderer, and forfeit the lives of everyone in her family—including herself.
---
Well, that's it for this week. 😀
Feel free to comment below and if you want me to recommend books from any particular genre let me know. ❤
See you next week with new recommendations!  🙂
Have a Great Day!