Hi there! Welcome back to another round of Sunday Book Recommendations.
Sunday Book Recommendations is the  weekly meme hosted by me. I created this meme so I could recommend you guys some interesting books which I think are worth reading. This meme includes recommending a book from three different genres. If you want to do this meme have fun with it, but don't forget to link back to the host. 🙂
Note: You can change the genres every week.
---
YA FANTASY
UPROOTED BY NAOMI NOVIK
[STAND-ALONE]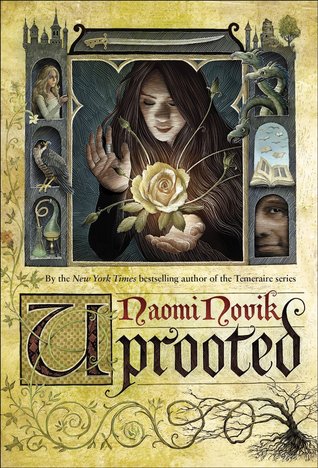 BLURB: "Our Dragon doesn't eat the girls he takes, no matter what stories they tell outside our valley. We hear them sometimes, from travelers passing through. They talk as though we were doing human sacrifice, and he were a real dragon. Of course that's not true: he may be a wizard and immortal, but he's still a man, and our fathers would band together and kill him if he wanted to eat one of us every ten years. He protects us against the Wood, and we're grateful, but not that grateful."
Agnieszka loves her valley home, her quiet village, the forests and the bright shining river. But the corrupted Wood stands on the border, full of malevolent power, and its shadow lies over her life.
Her people rely on the cold, driven wizard known only as the Dragon to keep its powers at bay. But he demands a terrible price for his help: one young woman handed over to serve him for ten years, a fate almost as terrible as falling to the Wood.
The next choosing is fast approaching, and Agnieszka is afraid. She knows—everyone knows—that the Dragon will take Kasia: beautiful, graceful, brave Kasia, all the things Agnieszka isn't, and her dearest friend in the world. And there is no way to save her.
But Agnieszka fears the wrong things. For when the Dragon comes, it is not Kasia he will choose.
---
NA FANTASY ROMANCE
THE BIRD AND THE SWORD BY AMY HARMON
[STAND-ALONE]
 BLURB: Swallow, daughter, pull them in, those words that sit upon your lips. Lock them deep inside your soul, hide them 'til they've time to grow. Close your mouth upon the power, curse not, cure not, 'til the hour. You won't speak and you won't tell, you won't call on heaven or hell. You will learn and you will thrive. Silence, daughter. Stay alive.
The day my mother was killed, she told my father I wouldn't speak again, and she told him if I died, he would die too. Then she predicted the king would sell his soul and lose his son to the sky.
My father has a claim to the throne, and he is waiting in the shadows for all of my mother's words to come to pass. He wants desperately to be king, and I just want to be free.
But freedom will require escape, and I'm a prisoner of my mother's curse and my father's greed. I can't speak or make a sound, and I can't wield a sword or beguile a king. In a land purged of enchantment, love might be the only magic left, and who could ever love . . . a bird?
---
NA CONTEMPORARY ROMANCE
THE RULE BOOK BY JENNIFER BLACKWOOD
 BLURB: Starr Media Second-Assistant Survival Guide
1. Don't call your hot boss the antichrist to his face.
2. Don't stare at hot boss's, um, package or his full sleeve of tattoos. (No. Really. Stop!)
3. Don't get on the malicious first assistant's bad side.
4. Don't forget to memorize the 300-page employee manual.
5. If you value your cashmere, steer clear of boss's dog.
6. Boss's dimples are lust-inducing. Do. Not. Give. In.
7. "The elevator ate your clothes" is not a valid excuse for showing up to important meetings half dressed.
8. Don't break seven of the rules within the first week of employment if you, ya know, are in dire need of money to support your sick mom.
9. Whatever you do, don't fall for the boss. See rule eight about sick mom.
10. Never forget the rules.
---
Well, that's it for this week. 😀
Feel free to comment below and if you want me to recommend books from any particular genre let me know. ❤
See you next week with new recommendations!  🙂
Have a Great Day!