Hello there! Welcome back to another weekly WWW wednesdays meme 🙂
The WWW meme was formerly Hosted by Miz B at Should be Reading
Now It was revived at Taking on a World of Words
To play along, just answer the following three (3) questions…
• What are you currently reading?
• What did you recently finish reading?
• What do you think you'll read next?
---
I AM CURRENTLY READING:
A COURT OF THORNS AND ROSES(A COURT OF THORNS AND ROSES) BY SARAH J. MASS
Genre: NA Fantasy/Romance
I've already read this before and loved it but I'm re-reading it just to refresh everything before going to its sequel.
She thinks nothing of slaughtering a wolf to capture its prey. But, like all mortals, she fears what lingers mercilessly beyond the forest. And she will learn that taking the life of a magical creature comes at a high price…
Imprisoned in an enchanted court in her enemy's kingdom, Feyre is free to roam but forbidden to escape. Her captor's body bears the scars of fighting, and his face is always masked – but his piercing stare draws her ever closer. As Feyre's feeling for Tamlin begin to burn through every warning she's been told about his kind, an ancient, wicked shadow grows.
Feyre must find a way to break a spell, or lose her heart forever.
---
I JUST RECENTLY FINISHED READING:
VAMPIRE DATING AGENCY BY ROSETTE BOLTER PART I
Genre: NA Paranormal
This was a quick read and I liked it enough to continue the series
MY RATING: [3/5 STARS]
Review to come…

 BLURB:Haley Watkins is the Paranormal Police's latest rookie recruit. Tonight they're investigating a series of murders committed at the hands of a deranged monster.
Their investigation leads them to a faction known as the Vampire Dating Agency, a place where women and vampires meet to find love.
Haley's mission is to go undercover into the agency and lure out the supposed killer.
But of course even if she finds him, as hard as that may be – it's still going to be hard for her to turn him in…
UNLIKELY ALIES BY TIFFANY KING
Genre: YA Contemporary/Romance
This book has it's pro's and con's but I did enjoyed reading it!
MY RATING: [3/5 STARS]
Review to come…

 BLURB: Eighteen-year-old Kimberly gets the shock of her life when she learns the father she thought was dead is not only very much alive, but never even knew she existed. Angry with her mother for lying all these years, Kimberly flies to Colorado to meet the father she knows nothing about before heading off to college in the fall.
Her father's world turns out to be nothing like she expected. Rather than the typical nine to five lifestyle, Kimberly's father runs a summer foster camp that teaches young children skills to build their confidence and self-esteem. The Colorado Rocky Mountains are a different world than the sunny shores of California, taking Kimberly completely out of her element, and causing her to second-guess her spur of the moment decision.
Never being one to quit anything, Kimberly is determined to show her father that a surfer girl can fit into this rugged mountain wilderness. That is if she can deal with Mason, an arrogant nineteen-year-old guy who has made it his mission to point out every mistake she has made since her arrival. While she would love nothing more than to rub it in his know-it-all face, Kimberly can't deny the feelings he stirs up inside her, or the chemistry between them, even during their verbal assaults.
When a tragic accident leaves them stranded in the mountains, Kimberly must use her shaky skills to save Mason and survive the elements. Suddenly, fighting is the last thing on their minds as they must rely on each other if they want to live. In their struggle for survival, they realize what they thought they knew about each other isn't true after all.
CRIMSON SKY(DARK SKY#1) BY AMY BRAUN
Genre: YA Sci-fi/Dystopia
MY RATING: [4/5 STARS]
I hadn't expected much from this book but this turns out to be a great read and I really enjoyed it.
Review to come…

 BLURB: They're always watching. They're always waiting. They're always starving…
Ten years ago, the sky shattered and the Hellions emerged. No one was able to keep them from destroying the city of Westraven. Now that the bloodthirsty monsters rule the skies and have forced the few remaining humans underground, Claire Abernathy lives in a nightmare. She survives by using her skills as an engineer for a ruthless tyrant connected to her mother and father's past failure.
Then Claire's world is torn apart when her sister Abby is kidnapped by the Hellions, and Claire herself is taken by dangerous sky pirates known as marauders. But Claire will not be intimidated by them while her sister's life hangs by a thread, and so she strikes a deal with them: If they help rescue Abby, she will fix their ship and give them the chance to take the revenge they desperately seek.
As Claire fights for her sister's life, she begins to realize that the Hellions are not the only dangers she'll face. Burdensome secrets and devastating betrayals threaten her at every turn, and if she loses herself to them, it won't just be her life that is destroyed…
THE V GIRL BY MYA ROBARTS
Genre: NA Dystopia/Romance
MY RATING: [4/5 STARS]
I just loved it! I didn't expected to enjoy it as much as I did and really liked Lila and Aleksey. This book isn't for you if you're uncomfortable with rape, violence, sex and abuse.
Review to come…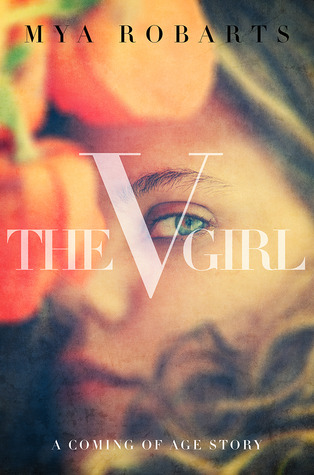 BLURB: In post-apocalyptic North America, rape and sexual slavery are legal. Lila Velez, desperately wants to lose her virginity before the troops visit her town and can take it away by force. She makes plans to seduce her only friend, Rey, the most attractive man in her town. Lila does not love him but he is the only man who has shown her true affection, an affection she is willing to take as a substitute of love.
Lila's coping mechanism to her mother's rape and kidnapping is her secret. A secret that will bring her closer to Aleksey, a foreign, broody man. Lila does not trust him because his links to the troops and his rough, yet irresistible appearance. Aleksey offers Lila an alternative to her plans, a possibility that terrifies her…and tempts her in spite of herself.
All the while Lila will have to find a way to live in the constant company of death, slavery, starvation, sexual abuse and the danger of losing the people she loves the most.
DANCERS, QUITTERS, AND GARDEN GNOMES BY EMILY EVANS
Genre: YA Contemporary/Romance
This was an okay read but nothing impressive!
MY RATING: [2/5 STARS]


 BLURB: Thayer's sick of dating the girls at Shay Prep who use his family to get ahead in society. He decides to date a girl from the prep school across town. That's when his best friend offers him a challenge, "Stop with the prep school girls. Go out with a regular girl, someone not paying 100K a year in tuition." It was one of those ideas that hit him as right. Thayer musses his perfect hair, ditches his Shay Prep blazer and accepts the challenge. Twelve dollars will buy him a bit of truth – will a Manhattan girl go out with a guy who only has twelve dollars to spend on their date? He finds Alyssa, the pretty scholarship dancer.
Alyssa's a dancer who loves choreography. She's new to town and she's done with mean dance teams, and dance instructors who insult to motivate. She's out to prove that an appreciative, supportive choreographer can win the Willow Dance Championship. When handsome, witty Thayer asks her out, the lights of New York shine even brighter. She doesn't know he's lying about his last name, thinks she's a poor scholarship girl, and is on a date with her as an experiment.
And when she finds out, she'll make him pay.
NOBODY'S HERO(BURNED LANDS#1) BY BEC MCMASTER
Genre: NA Dystopia/Paranormal/Romance
This book was sexy, hot, action packed and definitely entertaining!
MY RATING: [4/5 STARS]
Review to come…

 BLURB: After her father was killed in a warg attack, Riley Kincaid was forced to stand on her own two feet in the brutal Wastelands she calls home. She knows how to survive, but when a lapse in judgment leaves her out after dark, Riley realizes she's in trouble. The sun has set, the monsters are out to play, and there's a band of reivers heading straight for her settlement. Riley needs to warn her people, but that's before she runs a handsome stranger down in her jeep. A stranger who might not be a man after all…
First rule of surviving the Wastelands: don't be caught out after the sun sets…
Kidnapping her was the worst mistake he ever made…
Dangerous outlaw, Lucius Wade, lives only for revenge. But when he kidnaps Riley in order to lure an old friend into a trap, suddenly the tables are turned. Riley has no intentions of being bait, and she tempts him in ways he hasn't felt for a long time. He's never played the hero, but suddenly a part of him wants to.
When dangerous secrets are revealed, and Luc realizes an old enemy is on his trail, he's forced to change his plans. The hunter is suddenly the hunted, and the only allies he has… is a stubborn blonde who thinks there should be more to live for than revenge, and the ex-friend who shoved a knife in his back ten years ago.
---
NEXT I'M GOING TO READ THESE BOOKS:
A COURT OF MIST AND FURY(A COURT OF THORNS AND ROSES#2) BY SARAH J. MASS
Genre: NA Fantasy/Romance
 BLURB: Feyre survived Amarantha's clutches to return to the Spring Court—but at a steep cost. Though she now has the powers of the High Fae, her heart remains human, and it can't forget the terrible deeds she performed to save Tamlin's people.
Nor has Feyre forgotten her bargain with Rhysand, High Lord of the feared Night Court. As Feyre navigates its dark web of politics, passion, and dazzling power, a greater evil looms—and she might be key to stopping it. But only if she can harness her harrowing gifts, heal her fractured soul, and decide how she wishes to shape her future—and the future of a world cleaved in two.
THE WAY TO GAME THE WALK OF SHAME BY JENN P. NGUYEN
Genre: YA Contemporary/Romance
 BLURB: Taylor Simmons is screwed.
Things were hard enough when her single-minded dedication to her studies earned her the reputation of being an Ice Queen, but after getting drunk at a party and waking up next to bad boy surfer Evan McKinley, the entire school seems intent on tearing Taylor down with mockery and gossip.
Desperate to salvage her reputation, Taylor persuades Evan to pretend they're in a serious romantic relationship. After all, it's better to be the girl who tames the wild surfer than just another notch on his surfboard.
---
These are my WWW for this week, so what are your  recent, current and next reads? Please Feel Free To Comment Below or Leave a link to your WWW post. ❤
See You In The Next Post and Have a Great Day! 🙂