Hi there! Welcome back to another round of Sunday Book Recommendations.
Sunday Book Recommendations is the  weekly meme hosted by me. I created this meme so I could recommend you guys some interesting books which I think are worth reading. This meme includes recommending a book from three different genres. If you want to do this meme have fun with it, but don't forget to link back to the host. 🙂
Note: You can change the genres every week.
---
YA CONTEMPORARY
THE BREAKAWAY BY MICHELLE D. ARGYLE
 BLURB: When Naomi Jensen is kidnapped, it takes her parents two days to realize she's missing. Escape isn't high on her list of priorities when all she has to return to is an abusive boyfriend and parents who never paid much attention to her. For the first time in her life she's part of a family-even if it is a family of criminals. But she's still a captive. In a desperate attempt to regain some control in her life, Naomi embarks on a dangerous plan to make one of her kidnappers think she's falling in love with him. The plan works too well, and when faced with the chance to escape, Naomi isn't sure she wants to take it.
---
YA DYSTOPIA
THE PLEDGE BY KIMBERLY DERTING
[THE PLEDGE TRILOGY]
 BLURB: In the violent country of Ludania, the classes are strictly divided by the language they speak. The smallest transgression, like looking a member of a higher class in the eye while they are speaking their native tongue, results in immediate execution. Seventeen-year-old Charlaina has always been able to understand the languages of all classes, and she's spent her life trying to hide her secret. The only place she can really be free is the drug-fueled underground clubs where people go to shake off the oppressive rules of the world they live in. It's there that she meets a beautiful and mysterious boy named Max who speaks a language she's never heard before . . . and her secret is almost exposed.
Charlie is intensely attracted to Max, even though she can't be sure where his real loyalties lie. As the emergency drills give way to real crisis and the violence escalates, it becomes clear that Charlie is the key to something much bigger: her country's only chance for freedom from the terrible power of a deadly regime.
---
YA FANTASY
CRIMSON BOUND BY ROSAMUND HODGE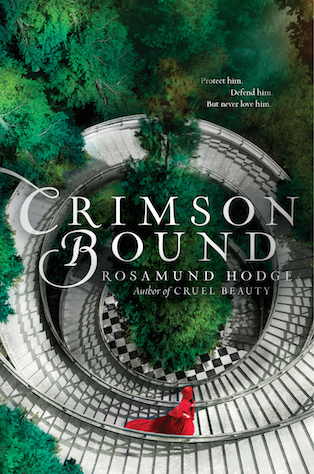 BLURB: When Rachelle was fifteen she was good—apprenticed to her aunt and in training to protect her village from dark magic. But she was also reckless— straying from the forest path in search of a way to free her world from the threat of eternal darkness. After an illicit meeting goes dreadfully wrong, Rachelle is forced to make a terrible choice that binds her to the very evil she had hoped to defeat.
Three years later, Rachelle has given her life to serving the realm, fighting deadly creatures in an effort to atone. When the king orders her to guard his son Armand—the man she hates most—Rachelle forces Armand to help her find the legendary sword that might save their world. As the two become unexpected allies, they uncover far-reaching conspiracies, hidden magic, and a love that may be their undoing. In a palace built on unbelievable wealth and dangerous secrets, can Rachelle discover the truth and stop the fall of endless night?
Inspired by the classic fairy tale Little Red Riding Hood, Crimson Bound is an exhilarating tale of darkness, love, and redemption.
---
Well, that's it for this week. 😀
Feel free to comment below and if you want me to recommend books from any particular genre let me know. ❤
See you next week with new recommendations!  🙂
Have a Great Day!