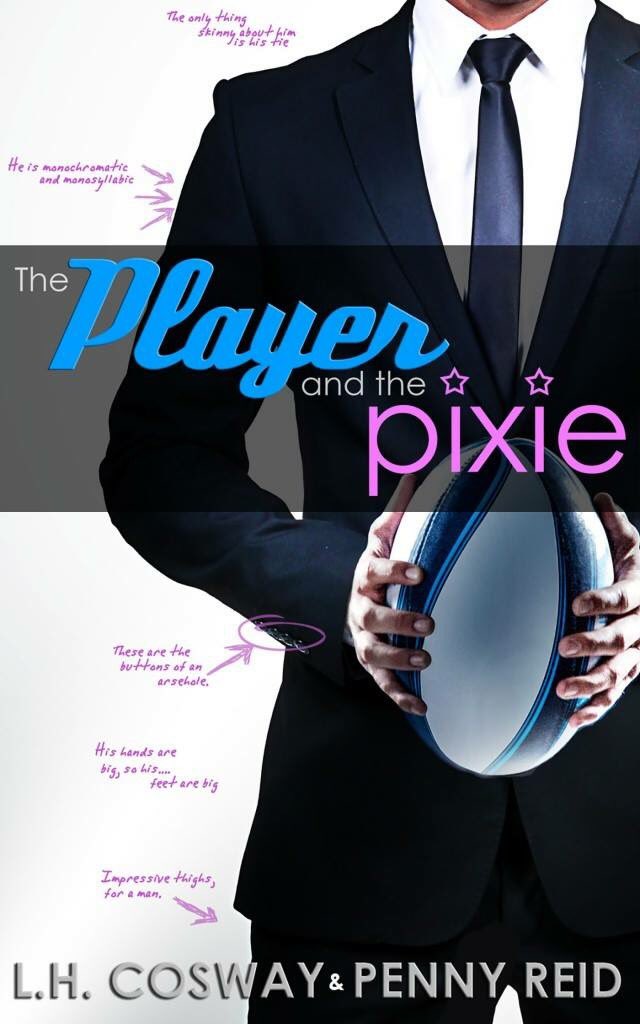 RELEASE DATE:  April 12, 2016
AUTHOR: L.H. Cosway, Penny Reid
GENRE: New-Adult, Contempoary, Romance.
PUBLISHER: Caped Publishing
SUMMARY: How can someone so smokin' hot be so bad in bed? I mean, Sean Cassidy is absolute rubbish. RUBBISH. He is the epitome of walking, talking false advertising and I want a refund! Plus he's an arsehole. So… what is wrong with me that I can't stop thinking about him?
THE PIXIE
Lucy Fitzpatrick doesn't like rugby.
As the little sister of Ireland's most infamous rugby player, Lucy can't seem to escape the championship-sized shadow cast by her big brother, or her mother's frequent attempts to micromanage her future. Her rainbow hair is as free-spirited as her quest for inner peace, yet overbearing expectations keep bringing her down. And when she's down, her compulsive little problem lands her in seriously big trouble.
THE PLAYER
Sean Cassidy is a cold-hearted brute… or so he's been told. Frequently. By everyone.
His blonde locks, baby blues, and rock hard bod make ladies the world over drool with desire. As the rugby world's second most infamous player, he should be basking in his success. But Sean has never been content settling for second place, and his frequent confrontations with Lucy's big brother leave him cold. And when he's cold, his compulsive little problem lands him in the lap of Lucy Fitzpatrick.
THE PLAN
Sean has a problem only Lucy can solve. Lucy has a problem only Sean can fix. The solution seems obvious: you scratch my back, and I'll bail you out of jail. But when their business arrangement unexpectedly leaves Sean scorching hot and Lucy on the precipice of inner peace, can they convince the world—and Lucy's big brother in particular—that this is the real deal?
Either way, both the Player and the Pixie are about to teach each other some pretty monumental lessons about family, life, but most importantly, love.
This book was so much fun, sexy, sweet, hot and hilarious. I haven't read the hooker and the hermit which is the first book in this series but I really want to give this a try after reading it's intriguing blurb and I just loved it. It was such an entertaining read that'll definitely make you laugh and gives you heart warming feeling. The main characters Lucy and Sean are hilarious in their own way. Seriously, I haven't read a book about a hot guy bad in bed and it was kinda hilarious to see an arrogant character like Sean being a totally amateur in sex. Some might think this book revolves around sex but Its really more than that. This book can also be read as a stand-alone and you don't need to read the first book.
Lucy Fitzpatrick is the sister of Ireland's most famous rugby player Ronan Fitzpatrick. She's a disappointment to her mother unlike her brother who is adored by everyone. With her rainbow hair, Lucy is a free spirited girl but when she's down she always have a compulsion to steal. Sean Cassidy is a second famous rugby player who is cold hearted and moody. He hates Ronan for always being the center of attention and whenever they are in close proximity, they always ends up in a quarrel or their fists flying. When Sean meets Lucy, it was irritation at first sight but they soon get attracted towards each other which eventually leads to sex but Lucy gets pretty surprised when she finds out that he is a total amateur in sex. Ronan gets quite embarrassed and asks Lucy to be his tutor and teach him everything about sex. Finally, Lucy and Ronan makes a deal to help out each others problem and make sure no one finds out about it but things get complicated when they develop feelings for each other and they also have to deal with Lucy's overprotective brother who immensely hates Sean.
The characters are well built and well developed. I loved Lucy and Sean. They are both flawed characters but they connected so well with each other. I really liked Lucy's free spirited nature and her sassiness. She's also an animal lover and being an animal lover myself I liked her more. Sean is definitely an arsehole to the outside world but when it comes to Lucy, he is so much fun and sweet. I enjoyed the relationship between Lucy and Sean. There is lot's of chemistry between them and their romance is beyond hot and blush worthy. Together they brought so much humor in this book especially with their banters and also a certain dog humping scene that made me laugh out loud. The supporting characters are also nice especially Ronan and Annie who are actually the lead characters in the first book.
The plot is predictable but it was executed in a way that would engage the readers throughout. It  was a perfect package of hot romance and humor. The pacing is perfect and I loved the writing style, it was witty and captivating. The dual pov of this book made the story more entertaining to read.
Overall, I immensely enjoyed it! L.H. Cosway and Penny Reid are individually great authors in contemporary romance but together they'd definitely make an amazing team in writing hot and fun contemporary romance. So, I really can't wait to read the next book The Cad and the Co-ed which is about Sean's little Cousin Eilish Cassidy and the Irish rugby player Bryan Leech.
Please Feel Free To Comment Below. ❤
See You In The Next Post and Have a Great Day! 🙂