Hello there! Welcome back to another weekly WWW wednesdays meme 🙂
The WWW meme was formerly Hosted by Miz B at Should be Reading
Now It was revived at Taking on a World of Words
To play along, just answer the following three (3) questions…
• What are you currently reading?
• What did you recently finish reading?
• What do you think you'll read next?
---
I AM CURRENTLY READING:
NOBODY'S HERO(BURNED LANDS#1) BY BEC MCMASTER
 BLURB: After her father was killed in a warg attack, Riley Kincaid was forced to stand on her own two feet in the brutal Wastelands she calls home. She knows how to survive, but when a lapse in judgment leaves her out after dark, Riley realizes she's in trouble. The sun has set, the monsters are out to play, and there's a band of reivers heading straight for her settlement. Riley needs to warn her people, but that's before she runs a handsome stranger down in her jeep. A stranger who might not be a man after all…
First rule of surviving the Wastelands: don't be caught out after the sun sets…
Kidnapping her was the worst mistake he ever made…
Dangerous outlaw, Lucius Wade, lives only for revenge. But when he kidnaps Riley in order to lure an old friend into a trap, suddenly the tables are turned. Riley has no intentions of being bait, and she tempts him in ways he hasn't felt for a long time. He's never played the hero, but suddenly a part of him wants to.
When dangerous secrets are revealed, and Luc realizes an old enemy is on his trail, he's forced to change his plans. The hunter is suddenly the hunted, and the only allies he has… is a stubborn blonde who thinks there should be more to live for than revenge, and the ex-friend who shoved a knife in his back ten years ago.
---
I JUST RECENTLY FINISHED READING:

DAVY HARWOOD BY TIJAN
MY RATING: [3/5 STARS]

BLURB: Being empathic is the least of Davy's problems. She wants to go to college and live a normal life until someone gives her something she doesn't want. Now she has to deal with the supernatural and a prophecy that no one knows about.
EVIL BY TIJAN
MY RATING: [3/5 STARS]
Review to come…

 BLURB: You know that group of people in school that everyone fears? Popular. Beautiful. The in-crowd?
That was my family. Kind of.
We were above that group. We held court over everyone else. We were the best looking. We were the mysterious and elusive ones. Most of the girls wanted to (and did) date the guys, but they didn't want to be one of us. They couldn't be. They were our prey.
We were the feared.
But like every family, nothing is as it seems. That was my truth.
Kellan was in his own league. He was our leader and he was the one no one messed with. No one dared. He was ruthless, powerful, and no one could match him…
Except for me.
I was about to find out just how different I was from my family.
NIGHTSTRUCK BY JENNA BLACK
MY RATING: [3.5/5 STARS]
Review to come…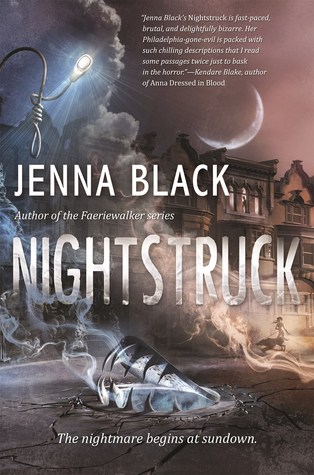 BLURB: It starts with a cry in the night.
Becket, walking her dog one winter evening, fears it's an abandoned baby left out in the cold. But it is something else—something evil—and it tricks Becket into opening a doorway to another realm, letting a darkness into our world, a corruption that begins transforming Philadelphia into a sinister and menacing version of itself…but only at night.
The changes are subtle at first, causing Becket to doubt her senses and her sanity. But soon the nightmarish truth is impossible to deny: By day, the city is just a city, but at night it literally comes alive with malevolent purpose. Brick and steel become bone, streetlights turn into gallows, and hungry alleys wait to snare mortal victims. Terrified citizens huddle indoors after dusk, as others succumb to the siren song of the night, letting their darker sides run wild.
Once, Becket's biggest problems were living up to her police commissioner father's high expectations and a secret crush on her best friend's boyfriend. Now she must find a way to survive and protect her loved ones…before the darkness takes her as well.
THE HUNT BY MEGAN SHEPHERD
MY RATING: [3.5/5 STARS]
Review to come…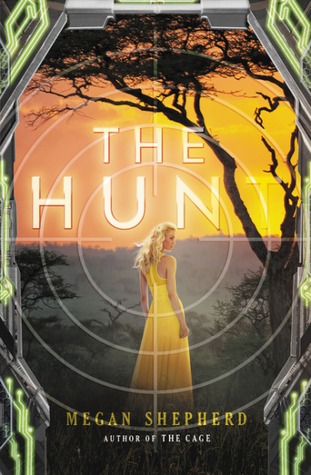 BLURB: They've left the cage—but they're not free yet.
After their failed escape attempt, Cora, Lucky, and Mali have been demoted to the lowest level of human captives and placed in a safari-themed environment called the Hunt, along with wild animals and other human outcasts. They must serve new Kindred masters—Cora as a lounge singer, Lucky as an animal wrangler, and Mali as a safari guide—and follow new rules or face dangerous consequences. Meanwhile, Nok and Rolf have been moved into an enormous dollhouse, observed around the clock by Kindred scientists interested in Nok's pregnancy. And Leon, the only one who successfully escaped, has teamed up with villainous Mosca black-market traders.
The former inhabitants of the Cage are threatened on all fronts—and maybe worst of all, one of the Hunt's Kindred safari guests begins to play a twisted game of cat and mouse with Cora. Separated and constantly under watch, she and the others must struggle to stay alive, never mind find a way back to each other. When Cassian secretly offers to train Cora to develop her psychic abilities—to prove the worthiness of humanity in a series of tests called the Gauntlet—she'll have to decide fast if she dares to trust the Kindred who betrayed her, or if she can forge her own way to freedom.
GOOD GIRL BY LAUREN LAYNE
MY RATING: [4/5 STARS]
Review to come…

 BLURB: Jenny Dawson moved to Nashville to write music, not get famous. But when her latest record goes double platinum, Jenny's suddenly one of the town's biggest stars—and the center of a tabloid scandal connecting her with a pop star she's barely even met. With paparazzi tracking her every move, Jenny flees to a remote mansion in Louisiana to write her next album. The only hiccup is the unexpected presence of a brooding young caretaker named Noah, whose foul mouth and snap judgments lead to constant bickering—and serious heat.
Noah really should tell Jenny that he's Preston Noah Maxwell Walcott, the owner of the estate where the feisty country singer has made her spoiled self at home. But the charade gives Noah a much-needed break from his own troubles, and before long, their verbal sparring is indistinguishable from foreplay. But as sizzling nights give way to quiet pillow talk, Noah begins to realize that Jenny's almost as complicated as he is. To fit into each other's lives, they'll need the courage to face their problems together—before the outside world catches up to them.
---
NEXT I'M GOING TO READ THESE BOOKS:
DANCERS, QUITTERS, AND GARDEN GNOMES BY EMILY EVANS
 BLURB: Thayer's sick of dating the girls at Shay Prep who use his family to get ahead in society. He decides to date a girl from the prep school across town. That's when his best friend offers him a challenge, "Stop with the prep school girls. Go out with a regular girl, someone not paying 100K a year in tuition." It was one of those ideas that hit him as right. Thayer musses his perfect hair, ditches his Shay Prep blazer and accepts the challenge. Twelve dollars will buy him a bit of truth – will a Manhattan girl go out with a guy who only has twelve dollars to spend on their date? He finds Alyssa, the pretty scholarship dancer.
Alyssa's a dancer who loves choreography. She's new to town and she's done with mean dance teams, and dance instructors who insult to motivate. She's out to prove that an appreciative, supportive choreographer can win the Willow Dance Championship. When handsome, witty Thayer asks her out, the lights of New York shine even brighter. She doesn't know he's lying about his last name, thinks she's a poor scholarship girl, and is on a date with her as an experiment.
And when she finds out, she'll make him pay.
CRIMSON SKY(DARK SKY#1) BY AMY BRAUN
 BLURB: They're always watching. They're always waiting. They're always starving…
Ten years ago, the sky shattered and the Hellions emerged. No one was able to keep them from destroying the city of Westraven. Now that the bloodthirsty monsters rule the skies and have forced the few remaining humans underground, Claire Abernathy lives in a nightmare. She survives by using her skills as an engineer for a ruthless tyrant connected to her mother and father's past failure.
Then Claire's world is torn apart when her sister Abby is kidnapped by the Hellions, and Claire herself is taken by dangerous sky pirates known as marauders. But Claire will not be intimidated by them while her sister's life hangs by a thread, and so she strikes a deal with them: If they help rescue Abby, she will fix their ship and give them the chance to take the revenge they desperately seek.
As Claire fights for her sister's life, she begins to realize that the Hellions are not the only dangers she'll face. Burdensome secrets and devastating betrayals threaten her at every turn, and if she loses herself to them, it won't just be her life that is destroyed…
A COURT OF MIST AND FURY(A COURT OF THORNS AND ROSES#2) BY SARAH J. MASS
 BLURB: Feyre survived Amarantha's clutches to return to the Spring Court—but at a steep cost. Though she now has the powers of the High Fae, her heart remains human, and it can't forget the terrible deeds she performed to save Tamlin's people.
Nor has Feyre forgotten her bargain with Rhysand, High Lord of the feared Night Court. As Feyre navigates its dark web of politics, passion, and dazzling power, a greater evil looms—and she might be key to stopping it. But only if she can harness her harrowing gifts, heal her fractured soul, and decide how she wishes to shape her future—and the future of a world cleaved in two.
---
These are my WWW for this week, so what are your  recent, current and next reads? Please Feel Free To Comment Below or Leave a link to your WWW post. ❤
See You In The Next Post and Have a Great Day! 🙂