Hi there! Welcome back to another round of Sunday Book Recommendations.
Sunday Book Recommendations is the  weekly meme hosted by me. I created this meme so I could recommend you guys some interesting books which I think are worth reading. This meme includes recommending a book from three different genres. If you want to do this meme have fun with it, but don't forget to link back to the host. 🙂
Note: You can change the genres every week.
---
YA PARANORMAL/DYSTOPIA
BANE BY H.M.WARD
A captivating and entertaining YA paranormal read that will leave you wanting for more.
 BLURB: The world as we know it is gone. The ice caps have melted and shifted south, devastating the northern territories and eradicating major cities such as New York and London, which are now under water and frozen. Humans died off during an epidemic prior to the ice disaster, and many more died during the floods at the start of this new ice age.
These events have forced vampires out of hiding. In order to ensure that their food source wouldn't completely die off, the vampires have sequestered the remaining humans into farms and taken control of all that remains of civilization. Over time, the humans breeding on these farms became anemic. Their blood no longer sustains the master race. But not all of the humans were captured and sent to the farms. Some of the humans evaded the hunters, hiding in safe houses across the frozen tundra. As decades passed, the free humans disappeared, died, or were captured, until all that remains is one. Kahli is the last wild human. BANE is her story.
---
YA FANTASY/HORROR
ALICE IN ZOMBIELAND BY GENA SHOWALTER
An intriguing read and definitely worth a shot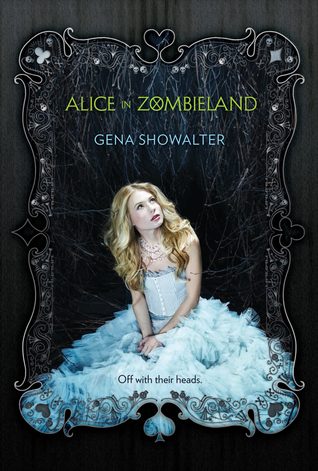 BLURB: She won't rest until she's sent every walking corpse back to its grave. Forever.
If anyone had told Alice Bell that her entire life would change course between one heartbeat and the next, she would have laughed. From blissful to tragic, innocent to ruined? Please. But that's all it took. One heartbeat. A blink, a breath, a second, and everything she knew and loved was gone.
Her father was right. The monsters are real.
To avenge her family, Ali must learn to fight the undead. To survive, she must learn to trust the baddest of the bad boys, Cole Holland. But Cole has secrets of his own, and if Ali isn't careful, those secrets might just prove to be more dangerous than the zombies.
---
NA FANTASY
THE BIRD AND THE SWORD BY AMY HARMON
This book was so beautiful and romantic. It is a well executed fantasy romance and can also be suitable for YA readers. I absolutely loved it and highly recommend it.
 BLURB: Swallow, daughter, pull them in, those words that sit upon your lips. Lock them deep inside your soul, hide them 'til they've time to grow. Close your mouth upon the power, curse not, cure not, 'til the hour. You won't speak and you won't tell, you won't call on heaven or hell. You will learn and you will thrive. Silence, daughter. Stay alive.
The day my mother was killed, she told my father I wouldn't speak again, and she told him if I died, he would die too. Then she predicted the king would sell his soul and lose his son to the sky.
My father has a claim to the throne, and he is waiting in the shadows for all of my mother's words to come to pass. He wants desperately to be king, and I just want to be free.
But freedom will require escape, and I'm a prisoner of my mother's curse and my father's greed. I can't speak or make a sound, and I can't wield a sword or beguile a king. In a land purged of enchantment, love might be the only magic left, and who could ever love . . . a bird?
---
Well, that's it for this week. 😀
Feel free to comment below and if you want me to recommend books from any particular genre let me know. ❤
See you next week with new recommendations!  🙂
Have a Great Day!